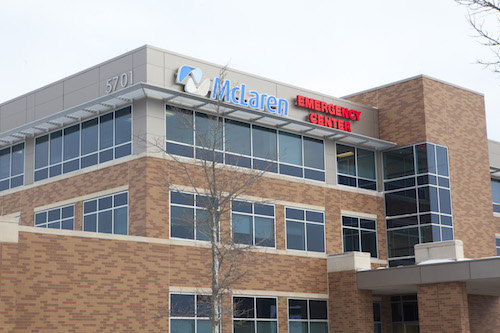 While it's not the nature of emergency medicine to schedule treatment, McLaren Clarkston has introduced InQuicker, an online two-click scheduling platform that lets patients with non-life threatening conditions check in, view estimated wait times, and stay at home until they can be seen by a provider.
McLaren says making self-scheduling more available will reduce wait times and offer patients more control over their experiences in the emergency room. So far, InQuicker users average a 90 percent satisfaction rate, though patients aren't permitted to "skip the line," nor are they prioritized above or below those in the hospital's waiting room.
"When providing care, it's always our goal to treat the whole patient, going beyond their illness or ailment by also addressing their anxieties and helping them feel more relaxed," says Dr. Harrison Tong, director of emergency medicine at McLaren Oakland and McLaren Clarkston. "If it is a serious medical emergency, please do not wait to come in, but if there are non-emergency patients (who feel) more comfortable waiting at home, this can lead to a more positive overall experience."
InQuicker was designed to identify potentially life-threatening illnesses by filtering through symptom keywords, and those patients are immediately prompted to call 911 or head to the nearest emergency room. All requests are reviewed by McLaren Clarkston healthcare providers.
More information about InQuicker or the services offered by McLaren Clarkston is available at here.
Facebook Comments