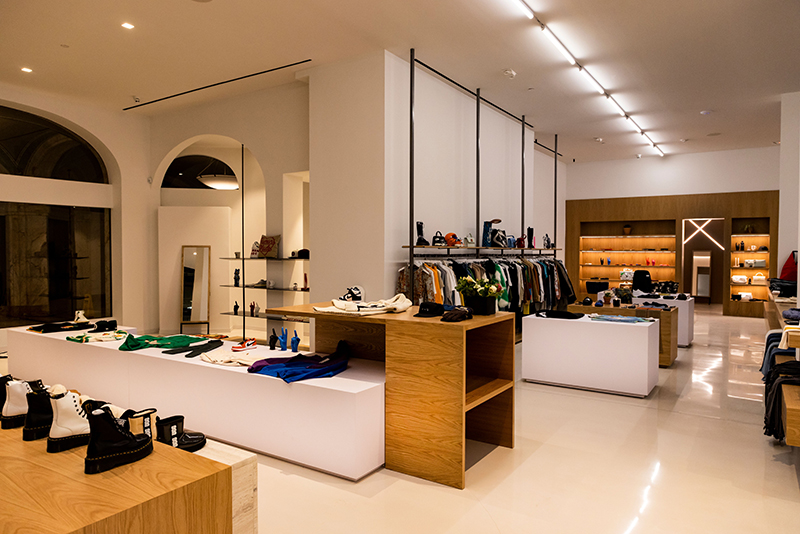 Luxury retailer Xhibition on Monday opened a store in the historic Farwell Building in Detroit's Capitol Park district. The 4,000-square-foot store features a mix of women's and men's apparel, footwear, lifestyle items, and home goods.
In 2014, the first brick-and-mortar Xhibition location opened in Cleveland. Since then, the retailer has grown its physical and digital presence.
"We selected Detroit as the first location outside of northeast Ohio for many reasons," says Robert Rosenthal, co-founder of Xhibition. "There is a sophisticated fashion ecosystem in Detroit that few cities possess, as well as a definitive sense of energy and growth."
The Detroit location at 1249-51 Griswold St. offers such brands such as adidas, Air Jordan, Eckhaus Latta, Ganni, Nike, Human Made, Off-White, Rhude, Stone Island, Stüssy, Visvim, and more. Together, they cumulate under one roof to create a distinctive fashion assortment.
The eight-story Farwell Building, built in 1915 by Jesse Farwell, a shipping and real estate magnate, reopened in July 2019 following a $42-million historic renovation by Capitol Park Partnership in Detroit. The offerings include 82 residential apartments on floors three through eight, 12,000 square feet of office space on the second floor that includes an office for Troy-based Rehmann, and ground and lower-level commercial space.
In addition, an 8,000-square-foot restaurant called Leila opened on the ground floor and a lower level. The restaurant is by Sameer and Samy Eid, the father-and-son team that operates Phoenicia and Forest in Birmingham. Leila, designed by Victor Saroki, offers Lebanese dishes, and is named after Sameer's wife.
The Farwell Building includes an interior glass-tiled ceiling and lobby designed by famed artist Louis Tiffany. While under construction, the structure was the setting for several scenes in such hit movies as "Batman vs. Superman" and "Transformers: The Last Night," along with an Eminem video. It's listed on both the State Register of Historic Sites and the National Register of Historic Places.
The Farwell Building was developed by Detroit native Richard Karp, with his partners Richard Hosey and Kevin Prater. Kraemer Design Group in Detroit served as the project architect.
Xhibition store hours are Monday-Thursday, 11 a.m. to 7 p.m.; Friday-Saturday, 11 a.m. to 8 p.m.; and Sunday 1-5 p.m. For more information, visit xhibition.co.
Facebook Comments