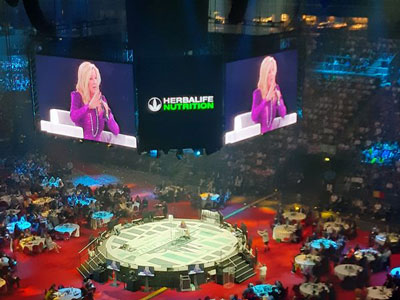 Herbalife Nutrition has selected Detroit to host its North America Extravaganza on July 15-17, 2022, according to the Detroit Metro Convention & Visitors Bureau (DMCVB).
The event will take place at Ford Field and is expected to attract more than 25,000 Herbalife Nutrition independent distributors. Attendees will occupy an estimated 13,600 hotel rooms throughout the metro region.
"Our community will roll out the red carpet to welcome the best-in-class company that will contribute approximately $11 million in direct spending to our region," says Claude Molinari, president and CEO of the DMCVB. "We are pleased they are bringing their vast network of independent distributors to experience Detroit."
The conference will focus on training, education, and the production of a recognition celebration for its independent distributors.
"This will be the first in-person large scale event since January 2020," says Ibi Montesino, senior vice president and managing director for Herbalife Nutrition's North America region. "We are excited to bring together our entrepreneurial Herbalife Nutrition independent distributors to connect, attend trainings, and learn how to support customers with their goals around healthy nutrition."
In addition to the Herbalife Extravaganza, other events taking place according to the DMCVB include the Injection Molding and Design Expo (three-year commitment); the Silicone Expo (three-year commitment); and a partnership between MAD Events, Messe Düsseldorf North America (MDNA), and the DMCVB to bring global events to Detroit. That partnership already has already yielded one major event for the city, a new conference series, Side Hustles & Opportunities Conference (SHO-Con), launched by Sherwood Enterprises.
---