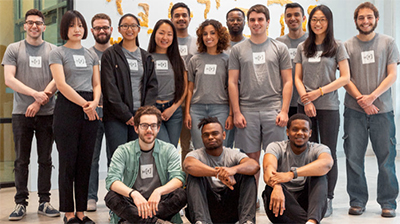 Invest Detroit Ventures, with support from the Michigan Economic Development Corp.'s Entrepreneurship and Innovation initiative, has launched its 2019 Hacker Fellows program to recruit, train, and link emerging IT talent with technical startups.
The program is designed to build on Michigan's emerging entrepreneurial community and connect the state's top talent with early stage companies by curating the next generation of hackers and coders with an extensive year-long fellowship program.
Since its inception in 2015, the Hacker Fellows program has grown to gain interest from more than 700 applicants across the U.S. and 64 companies, including StockX, Integral, Saganworks, Censys, Shoptelligence, and ToDoolie.
"Hacker Fellows has a wealth of talent, but the program is much more than that – it's a community," says Brad Hoos, executive director of Hacker Fellows. "Year after year, we are constantly impressed by the skills and curiosity of the Hacker Fellows, but more importantly so are the companies with whom they work."
The 2019 program recently kicked off in downtown Detroit with a five-week entrepreneurship bootcamp for fellows and interns that immerses the cohort in Michigan's technology and entrepreneurship scene, preparing them to begin full-time employment.
The five-week bootcamp covers housing and training, and provides a stipend to the 25 developers as they prepare to begin their careers. Alumni of the program have gone on to not only lead early stage startups but grow within their industries to become expert leaders and innovators.
"With the launch of the fifth Hacker Fellows cohort we see the progression of the program as a true testament to the amazing work and results of our fellows," says Nataliya Stasiw, portfolio manager for MEDC. "With the support of the MEDC, the fellowship has gained substantial momentum with a budding reputation of producing problem solvers."
Facebook Comments