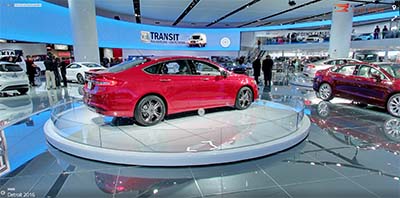 The North American International Auto Show has partnered with Novi-based digital media company LunaTech3D to create an interactive show floor experience that allows individuals to tour the 2016 auto show virtually.
"This interactive tool allows individuals to digitally immerse themselves in the show floor, providing them with the ability to 'walk the show floor' and research key information for vehicles that caught their attention when they visited the show this past January," says Rod Alberts, executive director of the auto show and the Detroit Auto Dealers Association in Troy. 
Alberts says the technology is built off Google's Street View platform, offering viewers on any device the ability to select a "destination exhibit" and jump into the display for a given brand. He says within most displays there are clickable "hot spots" that play videos, photo galleries, or allow for a 360-degree view of the vehicle with full zoom capacity.
"It took five photographers almost three full days to shoot it all, and was by far the largest virtual tour we have ever shot," says Douglas Willett, president of LunaTech 3D. "We are amazed at how many people are still coming to the show every day — virtually, of course — even after the show has been over for a couple of weeks."
Willett says auto show partners with exhibits in the Cobo Center concourse and in hospitality rooms, like Steel Market Development Institute, were also able to create their own virtual show space within the online experience.
To view the auto show interactive experience, click here. ​
Facebook Comments