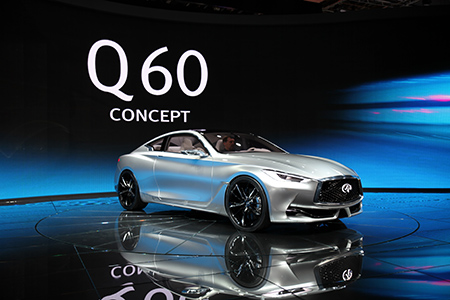 Infiniti has revealed its Q60 Concept, the inspiration behind a premium sports coupe that will go into production in 2016.
"One look and it is clear: Q60 Concept is a strong statement from Infiniti designers that the exhilaration is real," says Roland Krueger, president of Infiniti Motor Co. "Design is a key driver for developing a strong brand. Q60 Concept is another building block in Infiniti's quest to refresh its portfolio with a strong and consistent design language."
The two-door fastback is part of Infiniti's plan to bolster offerings in the middle of its product lineup and will feature a next-generation 3.0-liter V6 engine with direct injection and twin-turbocharging.
Slated to be introduced within the next two years, this new line of engines significantly reduces fuel consumption and carbon dioxide emissions while boosting power and torque, Krueger says.
The Q60 Concept features an enhanced adaptive steering system, which allows independent control of the car's tire angle and steering inputs, transmitting the driver's intentions to the wheels faster than a mechanical system.
This increases the direct driving performance feel by quickly and intelligently communicating road surface feedback to the driver.
This sports coupe also uses the new Infiniti InTuition system, which works with the vehicle's advanced Intelligent Keys to recognize the vehicle settings for up to four different drivers, including preferences for driving position, heating and cooling, audio, navigation, and telematics.
"Every manufacturer, all of the great brands, have a legacy vehicle," says Michael Bartsch, vice president of Infiniti Americas.  "This is our legacy car. The car you see over my shoulder here, the new Q60, is the continuation of that legacy.
"And, it is really important because it is going to be a brand halo and going to make a really strong statement about what Infiniti is, and where Infiniti is going to go in the future."
---