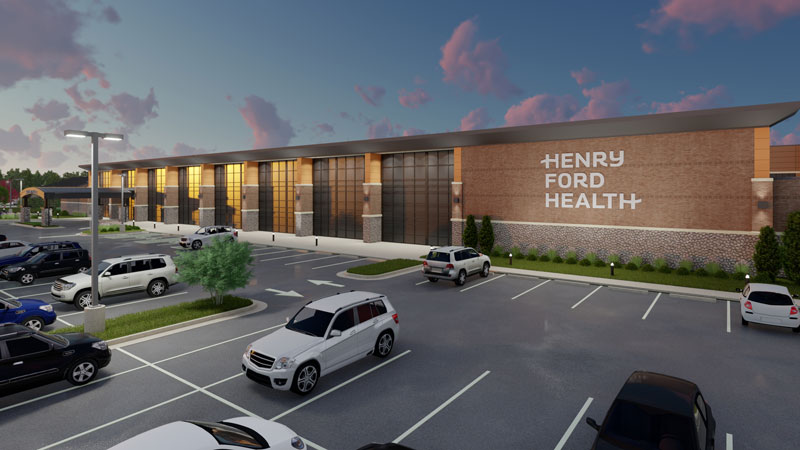 Detroit's Henry Ford Health and Tennessee's Acadia Healthcare have broken ground for the Henry Ford Behavioral Health Hospital, a state-of-the-art treatment and teaching hospital on Henry Ford's West Bloomfield Township campus.
The new facility will be two-stories, spanning approximately 120,000 square feet of space, making it an extension of the services the health system already provides. When it opens in 2024, the hospital will provide 184 inpatient beds. Ultimately it will have a 192-bed capacity and the ability to expand further to meet increasing need.
Henry Ford Behavioral Health Hospital will provide inpatient psychiatric services for adults, seniors, adolescents, and children. The cost of the project was not disclosed.
The new facility will allow Henry Ford Health to deliver "innovative care, increased resources, and address the growing need for accessible, high-quality behavioral health services in metro Detroit and beyond," officials say.
"The need for comprehensive, full-spectrum behavioral health care is more important — and evident — than ever," says Bob Riney, president and CEO of Henry Ford Health. "As a trusted health care provider in Michigan for more than a century, we are proud and encouraged to break ground on our new behavioral health hospital, which will help us provide the very best care to those who need healing."
Acadia Healthcare, which will operate the hospital, is partnering with Henry Ford Health to develop care delivery models that they say will better integrate physical and mental health services. In addition to providing the most up-to-date resources and environment for mental health healing, the hospital also will be built to achieve LEED certification for environmental sustainability.
Chris Hunter, CEO of Acadia Healthcare, says: "This truly is a joint venture, not just with Henry Ford, but also with our community stakeholders, city and county leaders, and the strong team of physicians, nurses, technicians and support staff who will care for patients. This hospital is a public pledge that we are here to work alongside all whose goal is to ease people's pain and promote healing."
The hospital also will serve as a destination academic site, educating the next generation of behavioral health care providers including psychiatry residents, medical students, and nurses.
---