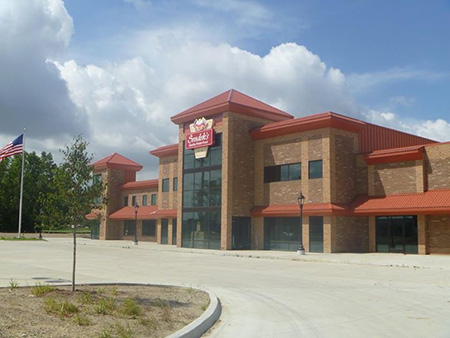 Hamtramck-based Srodek's Campau Quality Sausage Co., a third-generation, family-owned and operated Polish grocer, will expand next summer with the addition of a 16,000-square-foot, $5 million plaza in Sterling Heights.
"There's so many Polish-American organizations (in the Sterling Heights area), but we were always told there was minimal options to purchase Polish food," says Magdalena Srodek, manager of Srodek's. "Despite loving coming to Hamtramck, the drive and parking would be very difficult for people. So, as we started to grow, we started to brainstorm."
The plaza, 40270 Mound Rd., will open in two phases and include an open layout with high ceilings and windows. The first phase will include a large grocery store, with products similar to the Hamtramck location, a bakery called Irena's Pastry and Bistro, and a liquor store.
The second phase, scheduled to open up to a year after the store does, will feature a full-service restaurant designed to resemble the woodwork and ambiance of the villages of Poland, as well as a microbrewery.
"Whether it's lunch or dinner, you won't feel like you're in Michigan," Srodek says. "You'll feel like you're back in Poland."
The plaza will offer imported Polish and Eastern European goods such as fresh meat, pickles, beets, sauerkraut, torte, beer, and vodka. Products produced by Srodek's in a production facility adjacent to the new location, such as smoked kielbasa and more than 35 varieties of homemade pierogies, will also be available.
"There's nothing in the metro Detroit area where you can go to a one-stop shop when it comes to Polish goods," Srodeck says. "We want it to be an amazing location, something to be proud of not only as a family but as a Polish community."
Other than working together in the initial stages of the opening, the Hamtramck location will operate separate from the plaza.
Polish establishments such as Our Lady of Czestochowa Parish, All Saints Polish National Catholic Church, and the American Polish Century Banquet Center are all within a few miles of the new plaza. 
---