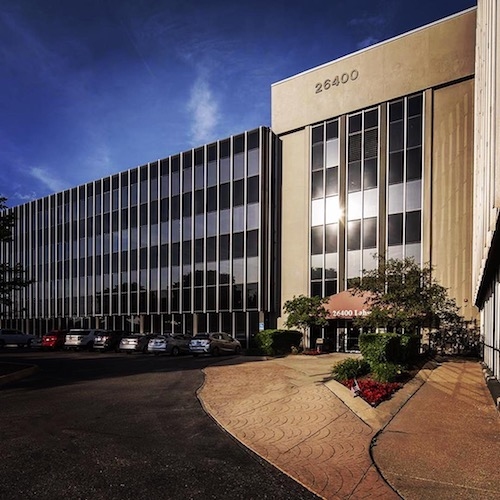 Foster Financial Company Inc., a real estate investment company in Grosse Pointe, today announced it has acquired Lahser Center, a 175,000-square-foot office complex in Southfield located at 26200/26400 Lahser Rd. Terms of the deal were not disclosed.
Located in close proximity to M-10 (Lodge Freeway) at Lahser Road, the two buildings are near Southfield's central business district and other major office complexes.
Foster Financial plans to completely renovate the tenant spaces at Lahser Center, as well as invest in major capital projects and deferred maintenance such as replacing and modernizing the buildings' elevators, refreshing the main lobbies, and updating the overall feel of the building.
This is Foster Financial's second 's acquisition in Southfield — the group purchased Central Park Plaza in September 2017, a 130,000-square-foot, six-story office building. Upon acquisition, the building carried a 50 percent vacancy, but Foster Financial has now stabilized the building at 93 percent occupancy after significant renovations.
Overall, Foster Financial has undertaken eight transactions in the past three years, and its portfolio now totals over 450,000 square feet of office product, both owned and managed.
"As more companies are priced out of downtown Detroit's office market, we see a great opportunity to provide high-end, but affordable office options to our tenants with turn-key buildouts and free parking at competitive rents," says Brad Foster, president of Foster Financial. "In the coming years, we see the demand for suburban office continuing to grow, especially with proximity to all the major highways and local suburban communities".
Foster Financial privately funds its acquisitions, and partners with investors and family offices on deals. Navigant Oak, a family office in Northville, partnered on three deals with Foster Financial, including this acquisition of the Lahser Center.
"After having great success on multiple projects with Navigant Oak, we are more than thrilled to work together on yet another project," Foster says.
Facebook Comments