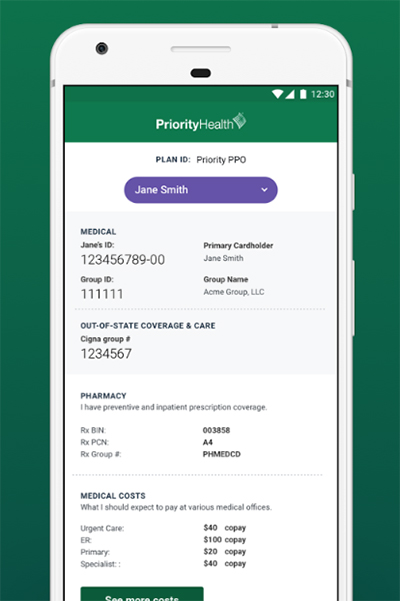 Priority Health in Grand Rapids has launched a new mobile app and online account to offer members an easier way to access and manage their health insurance information. Members will be able to view their information, find doctors, keep track of spending, and access tools designed to save them money on the cost of care.
"At Priority Health, we are continuously seeking new ways to provide members with the tools they need to make informed decisions and improve their health," says Marti Lolli, chief marketing officer and senior vice president of consumer and government markets for Priority Health. "The Priority Health app creates a transparent and personalized digital experience. This is in response to our members' needs, where 85 percent prefer to self-serve online and eliminate the need to pick up the phone."
The app is designed to allow users to manage all aspects of their health insurance and wellbeing in one place. Features include tracking spending balances, searching claims, offering breakdowns of care and prescription costs, messaging customer service, and accessing tools to find doctors, estimate costs, and use virtual care, personalized programs, and activities to stay healthy.
Members previously accessed their information through their MyHealth account, which is being updated to focus solely on Spectrum Health medical care. Starting in September, members no longer saw their health insurance information in MyHealth but could access their Spectrum Health providers, appointments, and other patient information.
Members can download the new Priority Health app in the App Store or Google Play or through member.priorityhealth.com.
Priority Health has been in business for more than 30 years and offers a portfolio of health benefits options for employer groups and individuals, including Medicare and Medicaid plans. It serves more than 1 million members each year and offers a network that includes 97 percent of primary care physicians in Michigan.
Facebook Comments