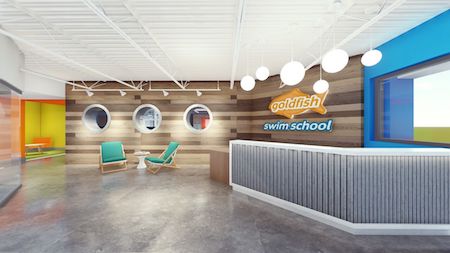 Goldfish Swim School Franchising, a learn-to-swim concept formerly based in Birmingham, today announced the opening of a new headquarters in Troy.
The 16,000-square foot facility housing the new franchise office is a former manufacturing space that the swim school franchise recently spent $1 million renovating. Designed to foster Goldfish's collaborative culture, the space features an employee lounge, conference rooms, and huddle spaces, as well as a living wall and tropical decorations.
"This move caps off what has been an exciting year for Goldfish," says Chris McCuiston, CEO and co-founder Goldfish. "Twelve years ago, we were working at our kitchen table to launch what would become our first swim school location. It is amazing how much the company has grown."
Goldfish's proprietary systems, developed by Chris and his wife, Jenny, and company co-founder Jenny McCuiston, provide developmentally appropriate water safety and swimming lessons in a safe, child-friendly environment. The team teaches children from ages three months to 12 years in a tropical setting, and Goldfish facilities are marked by 90-degree pools, small class sizes, and an updated chlorine generation system.
Future expansion plans for the Troy headquarters includes a dedicated training space complete with a pool. Goldfish has an additional 25 locations slated to open in the next 10 months, and is preparing to offer increased training and continuing education workshops at the new space.
More information about Goldfish can be found here.
Facebook Comments