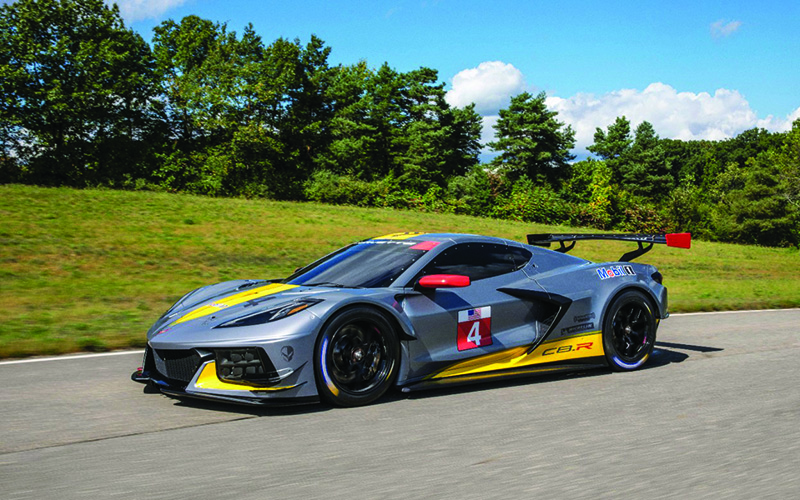 General Motors Co. in Detroit announced it will showcase a lineup of motorsports, performance, and electric vehicles at Motor Bella, the new auto-centric event taking place at the M1 Concourse in Pontiac Sept. 21-26.
"For decades, GM and Chevrolet have served as industry leaders in automotive innovation, continually pushing the limits of what new technology and precision engineering can bring to the racetrack, showroom, and the aftermarket," says Jim Campbell, vice president of performance, motorsports, and accessories at GM.
The showcase is expected to highlight Chevrolet's motorsports legacy and showcase GM's advancements in technology, along with its commitment to an electrified future. The booth will feature a GMC Hummer EV SUV, and Ultium battery platform chassis, and a GM Defense Infantry Squad Vehicle (ISV) will demonstrate the company's future.
A full lineup of Chevrolet performance and motorsport vehicles, including the Corvette C8.R, NASCAR Next Gen Camaro ZL1 race cars, two 2022 IMSA GTLM Championship Edition Corvette Stingrays, and a full array of COPOP Camaro's, including a fifth generation 2022 Big Block V-8 and the electrified eCOPO drag racing concept car will demonstrate the company's legacy of speed.
"By maintaining a strong presence in some of the world's most prominent racing series, we've proven our teams are well positioned to adapt, expand and implement the latest tools and technology at every level," says Campbell. "GM's Motor Bella display is a testament to the dedication and resolve of our performance, motorsports and production teams."
Along with GM vehicles, Motor Bella will feature activations and/or launches from Ford, Stellantis, and Toyota, with an expected 350 vehicles from 35 brands showcased throughout the show, as well as more than 80 speakers.
Highlights of the event include hot laps on the KeyBank Track or Woodward Avenue and more than 20 luxury automotive brands with displays. The AutoMobili-D technology showcase presented by the Michigan Economic Development Corp. will offer 80 displays, including 36 emerging startup exhibits. Speakers will participate in panel discussions and symposiums, as well.
Facebook Comments