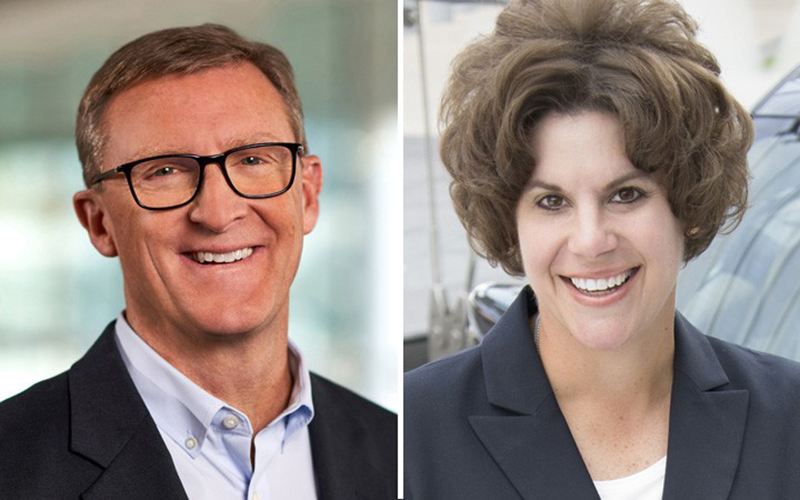 General Motors Co. in Detroit has restructured its Information Technology function into two groups — the Digital Business Software team and the Global IT organization — to support its goal of growing software-enabled services revenue to $20 billion to $25 billion annually by 2030.
As part of the restructuring, Stacy Lynett was appointed vice president of Digital Business Software, reporting to Chief Digital Officer Edward Kummer, who assumed his role Oct. 16, and Fred Killeen was named vice president of global information technology and chief information officer, reporting to Chair and CEO Mary Barra.
Lynett will lead a newly formed and growing team responsible for technology strategy and software product development for customers. Her role also will expand to support global customer and dealer systems as a member of North America President Steve Carlisle's leadership team.
Killeen will lead the Global IT team, responsible for enabling IT assets and solutions across the enterprise in support of GM's overall global business. Previously, both Lynett and Killeen reported to Executive Vice President and CIO Randy Mott, whose retirement was announced Nov. 2.
"The new structure and dual operating model will enable GM to fully leverage its strong foundation in IT capability, talent and resources, as well as reduce complexity and improve speed," Barra says. "Stacy and Fred bring unique backgrounds and experiences to help us seize the opportunities software plays in our business as we move from automaker to platform innovator."
Killeen's team will focus on global back-office IT support, or how software enables the business. With Lynett's team, software is the business, including technology strategy and software product development to deliver enhanced experiences, products, and services for customers. Both teams will continue to collaborate on driving innovation, providing the best software and technology solutions to support the company.
Killeen previously served as chief information security officer and chief technology officer at GM IT, responsible for the company's global information security and IT risk management programs. He joined GM in March 2001 as director of systems integration for global product development and was appointed to the role of director of the Systems Development Factory, in December 2003. Killeen has served as CTO for GM IT since 2005. In January 2018, Killeen was also appointed the role of chief information security officer.
Before joining GM, Killeen held a variety of technical consulting and leadership positions during 16 years with Hewlett-Packard. Prior to Hewlett-Packard, he was a software developer at Motorola. He holds a bachelor of science degree in electrical engineering from Michigan State University and is on the Advisory Board for the Oakland University School of Engineering and Computer Science.
Lynett previously was executive director and CIO of global product development and quality at GM IT, and CIO for the global corporate function, focusing on the workday solution set and supporting legal and communications IT solutions. She also had CIO roles supporting GM IT global operations and enterprise SAP development and delivery organizations.
Before joining GM, she served at ABN AMRO Bank, CIT, and Ernst & Young. Lynett graduated from Saint Mary's College, Notre Dame with a major in mathematics and has a master of science in information technology from Carnegie Mellon.
Facebook Comments