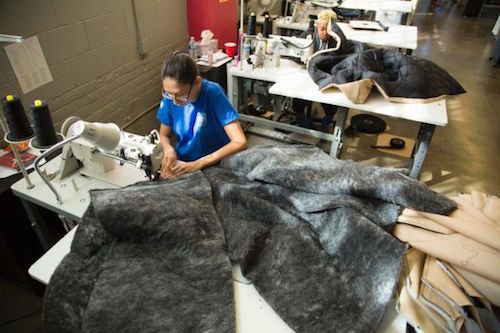 As part of its Do Your Part water bottle recycling initiative, Detroit-based General Motors Co. has recycled 2 million water bottles from Flint residents, as well as an estimated 1.2 million bottles from GM facilities throughout metro Detroit, to turn them into engine covers, air filters for the company's plants, and insulation to make coats for the homeless.
"People want to do the right thing," says John Bradburn, global waste reduction manager at GM. "The Do Your Part recycling initiative is a way our employees and communities can connect their individual actions to broader social and environmental causes."
The company partnered with Kalamazoo-based Schupan Recycling to collect the bottles, which are washed, flaked, and turned into fleece to make the products.
Flint-based Rogers Foam Corp. die cut the fleece from the water bottles and Coldwater-based EXO-s attached it into a nylon cover, which dampens engine noise, for the Chevrolet Equinox V6 engine.
GM supplier Filtration Services Group in Waterford Township worked with New Life Center in Flint to make panels for the air filtration fleece, which is then sent to 10 of the company's facilities. The center has made air filter panels from the 9,000 square feet of fleece since Do Your Part launched in April.
Coat insulation was sent to Detroit-based Carhartt who cut it to size for The Empowerment Plan, a Detroit organization that helps the homeless. GM is donating enough insulation for The Empowerment Plan's seamstresses to make 6,500 coats that transform into sleeping bags that are given to those in need at no cost. Each coat contains material from 31 water bottles.
The company has 131 landfill-free facilities around the world and recycles the equivalent of 38 million garbage bags of byproducts each year.
For example, cardboard from various GM plants is recycled into a sound-dampening material in the Buick Verano headliner, plastic caps and shipping aids from its Fort Wayne facility are mixed with other materials to make radiator shrouds for the Chevrolet Silverado and GMC Sierra, and test tires from Milford Proving Ground are shredded and used in the manufacturing of air and water baffles for a variety of GM cars.
Facebook Comments