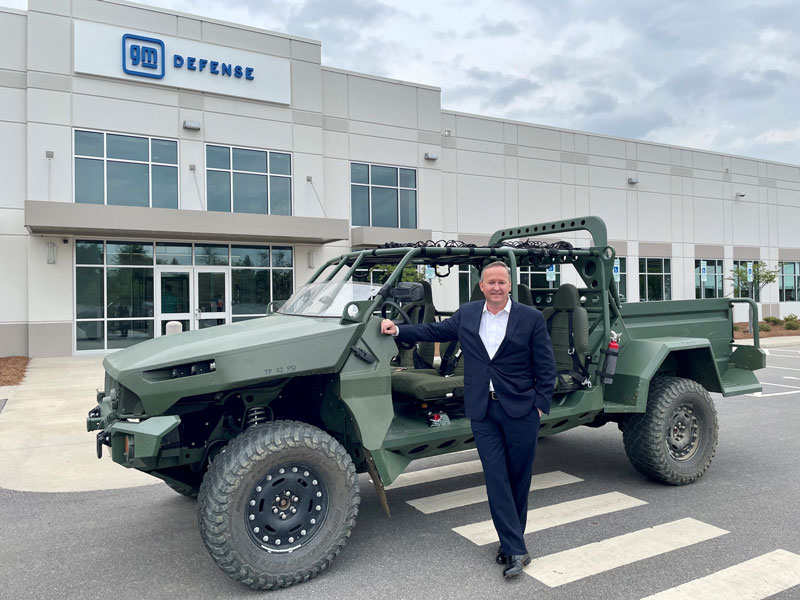 Steve duMont has been named president of GM Defense, a division of Detroit's General Motors Co., the company announced today.
In the role, duMont will be in charge of bringing GM's manufacturing, design, engineering, and commercial innovation abilities to defense and government customers. His announcement comes on the same day that the division opened a new production facility in Concord, N.C., to manufacture a troop carrier vehicle for the U.S. Army.
"I wanted to continue my career with an organization that can provide solutions to address some of the toughest problems that our defense customers are facing, and GM Defense is doing just that," says duMont. "The company has the ability to disrupt the industry by bringing significant commercial innovation forward, and I'm truly excited to lead this team at such an important time for our defense and government customers around the world."
The 75,000-square-foot Concord plant is expected to build infantry squad vehicles, light and agile all-terrain troop carriers, for the U.S. Army as part of a $214.3 million contract. The Army has an acquisition objective of 2,065 vehicles for the Infantry Brigade Combat Teams. GM completed the plant and was producing vehicles in 90 days, utilizing Bluetooth-enabled tools and Ricardo Defense's integrated product support to ensure speed and precision when building the carriers.
Based on the 2020 Chevrolet Colorado ZR2 midsize truck architecture, the ISV has 90 percent commercial-off-the-shelf parts. These vehicles are expected to help eliminate the traditional marching portion of wars by providing infantry soldiers another option for moving on a battlefield.
DuMont, who will support the fulfillment of this contract in his new role, most recently worked at Raytheon Intelligence and Space, a business of Raytheon Technologies, where he oversaw global growth strategy. Before his 13 years at Raytheon, he worked in systems engineering and program leadership positions at BAE Systems and Boeing.
He was as an aviation officer and attack helicopter pilot in the U.S. Army before entering the private sector.
"Steve's robust defense, business development, and military experience position him well to advance the vision of GM Defense," says Pam Fletcher, vice president of global innovation at GM.
DuMont takes the role from Tim Herrick, the interim president of GM Defense and vice president for global product programs at GM.
Facebook Comments