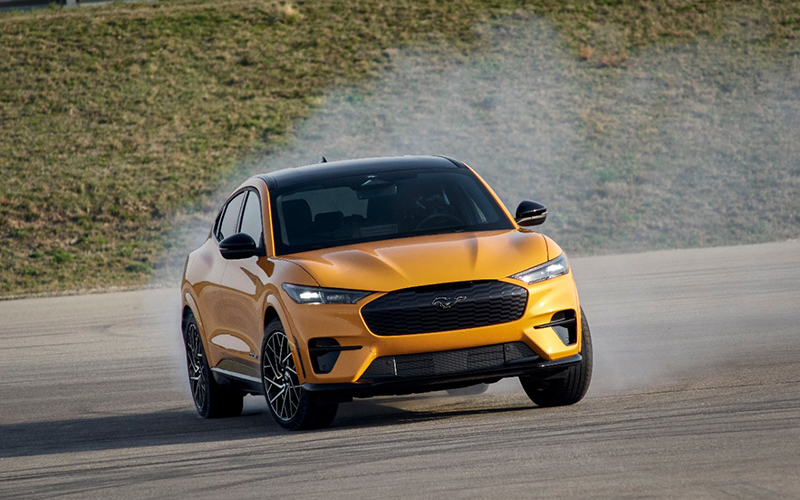 Ford Motor Co. in Dearborn, General Motors Co. in Detroit, and Stellantis-owned FCA US LLC in Auburn Hills all announced across the board sales increases from last year. Ford posted a 5 percent increase in total vehicles sold, General Motors a 40 percent increase, and FCA US a 20 percent increase.
Ford Motor Co.
Ford's first half earnings showed electrified vehicle sales up 117 percent in June, Mustang Mach-E sales up 27 percent over May, along with Ford and Lincoln SUVs seeing strong growth. The company sold a total of 115,789 vehicles in the month of June in the U.S.
The 117 percent increase came on the strength of 56,570 new vehicles being sold, a new sales record, driven by 12,975 Mustang Mach-E sales and the F-150 PowerBoost Hybrid selling 17,039 units. Escape Hybrid and Escape Plug-in Hybrid sales are up 45.9 percent over last year, selling 15,642 units.
Lincoln SUVs posted a new first half sales record, with each vehicle in the lineup showing growth. The 46,018 Lincoln SUVs sold accounted for a 23.3 percent growth. Ford brand SUVs are up 37 percent over last year, with Bronco Sport sales totaling 60,514.
"Through June of this year, Ford retail sales were up 10.7 percent. With constrained inventories and record turn rates in the second quarter, we have been working closely with our dealers gathering retail orders, which are up 16-fold over last year," says Andrew Frick, vice president of Ford sales in the U.S. and Canada. "Reservations for F-150 Lightning have now surpassed 100,000 since the truck was first shown in May."
Stellantis
FCA US LLC, a division of Stellantis, announced its first half earning July 1, showing a 32 percent increase in sales over the same time last year, with retail sales rising by 27 percent, and fleet sales accounting for 12 percent of total sales.
Jeep, Ram, Dodge, Chrysler, and Alfa Romeo brands all showed strong results, with Jeep delivering its second best second quarter for U.S. retail sales in history, with the Wrangler leading the way for the brand, having its best quarter ever as well.
"The recovering U.S. economy and continued strong demand for our products drove unprecedented results," says Jeff Kommor, head of U.S. sales for Stellantis. "We continue to work closely with our suppliers to mitigate the manufacturing impacts caused by the various supply chain issues facing our industry."
The Ram brand showed a 47 percent year over year increase, selling 187,750 total vehicles. Ram pickup trucks rose 40 percent, while the ProMaster Van and ProMaster City showed out with 129 and 130 percent increases, respectively.Total sales of the Chrysler brand increased 36% to 18,900 vehicles compared to Q2 of last year, driven by the Chrysler 300 and Chrysler Pacifica. The Pacifica Hybrid, the minivan segment's first-ever hybrid vehicle and the only plug-in hybrid minivan, also recorded its best ever second quarter total sales.
Dodge brand total sales rose 42 percent year over year, with the Challenger rising 52 percent, the Charger 95 percent, and the Durango 53 percent.
General Motors Co.
General Motors Co. announced July 1 that it sold 688,236 vehicles in the U.S. in the second quarter of 2021, a 40 percent increase compared to last year.
"The U.S. economy is accelerating, consumer spending is robust and jobs are plentiful," says Elaine Buckberg, chief economist at GM. "Consumer demand for vehicles is also strong, but constrained by very tight inventories. We expect continued high demand in the second half of this year and into 2022."
Chevrolet brand deliveries were up 31 percent, with the Bolt EV and Traverse delivering record setting second quarter and first half sales. The Silverado LD saw a 31 percent increase in deliveries, and the HD 42 percent. The Tahoe (74 percent), Suburban (91 percent), Trailblazer (248 percent), and Corvette (224 percent) all posted sharp increases as well.
GMC brand deliveries grew by 50 percent led by 38 and 46 percent gains from the Sierra LD and HD models respectively. The all-new Yukon and Yukon XL saw a combined increase of 126 percent. The Acadia SUV delivered 72 percent more vehicles and the Terrain SUV 19 percent more.
The Cadillac brand saw a 55 percent increase in deliveries, leading to its third consecutive quarter of year over year growth. The Escalade saw a 120 percent increase in deliveries, while the XT5 and XT6 had total sales increases of 83 and 73 percent respectively.
Facebook Comments