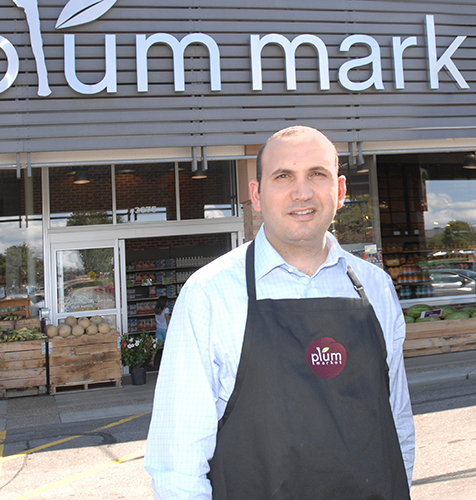 Brothers Matthew and Marc Jonna opened their first Plum Market store in 2007. Today, the grocery business operates three stores in Michigan, one in Chicago, and — come spring of 2015 — one express location at Detroit Metro Airport. DBusiness Daily News spoke with Matthew Jonna about the company's express concept and what it takes to be an executive in today's grocery industry.
1. DDN: Why add a store at Detroit Metro Airport?
MJ: We've wanted to create a quick version of our core retail business, an express concept, for a while now. We looked at different opportunities — a regional mall, even a street location, just a smaller version — but this was the perfect fit to test it.
We'll have 3,500 square feet (at the airport). Our typical store averages about 20,000 square feet, so it's significantly smaller. There will be a Zingerman's coffee bar; a full wine, a mixology bar; and a pretty significant prepared foods department, like we have in our stores. We'll have a local products category, like McClure's Pickles and Gayle's Chocolates. There will also be mini — what we call in our stores — apothecary, where people can get natural versions of travel-size toothpastes and all of that.
2. DDN: What else is going on at Plum Market?
MJ: We call ourselves a multi-channel retailer because we have our core retail stores. Then we have a pretty significant food service business that we do for corporations where we actually operate their cafeteria lunch program. (Our customers include) Lear, FordDirect, and Penske, and we just recently picked up Magna. We also have our e-commerce business, which is based in Michigan as well and services the whole country. We sell about 1,200 products online, and we're about to launch it internationally. We're planning a complete re-launch of our e-commerce site in the next 60 to 90 days.
3. DDN: Where do you see the most growth opportunity?
MJ: Our core retail stores are still, and will always be, the largest part of our business. We're looking to grow that now. Right now, our focus is (on) Michigan and Illinois, but we see ourselves expanding into other major markets in the longer term.
4. DDN: You grew up working for your father's store, Merchant of Vino Marketplace. How did this prepare you for your career?
MJ: My father (Ed Jonna) was a very good mentor. The grocery industry is an industry they really don't teach in college, so we had to learn it (first-hand). I always joke about how there are a million lawyers. There are certain positions that everyone graduates to, but grocery is never on anyone's radar. But everyone needs it. It's a $600-billion-a year industry, just in the U.S. It's a great business if you're not afraid of it. You always have to be working. If you're not a workaholic as an executive in the grocery business, I don't think you'll make it. (laughs.)
5. DDN: What challenges do you and other grocery professionals face today?
MJ: The Internet has changed things a lot for any retailer, so you really have to be different. If you don't have a unique position in what you do, it's a tough market. We've really been lucky. Plum Market is different. Organic and natural products are big for us. We also focus on having a great prepared foods department and a strong beverage program. We're very competitive in the wine category, which has given us an edge as well. We're confident (the store) is positioned well for the next 50 years.
Facebook Comments