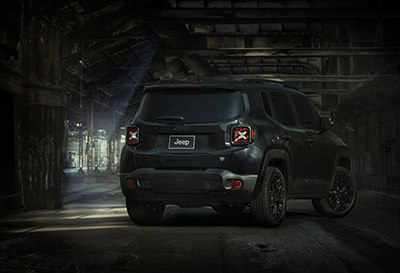 Auburn Hills-based FCA US today introduced a 2016 Jeep Renegade Batman v Superman: Dawn of Justice edition with black accents as part of a partnership with Warner Bros. Pictures.
The special edition Jeep Renegade, which arrives in dealer showrooms later this month, will be available in metallic silver or black. The vehicle features 18-inch black wheels, along with black accents around the exterior. The SUV, which will retail for $26,250, has a black interior with black cloth seats and glossy black finishes.
Mike Manley, head of the Jeep Brand at FCA Global, says the special edition vehicle is based on the Jeep Renegade Latitude 4×4 and comes with a 2.4-liter engine, a rear backup camera, and four drive modes.
The partnership also includes television advertisements with the Jeep and Dodge brands.
"With much of the film's production taking place in our own backyard of Detroit, our ability to creatively collaborate with the Warner Bros. team reached new heights," says Olivier Francois, chief marketing officer of FCA Global. "The product integration was so organic to the filmmakers' vision and storyline, all we had to do was incorporate scenes from the movie for our commercials."
The film, starring Ben Affleck and Henry Cavill, was filmed in various locations across the region, including the Russell Industrial Center, Michigan Central Depot, the former Detroit Police headquarters, and the former Wayne County headquarters, and throughout Detroit.
The Jeep brand today debuted a 30-second commercial, called "Into the Storm," featuring footage of Bruce Wayne (Affleck) behind the wheel of a Jeep Renegade. The Dodge brand will also launch a 15-seocnd commercial in March featuring chase scenes in Challenger and Durango vehicles.
Batman v Superman premieres March 25.
Facebook Comments