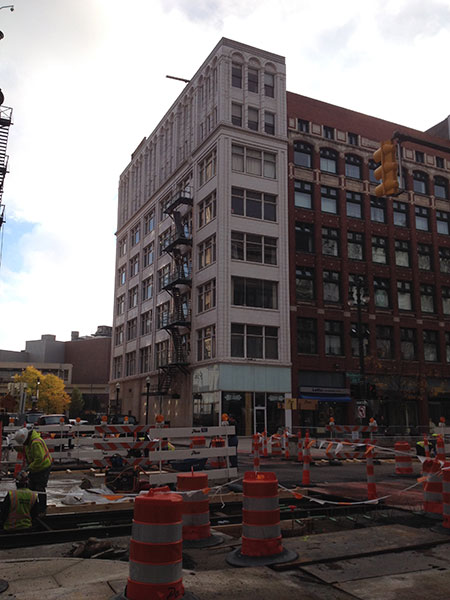 Working with Japanese and other Far East investors, Princeton Enterprises in Bloomfield Hills has acquired the Oslo Building at the southeast corner of Woodward Avenue and John R Street. The acquisition is part of an overall portfolio that has grown to more than 1,000 apartments, as well as retail and office space, in the last 18 months.
The eight-story, white terra cotta structure at 18 John R was formerly home to Oslo Sushi Bar, which has since closed. Most recently, Cornerstone Barrel House offering America comfort food opened on the first level, while Whiskey Disco operates in the lower level. Matt Lester, founder and CEO of Princeton Enterprises, plans to add between nine and 15 apartments on the upper floors.
Lester recently acquired or has under contract more than a dozen buildings in downtown Detroit, Midtown, Lafayette Park, and the North End (east New Center Area). The Lafayette Park properties include the Palms Apartments, Manchester Apartments, Palms East (formerly Orleans Apartments), City Side Apartments, and Regency Tower.
In downtown Detroit, Princeton Enterprises owns Grand Park Centre, Oslo Building, Claridge Apartments, and The Ashley. It also plans to close soon on a six-story building on Larned Street, which was formerly home to Opus One Restaurant. Lester is actively looking to fill the building, including the addition of a first-floor restaurant.
In Midtown, the company owns Cass Park Apartments, Orchestra Place Apartments, and Cathedral Apartments, while at the North end the company owns or has under contract two retail stores along Woodward Avenue, just south of West Grand Blvd., as well as the Grand Tower at Beaubien and East Grand Blvd.   
"We're very busy in Detroit, which we feel has more upside," says Lester. "We've been traveling the country looking for acquisitions, which we call our due diligence trips, over the past 12 months, and while other places have opportunity, there's no particular cities and markets as exciting as Detroit.
"And it's just not the local investors that feel that way. We were at a real estate conference two weeks ago in Las Vegas, and Detroit was the talk of the conference. It's so different in Detroit now. There is so much going on from what Dan Gilbert (founder and chairman of Quicken Loans) is doing, the new M-1 Rail line, the new hockey arena, and all of the other development. We feel there is still good value out there to be had."
Facebook Comments