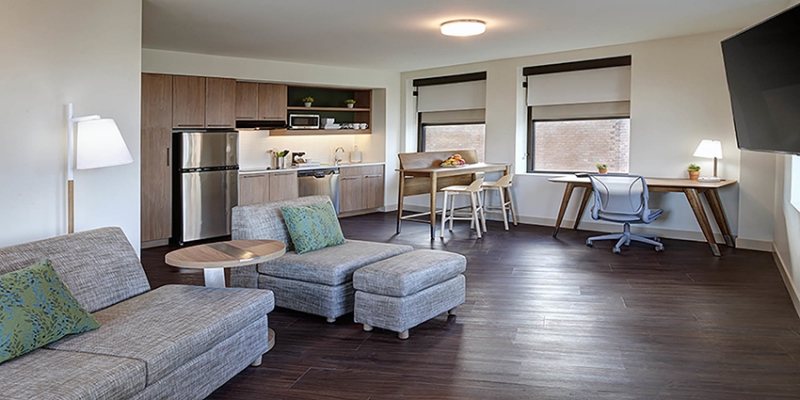 Element Hotels, based in Maryland and part of Marriott International, and Detroit's Roxbury Group and Means Group, Monday announced the opening of Element Detroit at the Metropolitan, debuting the eco-focused hotel brand in Michigan in a restored 92-year-old neo-Gothic building in Detroit's entertainment district.
Located at 33 John R. St., just north of the YMCA, the Metropolitan Building opened in 1925 as a destination for jewelers and shoppers. The hotel has 110 studio and one-bedroom guest rooms and will have a rooftop bar and patio called The Monarch Club at The Metropolitan, with private event space.
The Monarch Club will be the first of three food and beverage venues to open in the building and is expected to debut in the first quarter of 2019.
"We are thrilled to be bringing Element Hotels to Michigan for the first time with the opening of this property that is steeped in so much history," says Toni Stoeckl, vice president of distinctive select service brands for Marriott International. "The Metropolitan has sat vacant for nearly 40 years and was destined for demolition, making the opening particularly special for us. We're so excited to have played a role in bringing this iconic building back to life for the city of Detroit."
As much of the original features of the building were preserved as possible, including the exterior façade, a vaulted ceiling in the interior lobby, decorative stair cases, and terrazzo flooring on the guest corridors. The original storefronts of the jewelry stores have also been preserved on the second floor and repurposed as meeting rooms.
"The restoration and rebirth of this building with the Element Detroit at the Metropolitan as its centerpiece is a testament to the resilient spirit of Detroit," says David Di Rita, co-founder and principal of The Roxbury Group.
"When the building closed 40 years ago, it would have been hard for Detroiters of that era to have imagined that it would come back to life in this way, particularly with so many of its beautiful original features still intact. We're delighted to be able to offer Detroit's first extended-stay hotel to the city's residents and visitors and look forward to adding some fantastic social destinations to our increasingly vibrant theatre district soon."
The hotel offers eco-friendly amenities including décor and artwork made of repurposed and recycled materials, low-VOC paint, and LED lights.
Each room has a filtered water system, low-flow faucets and toilets, and environmentally conscious lotion, shampoo, conditioner, and soap. Standard rooms have mini fridges, microwaves, and sinks, while the studios and one-bedroom guest rooms have refrigerators, sinks, microwaves, dishwashers, and two-burner cooktops.
Also available is more than 5,000 square feet of meeting space, including three event rooms, and 7,000 square feet of ground-floor and lower-level retail space.
Element Hotels offer a complimentary breakfast, and Element Detroit also will include an 830-square-foot fitness center, open 24/7, as well as bikes to ride around the city.
The property is managed by Azul Hospitality in California. Nightly rates start at $189.