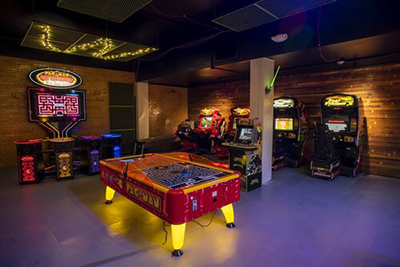 The Durfee Innovation Society, a multi-faceted community hub for children, students, and adults located in the center of Detroit, has reached full occupancy at a time when the local and national office market is challenged by remote work, the COVID-19 pandemic, and high unemployment.
The 176,000-square foot Durfee Innovation Society was formerly the Durfee Elementary-Middle school that was closed several years ago. The school campus, the first elementary to high school campus in the country when it opened in the mid-1920s, originally included Roosevelt Elementary School, Durfee Middle School, and Central High School.
Today, Roosevelt Elementary School has been demolished, and now all classes from first grade to senior year are conducted at Central High School and operated by the Detroit Public Schools Community District. In 2017, Life Remodeled, a nonprofit organization in Detroit that works hand in hand with surrounding neighborhoods to repurpose closed schools into active community centers, acquired Durfee and began a massive redevelopment inside the building and the surrounding blocks using thousands of volunteers.
The Durfee Innovation Society has signed 13 leases since March 2020 to bring it to 100-percent occupancy this month. Overall, the organization has 39 for profit and nonprofit tenants that pay monthly rent of $1.25 per square foot.  The office market in metro Detroit ended 2020 with an 18.4 percent direct vacancy rate, according to Friedman Real Estate in Farmington Hills.
Durfee's full occupancy speaks to "the mission of Life Remodeled and the passion behind it," says Brandi Haggins, director of the Durfee Innovation Society. "We posted our offerings on social media and our website, people can request a tour, and I think we also benefit from word-of-mouth advertising from our tenants."
In recent years, the entire building has been renovated, include a new HVAC system with forced air heat and air conditioning, a free rec room and laundry room, a gym, and a former pool since filled in and used for meetings and activities (called The Dive), and numerous other amenities.
Other key aspects include:
— On March 1, 2020, just before the pandemic-related shutdown, Durfee's occupancy was 89 percent. On May 7, the building was 100-percent occupied.
— 77 percent of organizations at the DIS are led by People of Color and 67 percent are led by women. The 39 tenants employ more than 230 people.
— Life Remodeled is focused on specific impact areas: education, jobs, and human services.
— Based on estimates, 3,000 Detroiters have access to sustainable, living wage jobs, 4,000 individuals are served through human services, and 5,000 students are served through educational programs.
— Recent improvements include The Dive, a former pool filled in with concrete, painted with metallic epoxy to look like the ocean, and now used as a multipurpose space for youth programs.
— The Spin, a free laundromat for students and families to increase school attendance in DPSCD schools.
Tenants include Beyond Basics, Detroit at Work, Cleary University, Methodist Children's Home Society, GreenPath Financial Wellness, The Lawn Academy, Metro Detroit Youth Clubs, Toarmina's Pizza, and more. For more information, visit www.Durfeeis.org.
Facebook Comments