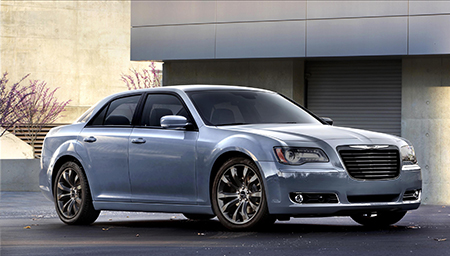 The Chrysler 300, the flagship of the "Imported from Detroit" advertising campaign, has updated its S model for 2014 with new "blacked out" design elements and an exclusive Beats by Dr. Dre audio system.
"For 2014, the new Chrysler 300S redefines 'S' for 'Stance,' with an even more imposing presence," says Al Gardner, president and CEO of Chrysler. "The new Chrysler 300S now comes with exquisitely tailored dark blue leather seats. We call it Ambassador Blue."
Dr. Dre and Jimmy Iovine, the founders of Beats by Dr. Dre, worked side-by-side with the Chrysler's engineering team to design and tune the new model to deliver high-definition sound that is on par with a professional recording studio. The resulting audio system includes 10 speakers and a 12-channel amplifier that integrates the heart of the Beats proprietary equalizer algorithm.
Hinting that the Chrysler flagship was born for those seeking "blacked out" style, the new 2014 Chrysler 300S model features a monochromatic look with specially appointed body-color door handles and fascia inserts.
The vehicle offers a 3.6-liter Pentastar V-6 engine with a cold-air induction system and sport-tuned exhaust system that produces 300 horsepower and 264 lb.-ft. of torque. 
---