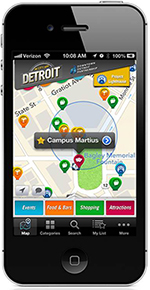 The Downtown Detroit Partnership has released a mobile app that enables users to take advantage of the city's offerings by directing them to nearby attractions on a real-time map and connecting them with representatives from D:Hive's welcome center via the "Ask a Local" function.
"The app truly provides a unique, 'insider' view of the city and will hopefully empower and encourage employees, residents, and visitors to explore new favorite destinations and activities," says Dave Blaszkiewicz, president & CEO of the Downtown Detroit Partnership.
Available for both Android and Apples devices, the Detroit Insider's Guide app also connects users with local Project Lighthouse locations which provide assistance to anyone who is lost, having vehicle trouble, or concerned for his or her safety. More than 30 businesses downtown, along with the Detroit Police Department, act as "lighthouses," which are open 24 hours, seven days a week.
The release of the new app comes alongside the relaunch of the organization's website, downtowndetroit.org, after six months of extensive remodeling, says Heather Kazmierczak, a DDP spokeswoman. The revamped site, which is tablet and mobile adaptable, now offers newsfeeds, events listings, and an interactive map that displays location-specific events, restaurants, stores, and other attractions.
"It's been quite an evolution in a short amount of time," Kazmierczak says. "We've gone from having an unsophisticated website to having an expansively built out platform … We know the app and the website will evolve and expand with the needs of the downtown community, and having these two very strong tools developed makes it easier to travel down the path of further development."
And the organization's foray onto digital platforms shows no signs of slowing down. Even after Blaszkiewicz steps down in June, the organization intends to continue to reach out to the Detroit community through digital media, Kazmierczak says.
"There will definitely be a phase two of the app," Kazmierczak says. "(Downtown Detroit) is quickly becoming a resource for everyone looking to explore the city, and we'd like to add a parking and traffic alert feature."
To download Detroit Insider's Guide, visit the App Store on iTunes or Google Play.
Facebook Comments