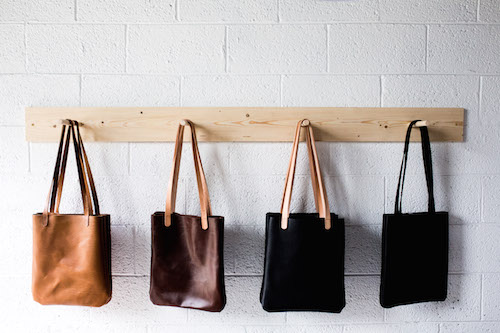 Leather goods manufacturer Douglas and Co. Detroit will open its first storefront on Aug. 25 in the city's North End neighborhood. The store, which is connected to the company's new and expanded production facility, will offer a selection of handcrafted leather bags, wallets, and accessories.
Douglas and Co.'s new 800-square-foot facility, which has been operating since July in its manufacturing space, contains an area for leather storage, three production tables, a sewing machine, a garage, and shipping station.
The interior of the facility features white cinder block walls, a black ceiling, exposed painted beams, and gray concrete floor. The production portion of the space is also viewable from inside the shop.
"Having the store within the production space will show people where the products are actually made," says Melissa Douglas, co-founder of Douglas and Co. "We're excited for people to become more educated about leathers, tools, and hardware, and what it actually looks like running a business in the city."
The store will feature two new series of bags when it opens that are not available on the Douglas and Co. website or with its retail partners, which include six metro Detroit-based boutiques, as well as new colors for its snap minimalist wallet and a new long billfold wallet. It also will offer a variety of leather key chains, bags, wallets, desk mats, mouse pads, and more.
While the company has no immediate plans for further expansion, Douglas says they would like to obtain a flat bed sewing machine so they can make products out of different materials other than leather, such as canvas.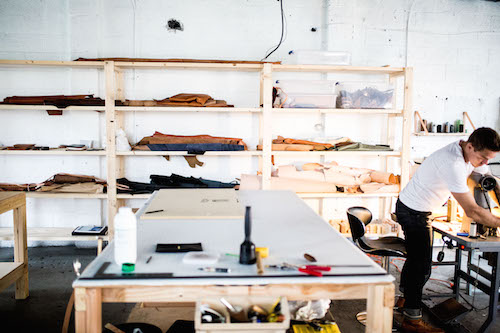 "We would love to offer products in canvas, with lower price points, (as it's) much more accessible than leather, price wise," she says.
The store will be open from 12-5 p.m. on Tuesday and Thursday, and 11 a.m. to 2 p.m. on Saturday. Various workshops will also be held at the facility.
For more information, visit douglasandcodetroit.com.
Facebook Comments