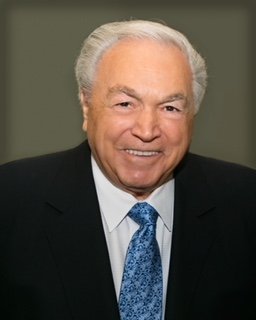 Dominic S. Moceri, 86, Hall of Fame Builder and Developer of residential communities in southeastern Michigan, passed away of natural causes amongst his loving family at his Florida residence on February 7, 2018. Mr. Moceri, who was born in Detroit in 1931, was known as the "Silent Giant" and forever changed the landscape of the region.
As Detroit's post-war economy expanded, Dominic and his father, Sebastian "Buster" Moceri, realized growth would take off in the suburbs. And when the federal highway construction boom extended I-75 up through the middle of Michigan, he realized people would be able to quickly travel longer distances from home to work. Together, they acquired prime parcels of land throughout southeast Michigan, which would become homes for generations of Michigan families. Mr. Moceri teamed up with his in-laws the Grillo, Palazzolo, Lombardo, and Chirco families.
While known in recent years for luxury homes, the Moceri family has built more than 55,000 residences in a wide array of styles — luxury homes, ranches, condominiums, apartments, manufactured homes, and senior living communities.
Giving back to the community is the cornerstone of Mr. Moceri's legacy. Through philanthropy, Dominic and Frances Moceri have assisted families in becoming healthier, safer, cultured, and educated. The various beneficiaries of their giving include: Beaumont Health, the National MS Society, The Weizman Institute of Science, National Holocaust Museum, Innovation Hills Special Sensory Playground for the Disabled, various Catholic Charities, Community Parks, Paralyzed Veterans of America Michigan Chapter, The Veterans Tribute of Oakland Township, De LaSalle Collegiate High School, Italian American Cultural Society, Charter Benefactors of The Oakland University School of Medicine, The Rainbow Connection (Making Dreams Come True for Michigan Children with Life Threatening Illnesses), Oakland Church, and clean water initiatives in Nigeria … to name a few. Mr. Moceri has been often quoted as saying with his bright smile, "I have never been poor by the nature of giving."
Dominic S. Moceri is survived by his wife, Frances (Grillo) of sixty years, his 6 sons, Sebastian, Michael (Beverly), Jerome (Deborah), Dominic J. (Anna), Mariano (Maria), Frank, and 19 grandchildren and 10 great grandchildren.
Moceri was featured on the cover of the March/April 2017 issue of DBusiness.
FUNERAL SERVICES: Visitation on February 17 and 18 (2 pm-8pm) at the Wujek-Calcaterra and Sons Funeral Home, 54880 N. Van Dyke, Shelby Township, MI 48316 (248) 677-4000
FUNERAL MASS: February 19, 10 a.m., St. Andrews Catholic Church, 1400 Inglewood Ave., Rochester, MI 48307, (248) 651-7486
INTERMENT: February 19, Noon, White Chapel Cemetery, 621 W. Long Lake Rd., Troy MI 48098 (248) 362-7670
MEMORIALS: In lieu of flowers, please donate to Beaumont Foundation (Troy Neonatal Intensive Care Unit) or Personal Charity of Choice.