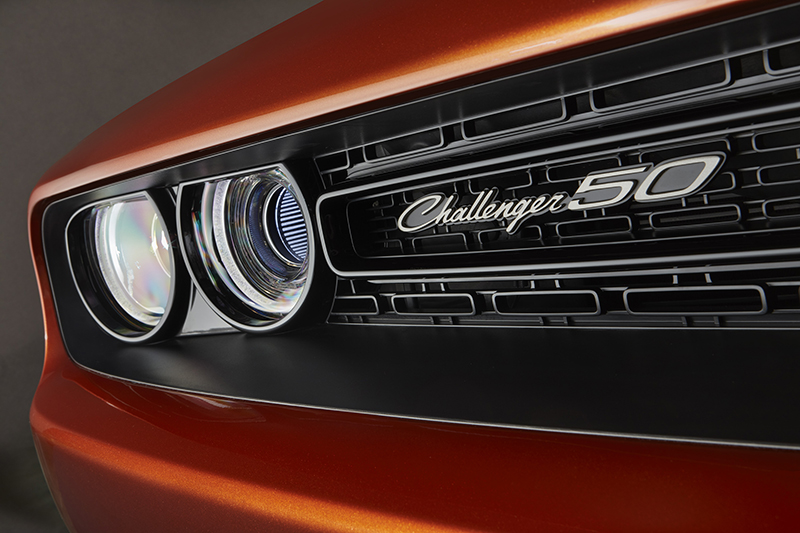 FCA's Dodge division, based in Auburn Hills, today introduced a limited-production 50th Anniversary Edition of its iconic Challenger muscle car at the 2019 AutoMobility LA in Los Angeles.
The 50th Anniversary Edition package starts at an MSRP of $4,995, on top of the price of the car, which ranges from $27,995 (for an SXT) to $72,295 (for an SRT Hellcat Redeye). Dealer orders for 2020 Dodge Challenger models, including the 50th Anniversary Edition, open in December. Vehicles will start arriving in Dodge//SRT dealerships in early spring of 2020.
Only 1,960 of the 50th Anniversary Edition models will be available with 70 numbered vehicles available in each color and each trim package.
"2020 marks the 50th Anniversary of the Dodge Challenger, one of the most storied muscle cars in history," says Tim Kuniskis, global head of Alfa Romeo and head of passenger cars for Dodge, SRT, Chrysler, and FIAT. "That history was built on a few key things: big attitude and big muscle, loud colors and loud exhausts, and an enthusiast community that is as unique and diverse as our special editions. So, to commemorate the 50th, we're celebrating with a cool new special edition that checks all of these boxes."
Dodge is offering the 50th Anniversary Edition on Challenger GT RWD, R/T Shaker, R/T Scat Pack Shaker and R/T Scat Pack Shaker Widebody models. The already heavily equipped Challenger SRT Hellcat and SRT Hellcat Redeye models will feature a 50th Anniversary grille badge for the 2020 model year as standard equipment.
A body-color Shaker hood scoop is standard on all HEMI V-8 engine powered R/T, R/T Scat Pack and R/T Scat Pack Widebody models for the 50th Anniversary Edition. This is the first time the Shaker hood scoop is featured on a Challenger Widebody model.
The cold-air grabbing Shaker extends from the engine compartment, directing cooler air back into the 5.7-liter or 392 HEMI V-8 engine. Like the original 1970 Challenger R/T with the Shaker hood, the 50th Anniversary Edition continues the Dodge tradition of an engine-mounted hood scoop that "shakes" with the movement of the powertrain.
The functional Shaker hood comes with a Mopar cold-air intake, conical air filter, and optimized air box for improved airflow and performance. Lift the hood and enthusiasts will also be treated to a "SHAKER" under-hood decal — reminiscent of the original 1970 Challenger.
Fiftieth anniversary styling cues include illuminated air catcher headlamps, satin black hand-painted hood and black-wrapped roof and decklid, Challenger 50th Anniversary logo badges appear on the grille and spoiler in new Gold School finish. Fender badges also are finished in Gold School."The standard satin black fuel-filler door with heritage "FUEL" lettering adds a touch of nostalgia.
To celebrate its golden anniversary, Challenger also introduces an all-new color, named Gold Rush. It joins the limited exterior paint palette of six other colors that are available with the 50th Anniversary Edition, including Frostbite (new), Hellraisin (new), Sinamon Stick (new), TorRed, F8 Green, and Go Mango.
Throwback-inspired Interior features include 50th anniversary details from the steering wheel to the instrument panel, startup screens, gauge faces, seat backs, door bolsters, and floor mats.
Facebook Comments