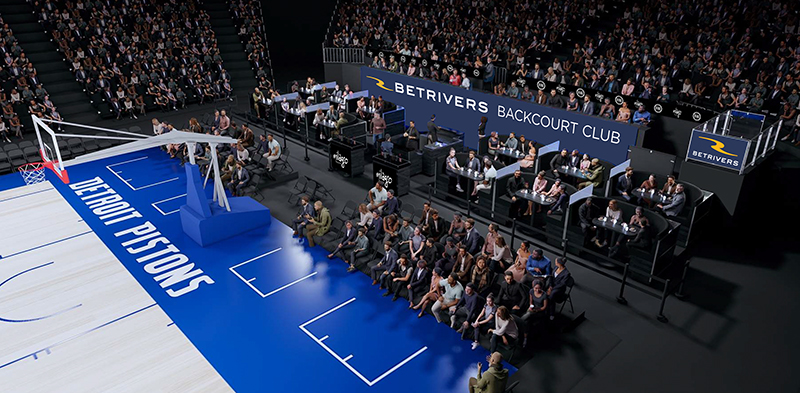 The Detroit Pistons' home opener on Oct. 17 against the Orlando Magic will mark the debut of the BetRivers Backcourt Club, a private space located on the floor level behind the visiting baseline at Little Caesars Arena.
The exclusive, luxury space is a first-of-its-kind premium ticketed location for members, and includes u-shaped booth seating with tables along with a full bar presented by Milagro Tequila. Throughout the 2022-23 campaign, VIP experiences, gifting, and premium activations will be integrated into the club.
Last season the Pistons introduced the CURE Insurance Courtside Club for courtside ticket holders. Both locations offer multiple club amenities.
"We are excited to offer our fans the opportunity to experience NBA game action in a uniquely new and innovative way inside The BetRivers Backcourt Club," says Brenden Mallette, senior vice president of corporate partnerships and engagement for the Pistons. "This new club reinforces our commitment to re-imagining hospitality while remaining true to our core principles of creating a best-in-class experiences for Detroit Pistons fans and all those who love NBA action."
In addition to all Pistons home games, the space will be activated for networking and brand partner events.
"This is an exciting extension of our multi-year partnership with the Detroit Pistons, a team with a rich history that includes three NBA Championships," says Richard Schwartz, CEO of Rush Street Interactive Inc., a Chicago-based gaming and sports betting company which operates BetRivers.com. "As two organizations that share a steadfast commitment to provide sports fans with incomparable experiences, we are proud to reveal the new BetRivers Backcourt Club, making the Detroit sports scene even more exciting for avid NBA fans."
The new premium seating activation with BetRivers is a part of a larger partnership recently entered into by the Pistons and RSI.
Additional partnership activations in the agreement include traditional assets such as in-arena signage, TV and radio media advertising inventory, a sports betting theme night, and exclusive VIP experiences and premium hospitality for BetRivers customers.
With BetRivers live in both Michigan and Ontario, patrons have access to multiple RSI betting options on multiple NBA team along with thousands of annual sports events. An array of online casino games, including slot machines and table games, are available, as well.
For more information, visit here.
Facebook Comments