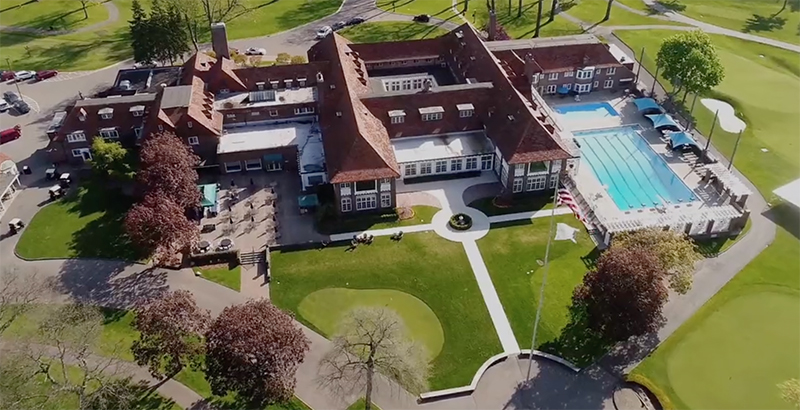 In preparation for the 2020 season, including hosting the Rocket Mortgage Classic for the second year, the Detroit Golf Club has hired a new head golf professional and has undertaken improvements to its historic Albert Kahn-designed clubhouse.
The Rocket Mortgage Classic, successful in its inaugural June date last year, moves to May 25-31 in 2020 for the first annual match. Overseeing the tournament will be the club's new head golf pro, Josh Upson, who most recently serving as head golf pro at Medinah Country Club in Illinois.
"We were impressed by Josh's experience garnered at clubs across the country and his expertise," says Mark Douglas, president of the Detroit Golf Club. "Josh's passion for golf is contagious, and we look forward to our members benefitting from his knowledge and love of the game."
As the club's 10th head professional, Upson will oversee day-to-day operations of the club's golf program and operate DGC's newly renovated pro shop. Upson replaces Jon Gates.
"To have the opportunity to spend my days at Detroit Golf Club with its two Donald Ross-designed courses is a dream," says Upson. "I can't wait to create the best possible member and guest experience and to welcome the PGA Tour in May."
The renovated pro shop is just one area of the $4.5 million DGC clubhouse renovation, which encompasses 12,600 square feet of the exterior and 10,800 square feet of the interior of the building. Built in 1918, the Kahn-designed clubhouse also is undergoing renovations of its dining room, patio, and façade.
"As we prepare for our 2020 club season and this year's Rocket Mortgage Classic, our beautiful clubhouse is finally getting the renovation it proudly deserves," says Douglas. "When complete, it will be the perfect blend of a historic design with a modern, contemporary feel. Mr. Kahn would be proud."
Clubhouse renovation discussions began in 2017, before the Rocket Mortgage Classic was a reality. This is part of a larger vision that could include a total of $9 million of renovations, contingent on member approval. Additional renovations would include redesigning the women's locker room and upstairs grill. The final phase would include an expanded pool deck and new administrative offices.
In related news, last week the Rocket Giving Fund, the 501(c)(3) that manages the Rocket Mortgage Classic, announced more than $1.2 million in disbursements to its seven primary beneficiaries, Birdies for Charity recipients, and other nonprofits. More than $1.1 million was directed to nonprofits based in the city of Detroit.
At an event held by the Rocket Mortgage Classic and Rocket Giving Fund, donations totaling $912,340 to the tournament's primary beneficiaries were announced. These include:
$225,000 to Midnight Golf, which helps under-served young people transition from high school to college and into a professional career
$200,000 to the Detroit Children's Fund, which makes high-potential investments to expand successful schools, greatly improve lower-performing schools, and discover and develop talented educators so that every child in Detroit has the opportunity to receive an excellent education
$150,000 to the Greater Palmer Park Community, a collection of seven neighborhoods around Palmer Park and the Detroit Golf Club dedicated to the holistic improvement and advancement of the entire area
$125,000 to First Tee of Greater Detroit, which impacts the lives of young people by providing educational programs that build character, instill life-enhancing values and promote healthy choices through the game of golf
$100,000 to the Rickie Fowler Foundation, which handles the philanthropic work of Rocket Mortgage spokesman Rickie Fowler
$92,340 to the Detroit Police Athletic League (Detroit PAL), a Rocket Mortgage partner  that builds character in young people through athletic, academic, and leadership development programs
$20,000 to the Detroit Golf Club Caddie Scholarship Foundation, which helps their caddies achieve their higher education dreams
The Rocket Mortgage Classic was the most awarded event during the 2018-19 PGA TOUR season, being recognized for "Best Special Event" (the AREA 313 Celebrity Challenge) and "Best Tournament Sales" as well as being honored with the first "Fair Way Award" for its diversity and inclusion initiatives. The Rocket Giving Fund is the primary charitable beneficiary of the tournament and supports many local charities. More information is available at RocketMortgageClassic.com and on Facebook, Twitter, and Instagram (@RocketClassic).
Facebook Comments