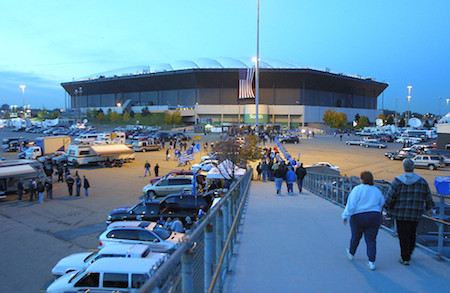 Detroit-based Triple Investment Group, owners of the Pontiac Silverdome, today announced a design competition to re-imagine and reshape the former home of the Detroit Lions and its surrounding property.
"The objective is to have an open-ideas design competition that aims to explore new visions for the space," says Monica Ponce de Leon, the jury chair of the contest. "There are no restrictions regarding boundaries, program mix, height, or density. We want to provide maximum freedom to the participants to engage in the project, without constraints, in the most creative way."
The Silverdome was the most prominent building of its kind when it opened in 1975 in Pontiac, and throughout three decades hosted world-class events including Super Bowl XVI, the 1994 FIFA World Cup, sold-out concerts by some of the world's biggest names in music, and the 1987 Mass celebrated by Pope John Paul II attended by 93,000 worshippers, to name a few.
It was home to the Detroit Lions until 2002, when they moved to Ford Field in downtown Detroit. Triple Investment purchased it in 2009 for $583,000, with plans to turn it into a soccer stadium. However, those plans never materialized. In recent years, it has fallen in disrepair. Its once celebrated inflatable Teflon roof has turned to shreds, falling to the seats and field below, and the structure remains an empty shell.
Andreas Apostolopoulos, chairman of Triple Investments, says he recognizes along with Oakland County officials that it is time to redefine and re-imagine the site design.
"We recognize the significance of the Silverdome to the city of Pontiac, and its intrinsic value to the people of this community, myself included," Apostolopoulos says. "We continue to remain steadfast in upholding the integrity of the property, and have been consulting with many organizations and businesses both nationally and within Oakland County for more than a year now, regarding its current and future use. With the launch of this exciting new design competition, our hope is to redefine a new era for the Silverdome site, one that we can all be very proud of."
The competition is calling all architects, planners, students, engineers, designers, and artists from around the world to participate in submitting their ideas, designs, renderings, and/or original concepts for the redesign of the Silverdome and its surrounding property.
The deadline to submit is April 12. A prize of $3,000 will be awarded to the first place winner, $1,000 to the second, and $500 for third place winner.
To register, click here.
---