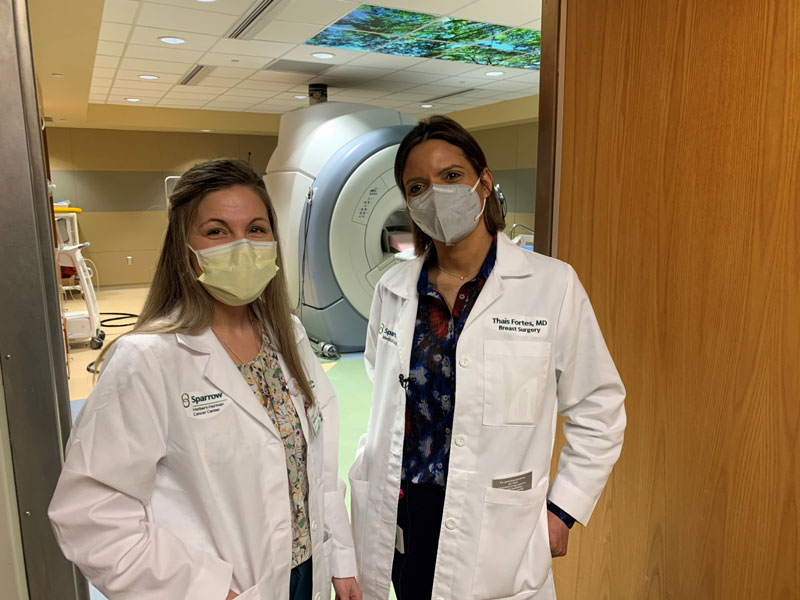 Our roundup of the latest news from metro Detroit and Michigan businesses as well as announcements from government agencies, including updates about the COVID-19 pandemic. To share a business or nonprofit story, please send us a message.
Sparrow Herbert-Herman Cancer Center Selected for Breast Cancer Trial
The Sparrow Herbert-Herman Cancer Center in Lansing is the only medical center in Michigan and has joined such national healthcare heavyweights as the Mayo Clinic and Cleveland Clinic in participating in the landmark I-SPY 2 clinical trial for breast cancer patients.
Sparrow recently enrolled its first patient in the trial, which is a major step in the advancement of precision medicine. Sparrow is mid-Michigan's leader in precision medicine, in which cancer treatment is individualized based on the patient's specific tumor instead of using a one-size-fits-all approach. Any patient who receives care at the Sparrow Breast Cancer Clinic will be screened for participation.
"The fact that an institution that is a mid-sized hospital was able to enroll in this, it is truly a big deal," says Dr. Thais Fortes, Sparrow breast cancer surgeon. "We are very excited."
Her colleague, Dr. Brittani Thomas, says the clinical trial highlights the benefits of precision medicine in targeting tumors with pinpoint accuracy, lessening the impact on surrounding tissue and the patient.
"It's a way to target their treatment," Thomas says. "It matches the patient with less toxicity, less long-term side effects, and really the best outcomes."
For more information, visit here.
FTC Received 58,709 Fraud Reports from Michigan Consumers in 2021
The Federal Trade Commission received 58,709 fraud reports from consumers in Michigan in 2021, according to newly released data. Those consumers reported losing a total of $83.309 million to fraud, with a median loss of $400.
The FTC's Consumer Sentinel Network is a database that receives reports directly from consumers, as well as from federal, state, and local law enforcement agencies, the Better Business Bureau, industry members, and non-profit organizations. Reports from around the country about consumer protection issues — including identity theft, fraud, and other categories — are a key resource for FTC investigations that stop illegal activities and, when possible, provide refunds to consumers.
Across all types of reports, the FTC received a total of 108,552 reports from consumers in Michigan in 2021.
The top category of reports received from consumers in Michigan was imposter scams; followed by identity theft; credit bureaus, information furnishers and report users; online shopping and negative reviews; and banks and lenders.
Nationally, consumers reported losing more than $5.8 billion to fraud in 2021, up from $3.4 billion in 2020. More than $2.3 billion of losses reported last year were due to imposter scams, while online shopping accounted for about $392 million in reported losses from consumers.
The FTC received 2.8 million fraud reports from consumers in 2021, with imposter scams remaining the most common type of fraud reported to the agency. Online shopping was the second-most common fraud category reported by consumers.
Prizes, sweepstakes, and lotteries; internet services; and business and job opportunities rounded out the top five fraud categories nationally.
A full breakdown of reports received in 2021 is available here.
ACG and TMA to Host 2022 Economic and Financial Market Outlook Breakfast March 1
The Association for Corporate Growth and the Turnaround Management Association are hosting their 2022 Economic and Financial Market Outlook Breakfast from 8-9 a.m. on March 1 at the Bloomfield Hills Country Club.
During the event J.P. Morgan Executive Director John Caldwell will break down the various disruptions in the economy and their potential impact on the rest of 2022.
The cost is $45 for members and $65 for non-members. To register, visit here.
Macomb County Judge Marlinga Announces Retirement
Macomb County Circuit Court Judge Carl Marlinga has announced his retirement effective Feb. 25.
Marlinga was elected to his current post and began serving in January 2017. Prior to that, he was a on the Macomb County Probate Court.
Previously, Marlinga served as the prosecuting attorney for Macomb County, having been elected to that position in 1984, 1988, 1992, 1996, and 2000. He also served as an assistant prosecuting attorney in Macomb County, an assistant United States Attorney for the Eastern District of Michigan, and a special trial attorney with the U.S. Justice Department's Organized Crime Strike Force, assigned to the Detroit office.
Marlinga was the first prosecutor in Macomb County history to hire African American assistant prosecutors. He also expanded opportunities for women lawyers in the prosecutor's office, increasing the number of women assistant prosecutors (from four out of 56 in 1984) to more than 50 percent of the staff of assistant prosecutors when he left in 2004.
Salvation Army to Host 35th Annual Bed & Bread Radiothon Thursday and Friday
The Salvation Army of Metro Detroit will host its 35th annual Bed & Bread Club Radiothon from its Southfield headquarters from 4 p.m. Thursday to 7 p.m. on Friday on WJR-AM Radio.
The Radiothon is the primary source of financial support for The Salvation Army's Bed & Bread program. Radiothon funds go directly towards feeding and sheltering metro Detroiters in need. All funds raised will help the nonprofit continue serving nearly 1.6 million meals and providing nearly 77,000 nights of shelter throughout the year.
The Radiothon lineup will feature Paul W. Smith, Sean Baligian, Marie Osborne, Kevin Dietz, Tom Jordan, Lloyd Jackson, Chris Renwick, Mitch Albom, Steve Courtney, Guy Gordon, and Dick Purtan, with special co-host Jim Vella, Salvation Army Metro Detroit and National Advisory Board member and longtime Bed & Bread Club supporter.
The Bed & Bread Club Radiothon has been broadcasting live on WJR since 2011. In its 34-year history, the fundraiser has raised more than $39.5 million.
A donation of $120 will help feed five people for nearly a month. Those who donate $240 will provide meals to 10 people for nearly a month and receive an embroidered, limited-edition Bed & Bread Club Radiothon insulated lunch tote for supporting The Salvation Army's Bed & Bread program. To donate, visit here.
Shelving Inc. Hosts 10th Annual Bocce with the Brothers Fundraiser for Capuchins
Shelving Inc., a Madison Heights provider of corporate and consumer shelving and storage solutions, will sponsor the 10th annual Bocce with the Brothers fundraiser from 6 p.m. to midnight on March 25 at Villa Penna in Sterling Heights.
Doors and bocce courts open at 5:30 p.m. and 100 percent of the event's proceeds will go directly to the Capuchin Ministries.
"Our partnership with the Capuchin Ministries has grown in such a positive way over the past 10 years and is valued immensely by our team at Shelving Inc.," says Mike Schodowski, president of Shelving Inc. "Every year we host this fundraiser, we see the life-changing impact of the Capuchin Ministries and the outstanding programs they provide to individuals in need.
"Given the challenging few years our community has faced due to the pandemic, we look forward to another successful fundraiser that gives us the opportunity to give back in a meaningful way and provide guests the chance to learn more about the brothers' mission."
Tickets to the event are $60 per person and are only available in advance. Tables of 10 people can be reserved ahead of time. Parties of nine people or fewer will follow open seating. Sponsorship and program advertising opportunities for Bocce with the Brothers are available. Sponsorships are $500 and up, and program advertisements are $50-$250. Visit here for more information.
Facebook Comments