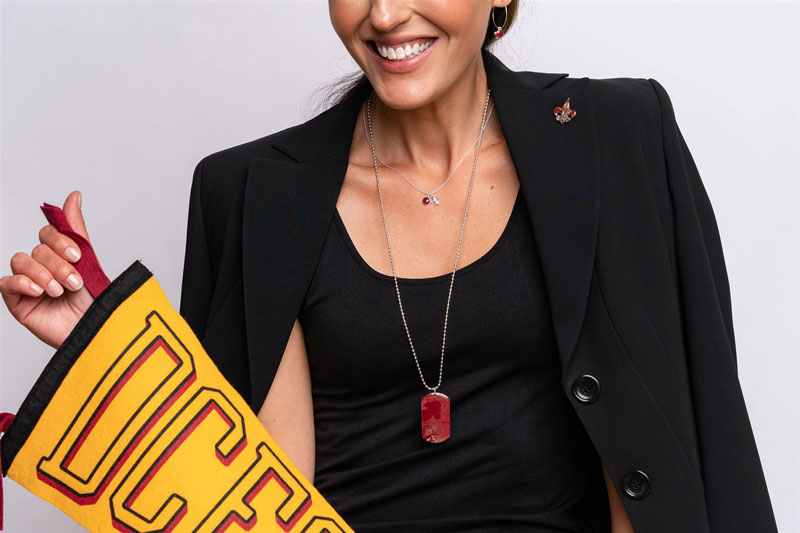 Our roundup of the latest news from metro Detroit and Michigan businesses as well as announcements from government agencies. To share a business or nonprofit story, please send us a message.
Rebel Nell Partners with Detroit City Football Club to Launch DCFC Collection
Rebel Nell is collaborating with the Detroit City Football Club (DCFC) and Ally Financial to launch the DCFC x Rebel Nell Collection. The collection features jewelry and accessories from a mural created by DCFC fans during the 2021 season, using the team's colors and created from the prompt, "What does DCFC mean to you?"
"We are proud of the DCFC Collection and our ability to incorporate the fans and their love and support of this amazing team into the creation of the pieces," says Amy Peterson, CEO of Rebel Nell. "Our collaboration began by engaging with DCFC fans to create a mural, sponsored by Ally, using the prompt 'what does DCFC mean to you.'
"It was beautiful to see words written such as family, community, and love of my city, which is a direct reflection on how the community supports and engages with each other. Now the mural, which reveals the team's logo and Fleur de Lis, proudly stands at Keyworth Stadium."
Rebel Nell turned the remnants from the mural and the actual words of support and encouragement into jewelry and other items, which fans can wear to show their support for their team.
The collection features bracelets, necklaces, earrings, and gift items. Each piece is adorned with the iconic Fleur de Lis charm and fragments from the fan-made mural in team colors.  Prices start at $35. The DCFC x Rebel Nell Collection is available online at rebelnell.com, at the DCFC Team Store, and in Rebel Nell's retail locations (Twelve Oaks Mall and Holden Street in Detroit). A portion of the collection's proceeds will benefit the Detroit Youth Soccer League.
GM Announces Return of Capital to Shareholders
General Motors Co. in Detroit announced that its Board of Directors has authorized the reinstatement of a quarterly cash dividend on the company's outstanding common stock at a rate of $0.09 per share. The first dividend will be paid on Sept. 15 to shareholders of record as of the close of business on Aug. 31.
GM also announced it will resume opportunistic share repurchases. This week, the board increased the capacity under the company's existing repurchase program to $5.0 billion of common stock, up from the $3.3 billion previously remaining under the program.
"GM is investing more than $35 billion through 2025 to advance our growth plan, including rapidly expanding our electric vehicle portfolio and creating a domestic battery manufacturing infrastructure," says Mary Barra, chair and CEO of GM. "Progress on these key strategic initiatives has improved our visibility and strengthened confidence in our capacity to fund growth while also returning capital to shareholders."
GM suspended its quarterly dividend in April of 2020 in response to uncertainty driven by the global coronavirus pandemic.
Michigan Receives First Round of State Small Business Credit Initiative Funding
The state of Michigan is deploying up to $72 million in the first round of State Small Business Credit Initiative (SSBCI) 2.0 funding from the U.S. Department of Treasury.
This initial round of funding will be available to support loans to small businesses through MEDC's Access to Capital programs, including the Collateral Support, Loan Participation, Loan Guarantee, and Capital Access Programs, as well as equity investments for early-stage, technology-based businesses in Michigan as part of the Small Business Venture Capital Program.
Within the next 60 days, funding also will be available for loans of $250,000 or less for small businesses, with a focus on businesses owned by socially and economically disadvantaged individuals, or businesses with fewer than 10 employees, to apply for through specified lenders.
The Michigan Small Business Venture Capital Program (SBVCP) will utilize $75 million in SSBCI 2.0 funds to increase the availability of capital to early-stage, technology-based businesses aligned with the MEDC Strategic Plan. The program will invest as a limited partner in venture capital funds operating in the state who, in turn, fund qualified for-profit early-stage, technology-based businesses helping to support those businesses and continue to grow Michigan's entrepreneurial ecosystem overall.
Venture funds seeking to apply for investment through SBVCP should visit here.
Applications from Michigan venture capital funds will be accepted by the MEDC during a three-year open period or until the budget is exhausted. Recommendations for awards will be submitted to the Michigan Strategic Fund board for approval.
To learn more about MEDC's Access to Capital program visit here.
Belle Isle Aquarium Adds Octopus Tank, Creature Needs a Name
The Belle Isle Conservancy is welcoming a new permanent resident to the Belle Isle Aquarium — an octopus.  The only octopus in an aquarium in Michigan, the new eight-legged addition comes to Detroit with nine brains and no spine.
The octopus tank, a gift from Jon Cotton, is the latest addition to the aquarium's offerings, which also include an array of animals from around the world, including air-breathing and local freshwater fish. Other crowd favorites include seven species of gar fish, stingrays, piranhas, clownfish, electric eels, and pufferfish. The latest 2021 additions are garden eels and the endangered axolotl.
The octopus doesn't have a name yet so the Belle Isle Conservancy will be running a crowdsourcing contest on the non-profit organization's Instagram account over the next week to name the animal.  All suggestions are welcome.
"Guests continually ask if we have an octopus at the Aquarium," says Summer Ritner, director of the Belle Isle Aquarium. "I'm sure this addition will become a favorite of visitors and school groups for years to come."
Cotton says: "When I was a kid, I have fond memories of seeing all the fish and animals at the Houston Zoo. There is so much learning that goes on when children can see and experience live animals.  I'm glad to help bring this very special tank to all in honor of the Aquarium's 10th reopening anniversary and its 118th birthday."
Signal Restoration Celebrates 50th Anniversary at Michigan Science Center
Signal Restoration Services in Troy conducted its 50th anniversary celebration at the Michigan Science Center in Detroit. Signal restored the local landmark in 2021 when two sewer wastewater backup incidents forced the center to temporarily suspend its operations.
Event attendees were invited to explore the Signal-sponsored exhibit called "POPnology" that blends Hollywood, pop culture, and science.
"All of us at Signal are deeply honored to serve the restoration industry as one of the largest and most respected disaster restoration companies in the U.S.," says Mark Davis, co-CEO of Signal. "We have deep roots in Detroit and want to thank the community and the Michigan Science Center for being part of the Signal family and for celebrating with us tonight as we reflect on our rich legacy and look forward to Signal's next 50 years."
Signal's Co-CEO Frank Torre adds: "We are thrilled to celebrate 50 years of delivering relentless customer service to clients with an event at the Michigan Science Center in Detroit — our hometown and headquarters. What began as a small community restoration company 50 years ago has grown into a commercially focused restoration business that consistently and relentlessly responds whenever and wherever disaster strikes, and also supports the people and communities we serve in their most fragile times."
Signal will continue its golden anniversary celebration with events in New York City and Miami this fall.
To view pictures from the event, click here.
Detroit Historical Society Announces Entrepreneurs to be featured in The Hustle
The Detroit Historical Society has released the names of 36 Detroit entrepreneurs who will be featured in a series of museum exhibits as a part of The Hustle: Celebrating Detroit's Unsung Entrepreneurs, its newest effort to dig deep into Detroit's neighborhoods to uncover and document the stories of the men and women who make everyday life in Detroit special.
The Hustle launched on April 27 and garnered nearly 800 nominations from across Detroit, crossing generations of Detroiters. An independent committee of evaluators selected 36 of those nominees to be featured in five museum exhibits that will be staged at the Detroit Historical Museum in 2022 and 2023.
Honorees range from a 15-year-old who started an entertainment venue to an old-school DJ who has been spinning for more than 30 years. They will be interviewed and photographed to prepare for the first of the quarterly exhibits, which will open on Oct. 8. Later, the project will feature panel discussions, tours, and educational programming offering lots of ways for people of all ages to participate in the celebration. The project will conclude in 2023 with a Grand Ball and a major exhibition.
"We have been absolutely thrilled at the amount of support we've gotten for this program," says Elana Rugh, president and CEO of the Detroit Historical Society. "As we work to become Detroit's museum for the next 100 years, we are committed to making sure that every Detroiter sees themselves on our walls and in our halls.
"This is just one of many programs and exhibitions that will tell unexpected stories and feature the unsung heroes of Detroit's history and the interest that the program is garnering is a testament to the fact that we are on the right track. Every Hustle exhibit will open with a free Community Open House, and we're hoping that every one of the nominees will visit to see their names on the walls of the Detroit Historical Museum."
Nominations were sought in a variety of categories designed to cover a cross-section of life in Detroit, including the Fixers, the Shop Keepers, the Stylists, the Foodies, the Makers and Creators, the Helpers and Caregivers, Artists and Entertainers, and the Others. The list of Honorees from each category includes:
The Fixers
Adrienne Bennett, Benkari, Michigan's first female Licensed Master Plumber and Plumbing Contractor. She held several high-profile positions before starting her own company.
Jarrell Lowman, Handy Relocations, both owners are also hip-hop artists, have built a sustainable moving business from the ground up, generating jobs for Detroiters.
Orson Porter, Orson's Collision & Auto Repair, started his business as a teenager in his childhood backyard and has been a go-to neighborhood auto shop owner for 10 years.
Shop Keepers
Algernon Bartell, Times Square Clothing/42nd Street/The MadHatter/The RedDoor/The Shoe Box Suits 4 Less, longtime retailer with four stores on the "Avenue of Fashion" and one on the east side.
Briana Matthews, The Sock Place, online sock retailer. Gives back to the community by making sure that local schools have socks in wintertime.
Tykia Stokes, Karismas Kloset, customer service-driven boutique that has grown to two locations plus an online presence, more than 10 years in business.
Candace Williams, Barks Fifth Avenue, left a high-stress corporate job to open luxury dog boutique in 2022 and mentors aspiring retailers.
The Stylists
Danyell Bragg, Hair By Danni Bee, up-and-coming Hair Stylist who created scholarship opportunities for local students and workshops to teach skills to aspiring stylists.
Emmalene Hunter, The Fashion Place, more than 40-year owner of a staple boutique in the New Center area, showcasing the latest in women's fashion trends.
Frederick Paul II, Fahrenheit 313, created a sneaker exchange business model to sell the hottest new sneakers and allow Detroiters to re-sell their preowned sneakers.
Lorenzo Pearson, Untouchable Empire Unisex Salon, successful barber, salon owner, football coach and founder of "The Big Build Up," an annual neighborhood picnic and family event on the west side.
The Foodies 
Bert Dearing, Bert's Marketplace and Jazz Restaurant, carrying on a legacy of family entrepreneurship and providing a showcase for Detroit's arts and music communities in Eastern Market.
Nya Marshall, IVY Kitchen + Cocktails, redeveloped a vacant structure on E. Jefferson Avenue and opened a full-service sustainable restaurant that also gives back to the community.
Seajoseffer ("Joe") Spencer, Louisiana Creole Gumbo Restaurant and Food Trucks, has helmed the landmark creole restaurant since 1983, serving time-honored family recipes and employing hundreds of community residents.
Espy Thomas, Sweet Potato Sensations Bakery, a neighborhood destination for more than 30 years featuring sweet treats that also offers community support.
Raphael Wright, Neighborhood Grocery, working to drive change by partnering with Black food businesses and opening an equity-crowdfunded grocery store.
Artist and Entertainers
Cathryn Coleman, Bouncing Around the Motor City, rehabilitating a more than 25-year-old vacant building into Detroit's one-stop shop for party/event rentals and balloon décor.
Kelli Cooke and Jordyn Watson, Detroit Selfie Museum, mother-daughter duo running a 6,000-square-foot immersive photography playground in the heart of downtown Detroit.
Carl W. Hollier, "DJ Invisible" and Invisible Entertainment, groundbreaking DJ, worldwide goodwill ambassador and teacher, sound and lighting engineer and full-service event planning company owner.
Khyiana Tate, Signing with Khy, deaf teen author who wrote and published an ASL ABC Signing book featuring Black and Brown family and friends.
Creators and Makers
Luci Butts, Chilled Peels Lemonade, turned a lemonade stand she started in 2020 into a bottling business that now produces 20 flavors and 2500 bottles weekly.
Ali Evans, GODNII, the only eyewear manufacturer in Detroit and currently the only known minority-owned eyewear manufacturer in the country.
Akil lvin, Digital Detroit Media (DDM), started ad agency at 18 years old, now a multimillion-dollar business 9 years later.
Sherrie Savage, Naturally ILLustrated, illustrator who creates artwork featuring curls, coils and kinky hair types, coupled with all-ages community coloring events.
Emmanual Smith, "Mr E in the D," dean of culture at University Preparatory Academy-Ellen Thompson who creates fun and exciting academic materials to engage students with math and reading.
Kay Willingham, Art in Motion, ceramics studio where artists from around the world share their crafts and community members learn to express their own creativity through art.
Helpers and Caregivers 
Patrick Hines, Functional Fluidics, biotechnology company owner who created diagnostic tools to help predict sickle cell disease and other disorders related to abnormal red blood cell function.
Khali Sweeney, Downtown Boxing Gym, founded the nonprofit Downtown Boxing Gym, offering free after school academic and athletic programs, meals and transportation.
Alison Vaughn, Jackets for Jobs, celebrating 22 years of providing more than 31,000 Detroit job seekers with professional attire to look their best for job interviews.
Latricia Wilder, Vibe Ride Detroit, fitness studio owner committed to encouraging a healthy mind and body, as well as supporting other entrepreneurs.
Other
Djenaba Ali, Black Bottom Garden Center, offers flowers, houseplants, hand tools and more, with an emphasis on customizing portable culinary gardens.
Marc D'Andre – 7Mile Radio, online independent radio/TV broadcast company reporting on news and crime in the city for more than 15 years.
Richard Blanding, Scrap Soils, since 2020, Scrap Soils has collected and composted more than 52,000 gallons of food waste with on-site operations.
Arthur C. Davis, "A Work of Art" executive protection, longtime security professional providing personal security/executive protection for top Detroit names in addition to visiting performers and celebrities.
Mykolas Rambus, Hush, privacy protection firm committed to building a tech ecosystem in Detroit.
Tyrell Slappey, Terrance Crowell, and Markita Richardson, Round 1 Gaming Lab, created a mobile video game trailer that has become a community entertainment staple for all ages.
Facebook Comments