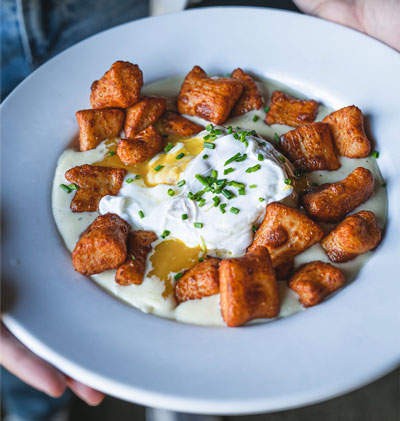 Our roundup of the latest news from metro Detroit and Michigan businesses as well as announcements from government agencies, including updates about the COVID-19 pandemic. To share a business or nonprofit story, please send us a message.
Pop's for Italian in Ferndale Reopens Today
Pop's for Italian in Ferndale is reopening today at 4 p.m. following a brief closure for updates to the dining room.
The closure followed the restaurant's hosting of Hometown Restaurant Group's first Pasta Slam competition June 26. The event pitted chefs from each Hometown location (Pop's for Italian, Public House, One-Eyed Betty's, and Tigerlily) against each other to create their best pasta dish, with the crowd favorite earning a spot on the menu at Pop's for Italian for six months.
The event raised about $1,500 for the Ferndale LGBTQ+ community center.
Pasta Slam attendees chose One-Eyed Betty Head Chef Dustin Schuler's potato gnocchi poutine. Inspired by Betty's traditional poutine, Schuler's gnocchi features fried gnocchi with chicken gravy and cheddar curds served over pork belly and topped with a fried egg. Schuler was recently named head chef at One-Eyed Betty's.
Starting July 9, Pops for Italian will be extending its brunch hours from 10 a.m. to 3 p.m., followed by dinner service at 4 p.m. Pop's will serve pizza and salads from its pizza kitchen during the transition time from 3 p.m. to 4 p.m.
Neogen In Lansing Acquires Distributor in Thailand
Lansing-based Neogen Corp. announced today that it has acquired Thai-Neo Biotech Co., Ltd., a longstanding distributor of Neogen's food safety products located in Bangkok, Thailand. Terms of the agreement were not disclosed.
Thai-Neo Biotech was established in 1992 and has served as a distributor of Neogen food safety products, especially mycotoxin assays and other rapid diagnostic test kits, in Thailand for more than 20 years.
"We are pleased to officially welcome Thai-Neo Biotech to Neogen, which establishes a direct Neogen presence in Thailand and Southeast Asia," says Jason Lilly, vice president of International Business at Neogen. "This acquisition complements our operations in India, China, and Australia, deepens our access to the fast-growing Asia/Pacific food safety market, and reflects our commitment to Southeast Asia. We see this as a tremendous opportunity to grow our aquaculture, genomics, and animal safety businesses, while also offering our food safety solutions to new customers in the area."
Ann Arbor's Nephrology Associates of Michigan Partners with Tennessee Firm
Nephrology Associates of Michigan, an Ann Arbor-based specialty nephrology practice caring for patients in southeast Michigan, has partnered with Evergreen Nephrology in Nashville, Tenn.
Evergreen Nephrology partners with nephrologists in local markets to transform kidney care.
"The field of kidney care is changing at a rapid clip," says Dr. Vidooshi Maru, president of Nephrology Associates of Michigan. "We went into medicine hoping to make a difference in the lives of our patients, but we have faced numerous obstacles in getting patients access not only to timely kidney care, but also to the critical resources they need to live meaningful and healthy lives.
"Our partnership with Evergreen Nephrology represents a welcome opportunity to address these patient-specific needs, by meeting patients where they are at and giving us, their physicians, the tools to better care for them. We are optimistic that this partnership, focused on providing value-based care to this vulnerable patient population, will be successful in transforming the lives of the patients we care for by slowing progression of chronic kidney disease, and by facilitating treatment outcomes that are better for overall patient health including preemptive renal transplantation and access to home dialysis therapies."
U-M Study: Local Leaders' Pessimism About Michigan's Direction Continues
More than 60 percent of Michigan's local government leaders say the state has gotten off on the wrong track — down slightly from last year yet still among the most pessimistic responses since tracking began in 2011.
According to those local leaders surveyed by the University of Michigan, 62 percent saw things going in the wrong direction, compared with 67 percent last year. Meanwhile, only 28 percent say the state is generally going in the right direction, a slight improvement from 23 percent last year.
The findings come from the first results of the spring 2022 wave of the Michigan Public Policy Survey conducted by the Center for Local, State, and Urban Policy at U-M's Ford School of Public Policy.
The views are strongly associated with partisan identification, with most Republicans and independents expressing pessimism about the state's direction, compared with Democrats' optimism. Among self-identified Republican local leaders, only 12 percent say the state is going in the right direction, similar to the 10 percent who said the same last year.
Among independent local officials, there was more notable improvement: 32 percent say the state is headed in the right direction, up from 24 percent in 2021. Meanwhile, 72 percent of self-identified Democrats remain positive about the direction of the state, up from 63 percent in 2021.
"Assessment of the job performance of both Gov. Gretchen Whitmer and of the Michigan Legislature has risen slightly in the past year, but skepticism about state government remains strong," says Debra Horner, senior program manager on the Michigan Public Policy Survey. "That is despite the massive infusion of federal and state aid since the start of the pandemic, which has led to an economic boost to local governments."
The survey shows that despite partisan differences in concerns about the state and nation as a whole, local officials across the board are overwhelmingly optimistic about the direction in which their own local jurisdictions are headed, with around 90 percent saying their local jurisdiction is headed in the right direction.
"Local leaders overwhelmingly give their communities high marks, across all parties, and that's been consistent over time," says Tom Ivacko, executive director of the Center for Local, State, and Urban Policy. "But evaluations of the governor, and views of the state's direction are consistently and strongly tied to partisanship. This latest survey finds the widest partisan disparity since we started gauging the 'right direction' question in 2011."
The Michigan Public Policy Survey is an ongoing census survey of all 1,856 general purpose local governments in Michigan conducted by U-M's Center for Local, State, and Urban Policy since 2009.
First Production Escalade-V Raises $500K for Detroit's Pensole Lewis College
The first retail production 2023 Cadillac Escalade-V's sale at the Barrett-Jackson Las Vegas Auction raised $500,000 for the Pensole Lewis College of Business and Design, Michigan's only historically Black college and university and the nation's first HBCU to reopen. (An additional $25,000 was donated by a patron for a grand total of $525,000.)
"Cadillac champions big dreams and bold ambitions, and we are thrilled with this auction result," says Rory Harvey, vice president of Global Cadillac. "We are grateful to Barrett-Jackson for providing a platform that will help make a difference for the next generation of creatives in Cadillac's hometown of Detroit."
D'Wayne Edwards, Pensole Lewis College founder, says: "We are grateful to Cadillac for its contribution toward diversifying the design industry and for providing support to the next generation of creative talent. In a city well known for both design and automotive manufacturing, we are proud to have Cadillac as a supporter in this incredibly important effort that will literally change the face of the entire design industry."
The full hammer price for the 682-horsepower Escalade-V VIN 001 — the industry's most powerful full-size SUV — goes to PLC as Barrett-Jackson waived all fees and commissions as it historically has done with all charity cars at their auctions.
The winning bidder will have the opportunity to design a pair of custom sneakers with Edwards that will be manufactured as a one-of-one run, and also will receive an exclusive signed and framed 12 x 18 inch design-studio theme sketch of the 2023 Cadillac Escalade-V by Robert Hunwick, the lead exterior designer for the Escalade-V.
Detroit 75 Kitchen Now Offers Catering Services for Events
The Detroit 75 Kitchen food truck has launched a catering service for small and large events, offering many of its favorite dishes as well as an array of new menu options.
Detroit 75 Kitchen offers two types of catering services: pick-up and delivery group catering and on-site catering services, which includes rental of the Detroit 75 food truck and staffed catering services.
"With the food truck, we'll bring our entire food truck to your occasion," says Ahmad Nassar, who founded Detroit 75 Kitchen with his brother, Mike. "Each item is cooked to order for your guests to enjoy fresh. With the staffed catering, we'll arrive with the food prepared and set up a 15-foot station (indoors or outdoors) to serve and entertain your guests. We'll keep the food fresh and present it according to our standards throughout the event."
The new catering options mark the next chapter in the story of Detroit 75 Kitchen. What began as a dream for Mike Nassar has become a successful partnership between two brothers, who intend on continuing to build a Detroit food landmark.
"Our guests have often asked us to cater events," Nassar says. "We are thrilled to be able to provide catering services."
Located on Fort Street in southwest Detroit, Detroit 75 Kitchen opened in 2014 as a way for the brothers to supplement their family's business, a truck stop near the Ambassador Bridge. When the recession hit, the brothers knew they had to do something to attract new customers to the stop and Mike, who had always loved cooking and flavors, suggested the food truck as a vehicle to do so.
Ahmad, who had entrepreneurial ambitions that he recently solidified with an MBA from the University of Michigan's Ross School of Business, immediately embraced the idea.
Michiganders to Have More Health Insurance Choices
During this year's upcoming open enrollment period, Michiganders will have more than 300 health plans to choose from, giving them more flexibility in the coverage they need to protect their health and the health of their families.
This information comes from proposed rate filings sent by health insurers to the Michigan Department of Insurance and Financial Services (DIFS).
"Health care continues to be at the forefront of public policy discussions, both in Michigan and nationwide, and it is critical that Michiganders have access to the affordable, high quality health insurance they need for themselves and their families," says Anita Fox director of DIFS. "Consumers who will need to buy a health plan during open enrollment this year will have all-new plan options, so it is important that they take advantage of these new choices by shopping around and choosing the plan that works best for their needs and budget."
Open enrollment for 2023 health coverage will run from Nov. 1-Dec. 15. Michiganders can obtain coverage by visiting the Health Insurance Marketplace or by calling 800-318-2596. During open enrollment, consumers will be able to choose from 233 health plans on the Marketplace, 59 more than last year. For the overall individual market, which includes off-Marketplace plans, 308 plans will be available, 52 more than last year.
As the state agency that regulates the insurance industry in Michigan, DIFS is responsible for reviewing all proposed plans and rates to ensure compliance with state and federal laws. Michigan's proposed rates for 2023 have not yet been approved by DIFS and are subject to further review and approval. The average requested rate changes filed for individual plans range from a decrease of 2.8 percent to an increase of 12.9 percent. Overall, the average proposed rates show an increase of 6.2 percent.
It is important to note that nearly 80 percent of enrolled Michiganders receive advanced premium tax credits (APTC), which reduce their monthly premium costs.
For more information on APTC and to learn if you qualify, visit HealthCare.gov.
The 2023 Michigan Health Insurance Rate Change Request Chart is available here.
DIFS is seeking public comment on these proposed rate changes. Comments should be sent electronically to DIFS-healthratecomments@michigan.gov and, if submitted before July 18, 2022, will be considered in DIFS' review. For questions or concerns about health insurance coverage in Michigan, contact DIFS at 877-999-6442, Monday through Friday from 8 a.m. to 5 p.m. or visit Michigan.gov/HealthInsurance.
Hudson-Webber Foundation Announces New Grants
The Detroit-based Hudson-Webber Foundation's Board of Trustees has approved new grants totaling more than $1.79 million, empowering organizations and partnerships whose missions align with the foundation's focus on advancing equity and opportunity for all Detroiters.
The majority of the initiatives advanced by the foundation's latest grant cycle represent investments in inclusive community development projects, anchored by neighborhood-based engagement with residents, robust data-collection efforts, and increased support for operating funds and capacity building that empower organizations to move to the next stage of fulfilling their long-term strategies.
The list of grants approved at the board's June 2022 meeting includes:
East Warren Development Corp. ($150,000 over two years)
GenesisHOPE CDC ($150,000 over two years)
Renaissance of Hope ($250,000 over two years)
Detroit Future City ($79,200)
Invest Detroit ($40,000)
Michigan Nonprofit Association ($150,000 over two years)
The Joe Louis Greenway Partnership ($300,000 over two years and $200,000)
Detroit Public Safety Foundation ($300,000 over two years)
United Way for Southeastern Michigan ($172,800)
Fifth Third Bank Sets $100B Environmental and Social Finance Target through 2030
Fifth Third Bank, headquartered in Cincinnati with branches throughout Michigan, has announced a new $100 billion environmental and social finance target to be achieved through 2030.
The new target is an expansion of the bank's original $8 billion sustainable finance goal, which was set in 2020. That goal was focused on renewable energy and recently was achieved nearly three years ahead of schedule. Governed by the Fifth Third Environmental and Social Finance Framework, the new target has an expanded scope to include additional environmental eligibility criteria as well as social eligibility criteria to better reflect Fifth Third's overall ESG priorities.
"We have a purpose-driven culture at Fifth Third," says Tim Spence, president and CEO of Fifth Third Bancorp. "Everything we do, including setting ambitious finance targets and pushing to make progress in our ESG areas of focus, is derived from our resolve to improve the lives of our customers and the well-being of our communities.
"As a financial institution, we have a distinct and crucial role to play in the transition to a sustainable future. We are intent on delivering long-term value for all we serve and to building healthy, inclusive economies for everyone's benefit."
Fifth Third also published its 2021 Environmental, Social and Governance Report, which provides updates and progress on the bank's ESG strategy and priorities, for all stakeholders: customers, employees, communities, investors, and regulators. It can be viewed here.
Gardner-White to Host Art-in-the-House Party in Canton Township July 12
Detroit-based contemporary artist Mike Han will unpack his paintbrushes and set up a pop-up, live action art studio at Gardner-White in Canton Township (41661 Ford Road) from 6-8 p.m. July 12.
The public is invited to attend and watch the artist in action as he creates an original work of art in real time on a blank 6 x 12-foot canvas installation. Guests also can purchase one of 250 limited-edition, 18 x 24-inch framed prints created by Han exclusively for Gardner-White entitled, "To live is to find the truth within."
Net proceeds from the sale of each $300 framed print will go to the Detroit Excellence in Youth Arts (DEYA) Fund at The Children's Foundation to support visual arts/design nonprofits teaching arts entrepreneurship to Detroit youth. The prints can be purchased online after the event here.
The event, emceed by Shannon Murphy, co-host of the Mojo in the Morning Show on Channel 955, also will feature signature mocktails and cocktails from Mimidae Beverage Co., Delectabowl Gourmet Food Truck, sweet treats, and a DJ.
---