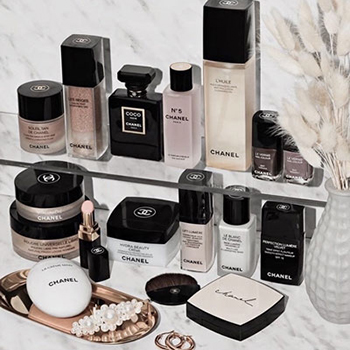 Our roundup of the latest news from metro Detroit and Michigan businesses as well as announcements from government agencies, including updates about the COVID-19 pandemic. To share a business or nonprofit story, please send us a message.
Michigan's First Chanel Fragrance & Beauty Boutique Opens at Troy's Somerset Collection
Chanel Fragrance & Beauty Boutique, the first in Michigan, has opened at the Somerset Collection North Level 1 in Troy.
The new 1,260-sqaure-foot Chanel store features fragrances, makeup, and skincare products with professional guidance. Visitors can book a private shopping experience in the boutique before or after regular operating hours and virtual Chanel beauty advisor consultations are available for makeup and skincare advice or inspiration on a one-on-one chat.
The House of Chanel, an international company dedicated to luxury, fashion, style, and image, was founded in France by Gabrielle Chanel at the beginning of the last century.
Ionetix in Lansing Partners with CIRA to Bring N-13 Ammonia to South Florida
Ionetix, a Lansing-based cyclotron technology and isotope manufacturing company, has won FDA approval for N-13 Ammonia manufacturing at its Miami location to support CIRA (Center for Imaging and Research of America).
CIRA has been the leading independent imaging facility serving the greater Florida market area for nearly 20 years, providing cutting-edge diagnostics to the community. CIRA will be using the N-13 Ammonia manufactured by Ionetics to perform cardiac PET imaging. Cardiac PET is used to diagnose and risk stratify patients with coronary artery disease.
"The top 16 universities in the U.S. provide cardiac PET/CT service using N-13 Ammonia, and we are proud to be the first to provide this capability to patients in south Florida." says Rick Rippin, CEO of CIRA. "In my opinion, N-13 is the gold standard in cardiac PET and provides significant advantages over other tracers by improving image quality, improving quantification of myocardial blood flow, and enabling treadmill stress capability."
Kevin Cameron, CEO of Ionetixs, says, "CIRA is our seventh site approved by the FDA, and several more sites are underway. We are passionate at Ionetixs about bringing our unique solution for N-13 Ammonia as a service to hospitals and outpatient office settings across the United States."
For more information, visit ionetix.com.
Kiefer Foundation Partners with Cambridge Mobile Telematics Partners to Combat Distracted Driving
The Kiefer Foundation in Detroit and Massachusetts-based Cambridge Mobile Telematics (CMT), one of the world's largest telematics service providers, today announced that they've partnered to combat distracted driving through the foundation's annual "Swing for Safe Driving" Ball Golf Tournament.
CMT will be the title sponsor of the event to be played at the historic Oakland Hills Country Club in Bloomfield Hills on May 23.
The Kiefer Foundation was founded to honor Mitchel Kiefer, a hockey player on the state championship Detroit Catholic Central hockey team in 2016 and a passionate disc golfer, which he simply called "golf." He called regular golf "ball golf," which is where the memorial "Swing for Safe Driving" Ball Golf Tournament got its name.
The event is designed to increase awareness of the dangers of distracted driving. It also raises funds to support the foundation's mission to end distracted driving through its three pillars: awareness, technology, and policy. This includes advocating for lifesaving hands-free legislation across the country, like the recent bill passed by the Michigan state legislature.
Professional golfer and CMT brand ambassador Kamaiu Johnson also will join the event to raise distraction awareness. Johnson recently won the Advocates Professional Golf Association's stop at TPC Las Vegas for the second year in a row.
"We're incredibly fortunate to have Cambridge Mobile Telematics as our partner in the fight against distracted driving," says Steve Kiefer, chairman of The Kiefer Foundation. "Their support of the 'Swing for Safe Driving' Ball Golf Tournament will allow The Kiefer Foundation and our partners to raise awareness about the dangers of distracted driving.
"The statistics show that 10 people are killed each day by distracted drivers in the US — some estimates are as high as 50 people killed each day. This is a senseless, selfish behavior that must change. Drivers need to take personal accountability when they're behind the wheel and just drive."
Macomb Community College Offers Hybrid Automated Systems Training Programs
Macomb Community College has launched hybrid automated systems short-term training programs, allowing students to learn core competencies required for certain skilled trades remotely.
The college's new hybrid programs include robot programmer, robot technician, industrial maintenance technician, and controls technician. They combine hands-on training with remote learning to integrate the power of new teaching technology, including virtual and augmented reality.
Students should benefit from being able to explore the fundamentals they are learning in a controlled environment, allowing them to test out theory in a computer-generated environment before they encounter those processes during hands-on training. Virtual reality allows students to become immersed in a simulated environment and interact with their surroundings. Through augmented reality, students can manipulate a computer-generated image superimposed on the user's view of the real world.
Macomb's advanced technology faculty worked in partnership with iDesign, an online course developer, to ensure the curriculum reflected the specific needs of local employers. The 13 courses developed embed nine core competencies identified by employers as critical, including digital media literacy, entrepreneurship, and globalization. Each hybrid course uses cutting-edge synchronous teaching methods and professional production coupled with interactive video content featuring instructors at Macomb.
"iDesign was instrumental in helping us develop coursework that meets the demands of local employers as well as ensuring the methodology was aligned with the new hybrid environment," says Patrick Rouse, director of workforce development and continuing education at MCC. "While COVID-19 accelerated our process for developing interactive virtual and augmented training content, its creation was based on our longer-term goals of flexible, adaptive course delivery that would be beneficial for the student well beyond the pandemic."
Towers Have Risen for SkyBridge Michigan at Boyne Mountain Resort
SkyBridge Michigan, a 1,200-foot-long suspension bridge being built at Boyne Mountain Resort in Boyne Falls, reached a major milestone in its construction last week with the rising of its timber towers.
The towers each measure more than 50-feet high and nearly 70-feet long anchoring both ends of the bridge. Their design is a nod to the logging heritage of northern Michigan, with lumber sourced from neighboring Matelski Lumber.
Positioned at the crest between McLouth and Disciple's Ridge, SkyBridge Michigan is set to become the world's longest timber-towered suspension bridge. The walking surface will hang suspended 118-feet from the ground level and offer panoramic views of the surrounding Boyne Valley. The bridge is expected to open in September and will be open year-round.
To learn more or view a live web cam of the build, visit boynemountain.com.
Michigan Begins Search for its Official State Christmas Tree
Today, the Michigan Department of Technology, Management & Budget (DTMB) officially begins the search for the tree to adorn the Capitol grounds for the 2022 holiday season. Each year, DTMB is tasked with the search and harvest of the state Christmas tree and once again asks for the public's assistance in spotting the perfect tree.
"This is a great opportunity for Michiganders to look about them as they explore our pleasant peninsulas this summer," says Michelle Lange, acting director of DTMB. "Our DTMB team works hard each year to select the tree that will best represent Michigan at the state Capitol during the holiday season."
To be considered, trees need to meet the following criteria:
Spruce or fir.
At least 60-feet tall with a maximum crown of 24 feet and maximum trunk diameter of 30 inches.
Easy access to the road, with no interference from wires.
Available at no cost.
DTMB works with the Michigan Association of Timbermen and the Great Lakes Timber Professionals Association to bring the tree to Lansing. In the last 35 years, trees have come from locations across the state — from backyards to public land near highways and forests. Last year's 63-foot spruce was donated by Carla Fletcher and her family from Marenisco in the western Upper Peninsula.
The deadline for tree nominations is Monday, Aug. 15. Individuals who wish to nominate a tree are asked to email their name, telephone number, a photograph of the tree, and information about its size and location to ChristmasTree@michigan.gov or by mail to: Christmas Tree Search, Michigan Department of Technology, Management and Budget, Building Operations Division, P.O. Box 30026, Lansing, MI 48909.
---