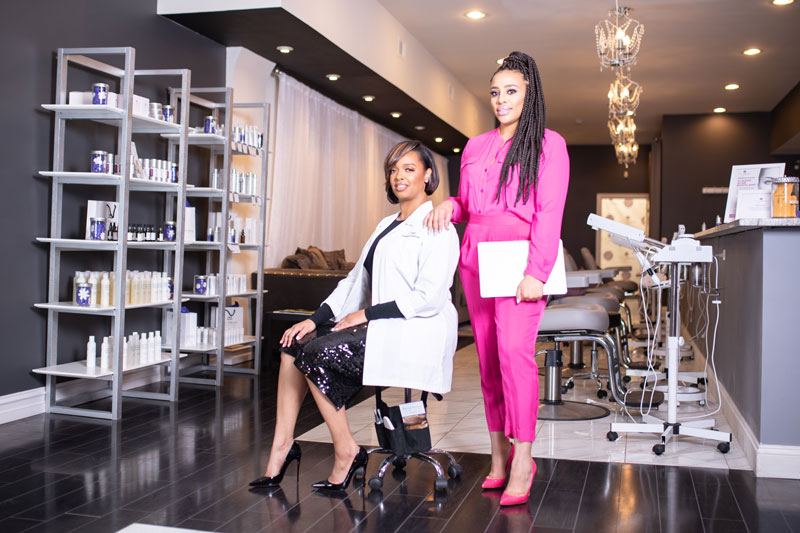 Our roundup of the latest news from metro Detroit and Michigan businesses as well as announcements from government agencies, including updates about the COVID-19 pandemic. To share a business or nonprofit story, please send us a message.
Metro Detroit's Skinphorea Skincare Clinic to Start Nationwide Franchising
Metro Detroit-based Skinphorea Facial Bar, which specializes in multicultural skincare, has begun its nationwide franchising effort with an operation in Dallas.
Franchising opportunities for Skinphorea, which started in Royal Oak in 2016 and expanded to Detroit's Corktown neighborhood in 2021, are available in six states: Ohio, Arizona, Georgia, Maryland, North Carolina, and Texas, according to founders Jessie Hayes-Stallings and Shareese Shorter.
The founders say their plan is to start the expansion process this winter, and they hope to open 20 locations in the next three years with expected revenue of $9.2 million by the end of 2025.
Skinphorea is known for redefining how skin care is considered, merging quality care with its signature happy hour feel. It is a full-service facial bar, designed to create a convenient, relaxing experience and provide results for clients who seek facials for a multitude of reasons. The brand holds a vision to fulfill the skin care needs of women and men who desire practical pampering, while highlighting the education component of skin care.
For more information on franchising, visit here.
Ann Arbor's AdAdapted Announces New Add-to-cart eCommerce Capabilities
AdAdapted, the Ann Arbor-based shopping list marketing and insights platform for CPG brands, agencies, and retailers, today announced the launch of new add-to-cart eCommerce capabilities for AdAdapted Direct.
In addition to featuring AdAdapted's patented add-to-list technology, AdAdapted Direct now empowers marketers to create campaigns that enable shoppers to add a brand's products directly to a retailer's online cart.
While AdAdapted Direct already allows advertisers to get their products added directly to shopping lists, the new add-to-cart ad unit creates advantages for marketers seeking to drive eCommerce engagement and purchase intent among target consumers, according to the company.
Brands utilizing AdAdapted Direct add-to-cart capabilities now can launch direct-to-cart ad units at more than 200 retailers, including Walmart, Kroger, Instacart, and Amazon. The technology is ideal for both new and smaller consumer goods brands looking to support national, regional, local, or seasonal campaigns, the company says.
"As brands continue to evolve their strategies to cater to shoppers' growing demand for eCommerce capabilities, this new feature from AdAdapted Direct helps brands to efficiently support their growth at nearly any retailer through both add-to-list and now add-to-cart solutions," says Mike Pedersen, co-founder and CEO of AdAdapted CEO. "This allows brands to reach shoppers directly, boost awareness, drive trial, and increase sales and sales velocities by winning new consumers."
The launch of add-to-cart capabilities by AdAdapted Direct responds to a trend of shoppers incorporating more online shopping alongside brick-and-mortar store visits — a trend that has continued to grow since the start of the COVID-19 pandemic. Now, with this new add-to-cart technology, marketers leveraging AdAdapted Direct can proactively engage shoppers who prefer eCommerce, enabling them to add their brand's products to digital carts.
Repvblik AR Gets Financing to Redevelop Former Wyndham Gardens
Repvblik AR in has closed on a $19 million full redevelopment financing package for the previously announced purchase of the former Wyndham Garden Sterling Heights.
Repvblik, which specializes in privately funded marketplace solutions to create workforce, student, and senior housing through adaptive re-use of distressed real estate, expects to break ground on the adaptive re-use project in early 2022 and first tenants could be moving in as soon as the fourth quarter 2022.
The property at 34911 Van Dyke Ave. will be rebranded as Plato's Sterling Heights and will feature 159 studio apartments and 54 one-bedroom units. Amenities consistent with Repvblik's Plato's brand will include a large coworking space, restaurant, fitness lounge, onsite storage, and retail/office space.
"There's tremendous demand for affordable, quality housing in Sterling Heights and Plato's Sterling Heights will deliver just that," says Richard Rubin, founder and CEO of Repvblik. "It's a pleasure to work with Sterling Heights city leaders who understand that real estate adaptive re-use brings many benefits to the community in the form of affordable housing, economic energy, and an environmentally friendly build that does not use government funds or tax incentives."
There are two buildings on the site: the main hotel building consisting of 189 hotel rooms and approximately 75,000 square feet of amenity and commercial spaces; and a vacant 26,000-square-foot building on the north side of the property. Both buildings will be fully renovated and converted to apartment living.
The main building will contain 157 residential units and the community's amenities including coworking space, fitness center, tenant lounge, restaurant, and potential retail space.  The smaller northside building will be exclusively residential with 56 units.
Atomic Honey Advertising Agency Moves into Eastern Market
Detroit-based advertising agency Atomic Honey has moved into its newly expanded and rehabbed 4,000-square-foot space at 1363 E. Fisher Freeway at Eastern Market above the Supino Pizzeria.
The agency states it has seen significant growth since its founding in 2019, which led them to seek new premises to support their expanding team and client roster. Atomic Honey initially moved into a 2,500-square-foot space in the summer of 2020, but due to the company's growth and proximity to  Eastern Market, a full build-out was completed in the fall of 2021 and expanded into today's office.
"We spent a lot of time hunting for the right space," says Jbara, founder and CEO of the agency, who also owns the Grand Rapids Gold, the G-League affiliate for the NBA's Denver Nuggets. "We wanted a space that reflects our own character and demonstrates our commitment to the city of Detroit and its resurgence."
For more information, visit here.
MGM Resorts Launches MGM Rewards Program Nationwide
Today, MGM Resorts officially launches its MGM Rewards, its new loyalty rewards program, offering enhanced benefits and new ways to earn for its millions of members worldwide.
For the first time, non-gaming members will join their gaming counterparts and earn a currency — MGM Rewards Points — redeemable for complimentary dining, entertainment, hotel stays, and more.
A streamlined experience connects the company's loyalty program coast-to-coast providing all members more ways to tier up and enjoy meaningful perks at premier destination resorts including Detroit.
As a welcome to MGM Rewards, for a limited time, all members will benefit from a 2x multiplier on Tier Credits earned at the company's Las Vegas resorts Feb. 1-April 30 (at the new earning rates).
"The enhancements we've introduced with MGM Rewards are rooted in feedback shared by our members and allow us to invest in providing members progressively more valuable benefits at each tier," says Anil Mansukhani, vice president of loyalty marketing for MGM Resorts. "Our unique rewards offer significant incentives for guests to achieve at every level from Sapphire to NOIR. With our unparalleled collection of resorts and premier partnerships, MGM Rewards is a superior loyalty rewards program that enhances our members' experiences nationwide."
Enhancements make MGM Rewards one of the gaming and entertainment industry's most competitive loyalty rewards programs. Highlights include:
Waived resort fees with direct bookings for Gold+ members, the continuation of free valet parking for Gold+ members, and free self-parking for Pearl+ members.
Late check-out until 4 p.m. and an annual suite upgrade in Las Vegas for Platinum+ members.
Tier Achievement Travel Credit to Las Vegas for Platinum+ members based on 2022 spend.
Complimentary MGM Rewards concerts in Las Vegas with top-name artists, exclusively designed for all Pearl+ members.
Partnerships with best-in-class brands offering unmatched perks, including the tier-match benefits with Hyatt Hotels & Resorts as well as free cruises with onboard loyalty benefits when cruising on Royal Caribbean and Celebrity Cruises for Platinum+ members based on 2022 spend.
Sports fans can translate mobile and online wagers into real-world experiences by earning Tier Credits and BetMGM Rewards Points for every wager placed on BetMGM, a leading sports betting mobile app now available in 20 markets.
The launch of MGM Rewards also comes with a new streamlined app that makes it simple for members to review their tier status and benefits and visualize how they can advance to the next tier.
Champion Foods Hiring 50+ Team Members in New Boston
Champion Foods is looking to hire more than 50 team members at its New Boston plant, south of Romulus.
Available positions include production, maintenance, and more. Team members will enjoy competitive pay, a flexible schedule, bonus opportunities and more! Learn more here or email jobs@championfoods.com today.
Wright Museum, YMCA Team-Up for Diversity, Equity, Inclusion During February
The Charles H. Wright Museum of African American History and The YMCA of Metropolitan Detroit are teaming up in celebration of Black History Month 2022 with a special joint offer for families.
Throughout the month of February, The Wright will offer 250 Family Passes to see the blockbuster exhibition Tutankhamun: "Wonderful" Things from The Pharaoh's Tomb. Underwritten by Rocket Community Fund, Family Passes provide free admission for two adults and four youth ages 3 to 12. The YMCA of Metropolitan Detroit will make these special 7-Day Guest Passes available to 250 current members of The Wright Museum.
The King Tut exhibit is on display through Aug. 22 and includes meticulously crafted replicas of the Pharaoh's sacred and personal possessions along with artifacts from the period surrounding his reign. This 6,000-square-foot, exhibition on ancient Egypt has drawn sold-out audiences as it has traveled across the United States.
Guests visiting The Wright must register ahead of time via the museum's website and abide by COVID Protocols upon arrival.
Salvation Army's Comedy for a Cause Fundraiser Slated for Feb. 9
The Salvation Army of Metro Detroit is conducting its 10th annual Comedy for a Cause fundraiser presented by Mark Ridley's Comedy Castle and Michigan Financial Companies. The event takes place on Wednesday, Feb. 9 at the comedy venue located at 310 South Troy St. in Royal Oak. Doors open at 6 p.m. with the program starting at 7 p.m.
The Salvation Army's Bed & Bread Club Chairman and retired Detroit Radio Hall of Famer, Dick Purtan, will make a live virtual appearance along with "Big Al" Muskavito, emcee Jackie Purtan, and a special reunion of "Purtan's People" — Joe Noune, Dave Zoran, and Kevin O'Neill. Purtan's cast of characters were known for their impersonations of celebrities and politicians that added a unique brand of satire to his radio shows for 45 years until Purtan's retirement in 2010.
Comedy for a Cause also will feature comedian Rocky LaPorte.
Tickets are $50 per person and include a dinner donated by Lockhart's BBQ. Proceeds from the event will benefit the nonprofit's Bed & Bread program, which feeds and shelters those in need throughout metro Detroit. To purchase tickets, visit salmich.org or call 248-443-5500 ext. 312. Seating is limited.
---