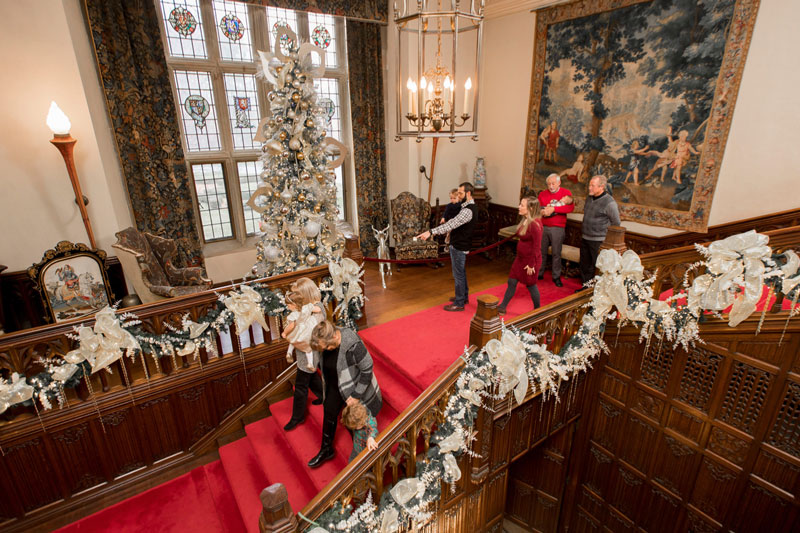 Our roundup of the latest news from metro Detroit and Michigan businesses as well as announcements from government agencies, including updates about the COVID-19 pandemic. To share a business or nonprofit story, please send us a message.
Indoor and Outdoor Holiday Attractions at Meadow Brook Hall Open Nov. 26
Meadow Brook Hall in Rochester, the palatial Tudor-style home of Matilda Dodge and Alfred Wilson, will open its indoor and outdoor holiday attractions on Nov. 26.
Located on the campus of Oakland University, Meadow Brook Hall will offer its Holiday Walk, a self-guided indoor tour of three floors of the mansion decorated for the holiday season. Winter Wonder Lights is a self-guided outdoor event featuring light displays across the estate's grounds.
"People of all ages will be filled with wonder when they experience the Holidays at Meadow Brook," says Shannon O'Berski, external relations director of Meadow Brook Hall. "There is something incredibly special about visiting the historic estate at this time of year. Meadow Brook is the most dazzling place to be this holiday season, whether you are looking for family fun, an evening with friends or a great date night."
Inside, guests will experience the wonder of more than 50 trees — including a 10-foot tall Poinsettia tree created by 150 live plants, hundreds of feet of garland, and thousands of twinkling lights.
Meadow Brook will host a series of holiday events, including the evening gala Starlight Stroll and Santa Saturdays, which will feature visits with Santa and his live reindeer! Holiday Walk will run from Nov. 26 through Dec. 23 from 11 a.m. to 4 p.m. Tickets range from $7.50 to $20 each.
Outside, visitors will be able to see an evening of lights and music. Concessions such as glow-in-the-dark cotton candy and hot meals in the outdoor café will be available as well as seasonal and specialty drinks, selfie stations, bonfires, and more! Winter Wonder Lights will run from Nov. 26 through Dec. 30 from 5:30-10 p.m. Tickets range from $12 to $22 each.
Tickets must be booked for a specific date and time in advance and are available online only at meadowbrookholidays.com.
Detroit Venture Partners Invests in Florida Regulation Compliance Firm
Detroit Venture Partners, the venture capital arm of Rock Ventures, has joined in a $6.3 million Series A investment round for Azimuth GRC, a compliance automation company in Jacksonville, Fla.
Azimuth GRC is the first and only company to codify every state and federal regulatory compliance law on one platform, changing the culture of compliance by taking manual compliance work done on paper spreadsheets and automating it. The company's Validator software provides daily automated tests of an entire portfolio to determine compliance with all applicable laws and regulations.
"Azimuth's Validator product simplifies compliance with automated full-population testing, reducing cumbersome manual compliance activities to make an immediate impact in the mortgage and lending space," says Jared Stasik, partner at Detroit Venture Partners. "We are thrilled to partner with (CEO) Rohin (Targa) and the Azimuth team as they drive much-needed innovation in the regulatory tech space."
Targa says, "2021 has been our year, from bringing on investors with the expertise in RegTech and mortgage to securing a new office space and a projected revenue growth of 300 percent. Eliminating the arduous manual processes typically needed for regulatory compliance is our mission, and this capital helps us do that faster."
Study: New-vehicle Sales Satisfaction Unchanged Despite Lack of Inventory
Customer satisfaction with the vehicle purchase experience has remained steady despite new vehicles being hard to find on dealership lots as the supply chain disruption and effects of the pandemic continue, according to the 2021 Sales Satisfaction Index (SSI) Study from J.D. Power in Troy.
Overall sales satisfaction remains at 789 points (on a 1,000-point scale), reports the study. Satisfaction among dealers where buyers purchased their vehicle increased two points to 841, while satisfaction with rejected dealers declined six points to 632.
The buyer satisfaction increase is buoyed by buyers receiving more money for their trade-in than they expected at the time of new-vehicle purchase. Year over year, the percentage of buyers who got more than they expected for their trade-in increased nine percentage points in the mass market segment and increased eight percentage points in the premium segment.
Satisfaction among vehicle buyers, however, decreased year over year in the inventory-related factors for website (-14 points) and at the dealership facility (-16 points).
"Despite the lack of inventory, dealerships have overcome what might be thought of as a challenging sales environment for shoppers," says Chris Sutton, vice president of automotive retail at J.D. Power. "Right now, it's hard to see the light at the end of the supply chain tunnel, so dealerships need to continue to sell vehicles through their inbound pipeline and help customers with special orders. However, the silver lining for customers is that trade-in values remain high, and this has had a positive effect on customer sales satisfaction."
The study also finds that satisfaction with the variety of dealership inventory significantly decreased 0.55 points (on a 10-point scale) among mass market shoppers and 0.42 points among premium shoppers during a three-month period from March through May 2021.
For more information about the U.S. Sales Satisfaction Index (SSI) Study, visit here.
America's Thanksgiving Parade Needs Votes in USA Today Poll
America's Thanksgiving Parade presented by Gardner White has been nominated by USA Today as one of the best holiday parades in America and invites the public to help vote Detroit's parade to No. 1.
"We are elated to have America's Thanksgiving Parade presented by Gardner White nominated as one of the best holiday parades in the country by USA Today 10 Best, and we are honored to bring this amazing tradition to our community and millions around America," says Tony Michaels, president and CEO, The Parade Co.
The public is encouraged to vote online daily here through Dec. 6 at 11:59 a.m.
America's Thanksgiving Parade took first-place honors in 2018 and 2019.
For more information, visit theparade.org.
Detroit City Distillery's Limited-edition Honey Bourbon Goes on Sale Nov. 26
Detroit City Distillery and Bees in the D have united again to release limited-edition honey bourbon and bourbon barrel-aged honey available for online purchase starting at 8 a.m. on Black Friday, Nov. 26.
Single-barrel Detroit City Distillery Honey Bourbon, finished with raw honey from Bees in the D's rooftop beehives on top of DCD's Whiskey Factory, and will be available until it sells out at $70 per bottle.
Bees in the D Bourbon-barrel Aged Honey, aged in DCD's bourbon barrels, is available at $40 per bottle. Additionally, Bees in the D is offering signature rocks glasses at $40 per two-glass set.
Customers can purchase bourbon, honey, and rocks glasses online and be able to pick up bottles starting at 4 p.m. on Dec. 3 at Detroit City Distillery's Tasting Room at 2462 Riopelle St. in Detroit's Eastern Market.
"This bourbon sells out year after year and has become a true fan favorite, perfect for the holidays," says Michael Forsyth, co-owner of Detroit City Distillery. "It's a bold bourbon with a sweet, floral hit of raw honey that is wonderful enjoyed neat, over ice or makes an incredible Old-Fashioned."
Proforma Amplified in Grosse Pointe Earns Top Status in State
Proforma Amplified, a Grosse Pointe-based provider of branding and promotional marketing services, has been ranked No. 1 in the Detroit area, No. 1 in Michigan, and No. 7 in the Business Product and Services Industry in the 2021 Inc. 5000.
Overall, the company was ranked No. 83 out of 5,000.
"We are honored for the recognition Proforma Amplified has been able to achieve," says Anita Shina, co-owner of the company. "Being featured on this year's ranking of fastest-growing companies is a testament to all the hard work that our team has done and continues to do to deliver customer-driven solutions, unparalleled customer service and high-quality products. Our accelerated success is largely due to the extensive support and resources provided by our Proforma network."
Facebook Comments