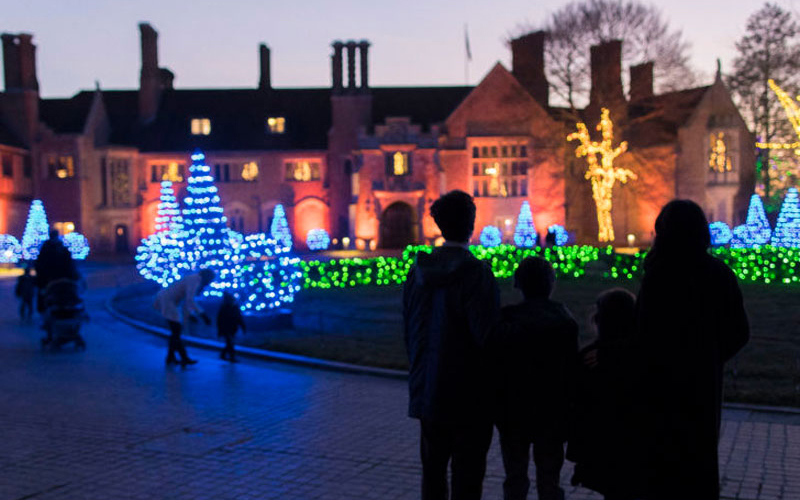 Our roundup of the latest news from metro Detroit and Michigan businesses as well as announcements from government agencies. To share a business or nonprofit story, please send us a message.
Holiday Programming at Meadow Brook Hall Set to Begin Nov. 25
Holiday programming at Meadow Brook Hall in Rochester — specifically the indoor daytime Holiday Walk and the outdoor evening Winter Wonder Lights — are scheduled for Nov. 25-Dec. 30.
By day, guests can tour the historic mansion decked in holiday splendor and experience the wonder of more than 50 decorated trees, trimmings, and lights. By night, the estate is illuminated with sparkling light installations inspired by Meadow Brook Hall. The evening features concessions, bonfires, and a peek inside the mansion.
Each event is its own self-guided experience. Tickets must be booked for a specific date and time and are available online only at meadowbrookholidays.com.
"There is an incredible energy across the estate as people of all ages experience the holidays at Meadow Brook," says Shannon O'Berski, external relations director of Meadow Brook Hall. "Meadow Brook is the most spectacular place to be this holiday season, whether you are looking for family fun, an evening with friends or a great date night."
McLaren Announces Addition of Henry Ford Health to its Medicare, Medicaid Networks
McLaren Health Plan in Flint has reached an agreement with Henry Ford Health that allows McLaren Health Plan Medicare and Medicaid members to seek services from Henry Ford Health hospitals and health care professionals.
The new agreement adds Henry Ford Health hospitals located in Detroit, Jackson, Macomb, West Bloomfield, and Wyandotte, and nearly 6,000 physicians from Henry Ford Medical Group, Henry Ford Physician Network and Jackson Health Network.
"We are thrilled to offer expanded access to health care services from Henry Ford Health, one of the nation's leading health care systems," says Nancy Jenkins, president and CEO of McLaren Health Plan. "In addition to the exceptional care provided by McLaren Health Care, providing additional access to quality health care remains a high priority for McLaren Health Plan," said Jenkins.
With this new arrangement, McLaren Health Plan will expand its presence and make available new commercial group and individual options by adding Henry Ford Jackson Hospital and Jackson Health Network.
"Continued expansion of our provider and hospital networks means more opportunities for our members to get the care they need where they live and work," Jenkins says.
RE/MAX City Centre Opens in Southfield
RE/MAX of Southeastern Michigan announces the opening of RE/MAX City Centre, at 17515 W. Nine Mile, Suite 800, in Southfield. The office is owned and managed by broker/owner Sami Abdallah.
Abdallah brings more than 15 years in residential real estate to his new brokerage. He also is a distressed property expert and former Fannie Mae and Hud broker, completing thousands of transactions throughout the Great Recession. His success in real estate inspired him to open his own brokerage and share what he's learned with new agents.
Freddy Antar serves as the office manager at RE/MAX City Centre and brings expertise in residential construction and sales. Abdallah and Antar are also long-time investors with HomeVestors, commonly known as We Buy Ugly Houses. They have worked with multiple offices across the state.
"The opening of RE/MAX City Centre is very special to us as it represents the successful completion of the first half of our careers," Abdallah says. "From this point forward, we are dedicated to servicing our agents and bringing a quality experience to consumers."
For more information, visit citycentremi.com.
Troy's Motor Announces Two New Automotive Data Solutions
Motor Information Systems in Troy now offers two new, customizable automotive data solutions that provide dynamic, up-to-date data to customers.
Motor Mobile Guides is a web-based app that provides dynamic automotive data to customers by scanning customized QR codes. With Motor Mobile Guides, users can integrate Motor data such as procedures, fluids, specifications, and technical service bulletins (TSBs) and/or integrate their own content to offer a fully digital experience to customers.
Motor TruSpeed Repair is a white-label software as a service (SaaS) solution for enterprises looking to bring OEM service and repair content to their customers quickly. With Motor TruSpeed Repair, users get a vehicle service and repair solution that allows for out-of-the-box deployment for a faster time-to-market with customization that aligns with a company's branding. Expanded OEM service and repair content is available within days of being published by the OEMs.
"Motor is excited to expand our portfolio of industry-leading automotive data solutions for aftermarket businesses by offering Motor Mobile Guides and Motor TruSpeed Repair," says Jeff Nosek, president of Motor. "Both solutions provide the trusted, comprehensive data Motor is known for in the aftermarket industry and also bring in new, dynamic capabilities for users that allow more opportunities than ever before."
Troy Chamber Sets Annual Holiday Luncheon for Dec. 8
On Thursday, Dec. 8 from 11 a.m.-1:30 p.m., the Troy Chamber is hosting its annual Holiday Luncheon at Somerset Inn (2601 W Big Beaver Road) in Troy.
Local business professionals will gather for networking and a panel of company executives from Michigan brands like United Shore Professional Baseball League, Dave's Sweet Tooth, and Rebel Nell. The panel discussion will be moderated by Fox 2 News anchor and reporter Roop Raj and features:
Andy Appleby, chairman and CEO of General Sports and Entertainment, and founder of AppleTree Advisory.
Andrew Chmielewski, benevolent oompah loompah overlord at Dave's Sweet Tooth Toffee, and co-founder of Mitten Crate.
Amy Peterson, co-founder and CEO of Rebel Nell.
"We are so excited to be once again hosting our annual holiday luncheon," says Sheila Denstaedt, vice president of the Troy Chamber of Commerce. "Our Made Michigan theme continues with three amazing local companies that understand what it means to be part of the community. We appreciate their willingness to share their unique stories with our members."
Each attendee will enjoy a lunch from Somerset Inn, a few holiday surprises, and wholesome networking opportunities. The cost to attend is $55 for Troy Chamber members and $80 for non-members. Tables of eight can be purchased for $385.
To register for the 2022 Holiday Luncheon and learn more about the Troy Chamber, visit here.
Southfield Allocates Rescue Plan Funds to Centrepolis Accelerator to Support Entrepreneurs
The Centrepolis Accelerator at Lawrence Technological University in Southfield will receive a two-year commitment of $750,000 from the city of Southfield to support Southfield-based entrepreneurs with education, resources, and mentorship.
The money comes from the city's $9.8 million American Rescue Plan allocation. The Centrepolis Accelerator, co-founded by the city and LTU in 2018, is one of the nation's few business accelerators that concentrates on manufacturers and physical products, rather than software.
"Southfield Business Development identified a need to provide greater support to emerging small businesses owners and created a pilot program, Southfield Evolution Lab," says Shelly Freeman, the city's business and economic development director. "The Evolution Lab leverages our success with Centrepolis Accelerator at Lawrence Technological University. Tapping into the accelerator's experts-in-residence, we will provide clear and direct support to guide the evolution of the underserved Southfield entrepreneurs into a robust community."
The Evolution Lab is open to qualified startups, established small businesses, inventors, and product developers located in Southfield. To apply, visit here.
Warren's McCarver Mechanical Partners with Macomb Community College
McCarver Mechanical Heating and Cooling in Warren has partnered with Macomb Community College to create a custom-tailored HVAC apprentice program for new hire employees.
McCarver Mechanical created this program with MCC with two goals in mind: 1) Get people back into the trades, and 2) To help service the community. The HVAC trade is a high-paced, rewarding job that builds life-long skills both technically and personally via interactions with customers.
In offering this new apprenticeship program, McCarver Mechanical will pay for an entire education as the apprentice completes the required training and classroom education at the college. The apprentice also will receive on-the-job training that will combine for a total of 8,000 hours of training and classroom time over a four-year period. The apprentice will receive a certificate of completion and all credit hours can be applied toward additional degrees.
There are also scholarship opportunities for up to $3,500 available through the school and other partners with which McCarver Mechanical is associated. The next available apprenticeship program begins this winter.
Hagopian World of Rugs Continues Student Rug Design Competition
Novi-based Hagopian World of Rugs and the College for Creative Studies in Detroit is staging its 34th Annual Student Rug Design Competition.
The competition gives students the chance to compete for scholarship moneys provided by Hagopian and add to their portfolios of accomplishments. In addition, the winning design is made into a rug and displayed at the annual CCS Student Exhibition. The competition is open to all CCS undergrad and grad students. This project is the longest running collaboration at College for Creative Studies.
The 2022-23 competition kick-off meeting, conducted at the Birmingham Hagopian retail store, was attended by the Hagopian COO Edmond Hagopian and Executive Vice President Suzanne Hagopian, and CCS participants Jeremy Noonan, head of the Department of Fibers and Textiles; Don Kilpatrick, chair of the illustration department; and Matt Chung from the CCS Office for Partnerships, to determine a design theme.
Each year the group searches for ideas that are thought provoking and will require some research and creativity in translating an idea into a functional work of art. This year's theme will be for students to design a rug that is a contemporary interpretation of Dada, Surrealism, or a mash-up of both.
Eisenhower Dance Detroit Prepares Dec. 3-4 'Nutcracker' Production
Eisenhower Dance Detroit is bringing "The Nutcracker" to life with its Youth Ensemble production of the holiday favorite, Dec. 3-4, at the Seligman Performing Arts Center in Beverly Hills.
Eisenhower Dance Detroit's professional company dancers will perform principal roles alongside the School of Eisenhower Dance Detroit and community dancers selected through audition. Tickets are on sale now starting at $15, with both in-person and live-stream ticketing options.
For more information and tickets, visit here.
Common Ground's Virtual Behavioral Health Urgent Care Offers Holiday Help
This holiday season, there's a new community resource for those who need help coping with the issues that sometimes hamper people at this time of year.
Common Ground's Virtual Behavioral Health Urgent Care in Bloomfield Hills offers virtual mental health assessments and treatment for people in need of urgent, but not emergency, behavioral health care.
Those experiencing lower acuity mental health issues, such as depression, anxiety, or panic attacks, can meet with master's level clinicians and nurse practitioners online, without having to wait hours in an emergency room, or days or weeks for an appointment with a therapist or psychiatrist. The service offers quick access for those whose medications have run out, as well as intervention, therapy, and care coordination with ongoing care providers. Virtual behavioral health urgent care treatment is covered by Medicare, Medicaid, and in-network major health plan providers.
Facebook Comments