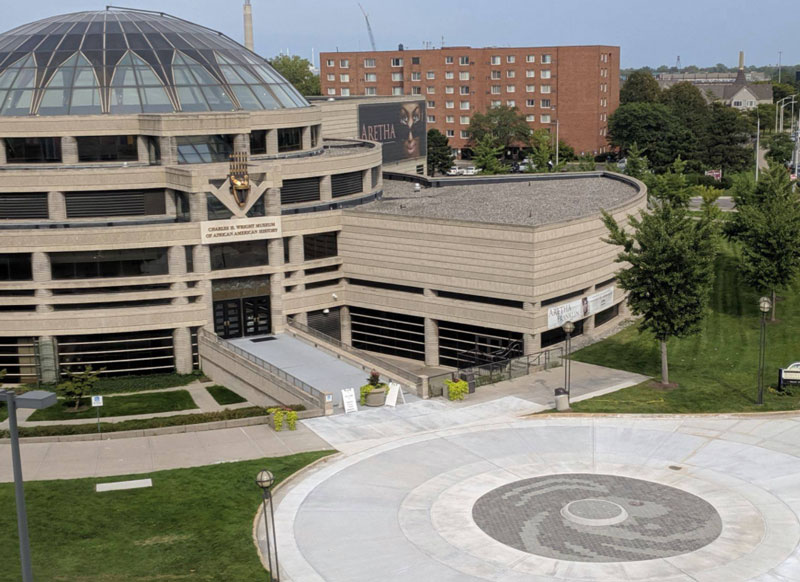 Our roundup of the latest news from metro Detroit and Michigan businesses as well as announcements from government agencies, including updates about the COVID-19 pandemic. To share a business or nonprofit story, please send us a message.
DTE Energy Foundation Awards $1.25M to Seven Michigan Cultural Institutions
The DTE Energy Foundation in Detroit announced Wednesday it has awarded grants to seven Michigan organizations focused on arts and culture and enriching diverse communities across the state.
Grant recipients include the Charles H. Wright Museum of African American History, Detroit Institute of Arts, Detroit Symphony Orchestra, Grand Rapids Public Museum Foundation, Historical Society of Michigan, Michigan Thanksgiving Parade Foundation, and University Musical Society (UMS).
Organizations will use this support to encourage cultural understanding, offer special experiences to youth, and honor unique qualities and perspectives of their regions.
"Arts and culture bring people together by fostering understanding and celebrating the diversity in all of our unique backgrounds," says Lynette Dowler, president of the DTE Foundation. "We care deeply about the communities we serve throughout Michigan — and about the unique cultures and traditions within them. Our partners will use these grants to teach, inspire, and expand students and spectator's views alike on how through a deeper appreciation of the arts, we deepen our respect for one another."
The DTE Foundation's goal is to encourage diverse communities by addressing racial equity and justice through arts education, public engagement work, and cultural institutions. As one of the state's largest foundations committed to Michigan-focused giving, it supports initiatives focused on arts and culture, community transformation, economic progress, education and employment, environment, and human needs.
The awards were distributed as follows:
Charles H. Wright Museum of African American History – $300,000
Detroit Institute of Arts (DIA) – $100,000
Detroit Symphony Orchestra (DSO) – $300,000
Grand Rapids Public Museum Foundation – $100,000
Historical Society of Michigan (HSM) – $75,000
Michigan Thanksgiving Parade Foundation – $330,000
University Musical Society (UMS) – $50,000
Ground Breaks for New Behavioral Health Hospital in Battle Creek
Bronson Healthcare in Kalamazoo and Acadia Healthcare Co. in Detroit have started construction on a new hospital in Battle Creek that the two companies are building together as part of a joint venture.
Slated to open in early 2023, the 96-bed inpatient behavioral health hospital will be located on a 25-acre site at Glenn Cross Road and M-66.
The new hospital addresses the growing need in southwest Michigan for more accessible, high-quality behavioral health services. It will offer a full continuum of inpatient behavioral health care services for adult patients including comprehensive treatment for those who struggle with acute symptoms of mental health disorders such as anxiety, depression, bipolar disorder, and posttraumatic stress disorder (PTSD).
"We are very pleased to announce that construction is underway for Bronson Behavioral Health Hospital," says Bill Manns, president and CEO of Bronson Healthcare. "Bronson has a longstanding commitment to advancing the health of the communities we serve, and we are proud to make this investment to expand behavioral health offerings in our region."
Debbie Osteen, CEO of Acadia Healthcare, says, "We're so excited to have an opportunity to introduce the community to this new hospital. This new hospital will be state-of-the-art and provide the hope and healing that residents of southwest Michigan need when dealing with complex behavioral health issues."
Mall of America Uses WaitTime AI for Real-time Data on Shopper Experience
WaitTime, an artificial intelligence crowd management solution based in Royal Oak, is partnering with Mall of America in Bloomington, Minn. to provide real-time shopper experience data.
WaitTime is a patented technology that is used by entertainment venues around the world for crowd intelligence and crowd management. Mall of America became the first retail venue to leverage the technology when COVID-19 made clear the value of accurately understanding when, where, and how many shoppers were in the vast complex, while maintaining the privacy of individual visitors.
At Mall of America, WaitTime is enabled by Cisco UCS servers optimized for Intel Xeon Scalable processors with built-in AI accelerators. The solution will provide Mall of America with actionable information regarding the number of shoppers entering and exiting the mall plus where people are spending their time.
"Over our 30 years in business, we have monitored how people are entering and exiting the building, but WaitTime takes the guesswork and manual counting out of the equation to give us an accurate picture of the shopper experience," says Aaron Nielsen, vice president of information technology at Mall of America and American Dream. "As we have started to see the data, we have seen a few things that surprised us, and since WaitTime has an API, we can tie the information we're getting from them into our existing data around WiFi and directory usage and see a more holistic picture."
WaitTime uses artificial intelligence to precisely count the number of people in a given area and determine if they are congregating or passing through. WaitTime also provides detailed analytics operators can use to provide better shopper experiences.
Northville Township Received AAA Bond Rating
Northville Township has received a AAA Bond rating from S&P Global Ratings, formerly Standard & Poor's. The AAA Bond rating is the highest possible, and Northville is one of fewer than than 20 communities in Michigan to receive such an honor.
"The Board of Trustees and our staff have been working hard to strengthen our financial position by lowering long-term costs, building strong fund balances, and keeping taxes low," says Mark J. Abbo, Northville's township supervisor. "These efforts have resulted in the strongest bond rating from Standard & Poor's and will benefit the Township for decades to come."
Jason Rhines, Northville's treasurer, says, "This AAA bond rating is so important to our community. This rating will save the community thousands of dollars when it comes to borrowing funds for larger projects, like the demolition of the remaining buildings at Legacy Park as announced last October."
Northville Township also has been repeatedly recognized by the Government Finance Officers Association for its budget and financial plans, most recently for its 2021 budget. Northville Township is in the top 2 percent in Michigan for its excellence in budgeting.
Bank of America Awards $6M to 65 Metro Detroit Nonprofits Focused on Economic Mobility
Bank of America celebrates its annual Day of Giving in Detroit today by committing more than $6 million in grants to more than 65 metro Detroit organizations.
The day is focused on connecting Bank of America's teammates with its community partner organizations to see more closely and to understand how partnerships align to deliver and advance economic mobility and racial equality in metro Detroit.
The organizations create pathways to employment and job training, support community development and housing affordability, address the small business eco-system and its entrepreneurs, and drive healthy outcomes for communities through innovative health care delivery while supporting basic needs functions.
Each grant is aimed at supporting thriving neighborhoods and add to the vibrancy of southeast Michigan. Grants, sponsorships, investments, and volunteerism are all part of the bank's commitment to support individuals and families and the diverse and dynamic communities in which they live.
"The continuing issues associated with the COVID-19 pandemic have threatened the physical and economic health of many in our community," says Matt Elliott, president of Bank of America Michigan. "Through our commitment to and collaboration with community partners we aim to remediate health disparities, shore up access to employment and job training, support housing, and provide for small business development and growth — with a common goal of removing barriers to afford opportunities. We enthusiastically pursue innovative pathways to these outcomes, and we are proud to assist people and programs devoted to building strong and resilient communities and thriving neighborhoods.
"Over the past decade we have committed more than $36 million to support initiatives that serve a diverse and deserving community. And we do more than just write checks. We've activated these investments with more than 200,000 volunteer hours logged by our teammates across the city, region and state."
Examples of the awardees are HAVEN in Pontiac and Develop Detroit, which were named the bank's Detroit's 2021 Neighborhood Builders. Each organization will receive a $200,000 grant over two years in unrestricted funds. They also will receive comprehensive leadership training for the executive director and an emerging leader on topics ranging from increasing financial sustainability, human capital management, and strategic storytelling. They will join a network of peer organizations across the U.S. to increase their impact in the community through program expansion coupled with leadership training for their executive and rising leader.
Kresge Awards $2.5M to Strengthen Tuition-free Community College Programs Nationwide
The Troy-based Kresge Foundation's Education Program today announced a suite of grants totaling more than $2.5 million dedicated to helping shape free college across the United States.
The initiative, CoPro2.0 — short for College Promise 2.0, will fund 11 grantees focused on research and programming, and scaling the next generation of equitable, financially sustainable community college promise programs, or "free college." College Promise, a national bipartisan organization launched in 2015 by President Barack Obama, will serve as the initiative's managing partner.
CoPro2.0 grants will fund projects from the following organizations:
Detroit Regional Chamber Foundation
E. Upjohn Institute for Employment Research in Kalamazoo
Bipartisan Policy Center (Washington, D.C.)
Growing Inland Achievement (California)
HOPE Toledo (Ohio)
Institute for College Access and Success Inc. (California)
Richmond Promise (California)
Rise Education Fund (California)
SHEEO and NCSL (Colorado)
Tennessee College Access and Success Network
WestEd (California)
"While the growing momentum around adopting free college programs is progress in the right direction, more needs to be done to make these programs equitable, effective, and financially sustainable for cities and states considering their own versions of free college," says Ed Smith, program officer at Kresge. "Promise programs, if strengthened, offer a framework to serve students, colleges, communities, and the nation as a whole by facilitating the credential attainment needed to increase global competitiveness and social mobility."
CoPro2.0 is funded through a cross-foundation effort led by Kresge's Education Program, in partnership with Kresge's Human Services, Detroit and American Cities Programs.
Iron Ore and General Cargo Lead Way at U.S. Great Lakes Ports in October
Steel and steel-making materials surged at U.S. Great Lakes-Seaway ports in October driven by regional manufacturing and construction activity.
According to the latest figures from the St. Lawrence Seaway, 28.5 million metric tons of cargo have moved through the seaway (from March 22 to Oct.  31), up 1.9 percent from the same period in 2020.
General cargo (up 65 percent) led the way in October with steel imports expected to continue to hold strong through the balance of the year.
Iron ore volumes via the seaway (up 20 percent) continue to be robust, driven in part by pellet exports from Minnesota ports. Canadian ships have been transporting the pellets from the Port of Duluth-Superior and Silver Bay to Quebec, where they are loaded on to larger ships for export to Europe. Dry bulk shipments through the seaway are up 8 percent due to the cross-border trade of materials for building projects.
Liquid bulk shipments (down 5 percent) are slowly improving as petroleum shipments (including jet fuel and gasoline) increased to meet rising leisure air travel and more motorists hitting the road.  Grain shipments (including U.S. and Canadian) via the seaway, however, are down 21 percent.
"The valleys we've seen with some commodities like grain have been balanced by peaks in other cargoes to supply the steel and manufacturing sectors, which are trying to keep up with booming consumer demand," says Bruce Burrows, president and CEO of the Chamber of Marine Commerce. "The Great Lakes-St. Lawrence Seaway shipping system is delivering for our customers without delay or interruption."
The Port of Monroe had several significant calls to the port through October. The M/V Harvest Spirit of McKeil Marine called on the port's riverfront dock to discharge a cargo of steel coils from Nanticoke, Ontario and was underway for her next port fewer than 24 hours after discharge operations commenced.
The barge New York/Double Skin 509A operated by Vane Brothers made two calls to the port with shipments of liquid asphalt to Michigan Paving & Materials. The M/V Herbert C. Jackson of the Interlake Steamship Co. paid its third visit of the season to Monroe at the end of the month, loading cargo for delivery to the Lafarge Cement plant at Alpena, Mich.
Through October, tonnage has surpassed 9 million tons for the Port of Toledo, an increase of more than 25 percent. Domestic tonnage is up more than 48 percent and trade with Canada has increased by 14 percent. Iron ore, coal, general cargo, and dry bulk commodities are all tracking ahead of last year.
"We have nearly surpassed our 2020 tonnage total and we're only in October," says Joseph Cappel, vice president of business development for the Toledo-Lucas County Port Authority.
While most of the increase is attributed to additional domestic iron ore shipments associated with the Cleveland Cliffs direct reduction plant, Toledo also is experiencing increases in coal, dry bulk and general cargo.
Skillman Foundation and Parade Co. Announce Student Float Design Winners
The Skillman Foundation and The Parade Co. announced 5th grade student Jaiden Paynes-Hebron, from Amelia Earhart Elementary-Middle School in Detroit, as the grand prize winner of the 30th Annual Skillman Foundation Float Design Contest for America's Thanksgiving Parade presented by Gardner White.
Paynes-Hebron's design, titled "The Class of Tomorrow," highlights the artist's vision of a classroom that not only serves as a place of learning, but also celebrates friendship, fun, and culture.
The float features students learning in a variety of ways and exploring a range of subject matter including science, math, music, and art. Brought to life by artists at The Parade Co., Paynes-Hebron and his family will ride on the float on Thanksgiving morning.
"Kids today have experienced many different ways of learning," says Angelique Power, president and CEO of The Skillman Foundation. "From classroom instruction to hands-on collaborations to computer applications; in school, out in the world, and within virtual worlds. Their experiences have been different and wider than that of previous generations. And so they are the most important consultants and designers of the future of school and learning.
"This year's Skillman Foundation float design contest is one way to solicit and amplify student input. We are so proud to continue this tradition, showcasing the genius and the vision of Detroit youth on a national stage."
This year's Skillman Foundation Float Contest theme, "My Dream Classroom," encouraged students to use their imagination to illustrate and share their vision of a perfect classroom. Hundreds of submissions were received from students in grades 4 through 8 enrolled in Detroit Public Schools or Detroit Charter School Programs across the city.
Five honorable mention winners also were selected. Their artwork will be displayed around the border of the float. The students include:
Charon Ewing, 5th grade, Hutchinson Elementary Middle School, "Art + Music Class"
Lizeth Jiminez, 5th grade, Cesar Chavez Academy Upper Elementary "Dream Class"
Christina Johnson, 7th grade, Spain Elementary, "Dream Classroom"
Jamilyn Jones, 5th grade, Spain Elementary, "Cat Class"
Vivica Toussaint, 5th grade, Bates Academy, "Astro Academy"
$4M Donation Launches Stone Center for Inequality Dynamics at U-M
A $4 million gift from the Stone Foundation will launch a center at the University of Michigan in Ann Arbor to better understand and address rising wealth inequality.
The James M. and Cathleen D. Stone Center for Inequality Dynamics will pursue cutting-edge research to comprehensively understand changes and stability in inequality across generations, time, and place, and propose novel solutions to address them. The center also seeks to expand the social scientific data infrastructure to support research on these topics.
"We're thrilled to partner with the Stone Foundation to address one of the most important issues of our time," says Fabian Pfeffer, center founding director and associate professor of sociology at U-M. "Before COVID arrived, wealth inequality in the United States had already reached its highest levels since World War II. Yet, we're only beginning to understand the growing divide between the haves and have-nots.
"The problems arising from extreme inequality are impacting many aspects of our lives, particularly those of the next generation. As researchers, we have to take action in a major way, and the generous gift from the Stone Foundation is allowing us to do just that."
The center will use the new funding from the Stone Foundation to create an interdisciplinary research hub that brings together inequality experts from across campus, the country, and the world. It will also help train the next generation of inequality and wealth scholars.
Homeless Action Network of Detroit Gets $1.25M Bezos Day 1 Families Fund
Homeless Action Network of Detroit (HAND), a hub for homelessness data, resources, and change in metro Detroit, has been selected to receive a $1.25 million grant from the Bezos Day 1 Families Fund — the largest private donation in HAND's history.
Launched in 2018 by Amazon founder and executive chair Jeff Bezos, the Day 1 Families Fund issues annual leadership awards to organizations and civic groups doing compassionate, needle-moving work to provide shelter and hunger support to address the immediate needs of young families.
"We are very excited about this grant from the Day 1 Families Fund. As the largest private donation that HAND has ever received, we feel the impact in Detroit will be transformative," says Tasha Gray, executive director of HAND. "This grant puts our community at the intersection of investment and innovation. Combined with the current federal investments in families such as child tax credits, we have real opportunities for families to exit homelessness."
This one-time grant will allow Homeless Action Network of Detroit to make investments in families by diverting them from shelters, re-housing them when they are displaced and providing critical services such as childcare and employment to maintain stability.
JVS Human Services Offers Free Webinar on the Resignation Economy Nov. 30
JVS Human Services in Southfield is offering a free webinar entitled, "The Road Ahead: The Resignation Economy – An Explanation," which will be livestreamed Nov. 30, 2021, at 10 a.m.
The program is being offered as recent figures from the U.S. Bureau of Labor announced that a record 4.3 million Americans, close to 3 percent of the entire workforce, quit their jobs in August. Prior months had also shown high numbers of workers resigning. The webinar will be live streamed on the JVS Human Services Facebook page; no registration is necessary.
"People are stepping out of the industrial economy, where they felt it was the norm to feel bad about work but were compelled to stay in a job, into a new economy," says Gerard Baltrusaitis, employment specialist at JVS Human Services. "People are revitalized and now won't stay in a job where they spend a third of their lives feeling miserable."
He warns that it is a vital to have a roadmap if resignation is in your future. "There are a number of factors which you need to consider before taking this life-changing step. Evaluate what you bring to the table and look at your finances, but also recognize that we are in a nice position right now with employers offering increased salaries and incentives."
Facebook Comments