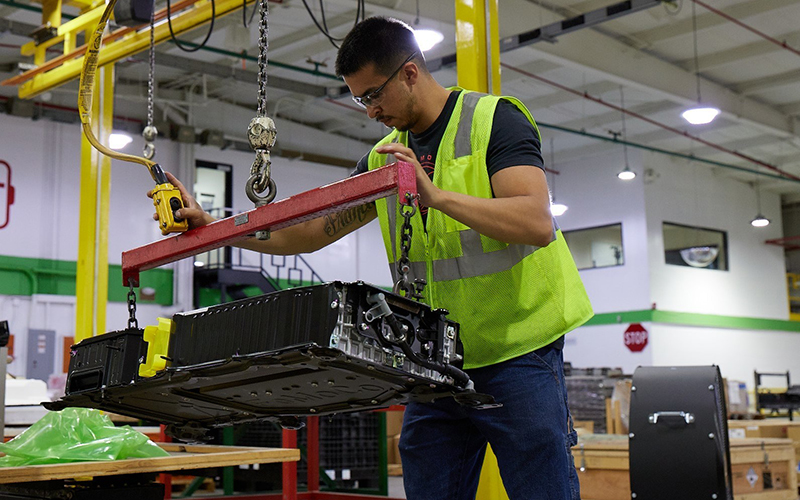 Atlanta's Cox Automotive Mobility and Spiers New Technology today announced the expansion of its global EV battery service center network with new facilities in Belleville, southeast of Ann Arbor, and Las Vegas.
Global automakers are investing billions in new EV models to meet government-mandated environmental targets, but even with years of vehicle subsidies, sales of battery-powered vehicles have been growing slowly. In addition, rising inflation and supply chain delays have impacted sales, along with higher vehicle costs, long charging times, and range anxiety.
In response, Cox is strategically steering its business to support this transition and meet the needs of its customers now and in the future.
The company is constructing its global EV battery service network with dedicated locations across the U.S. and Europe.
In addition to supporting practices that enable the extension of EV batteries, end-of-life reuse, and pre-treatment recycling, Cox states it meets industry standards in battery health inspection and valuation.
This includes the company's grading system and diagnostic tool, built in partnership with Spiers New Technologies, that provides a VIN-specific battery health score to help provide transparency with dealers and consumers.
"The expansion of our EV battery service centers in the Midwest and West reinforces Cox Automotive's commitment to being the world's best battery health innovator and end-to-end battery services provider," says Lea Malloy, assistant vice president of EV battery solutions at Cox. "We're taking charge of the EV battery lifecycle, offering efficient and sustainable solutions that will effectively extend battery first life, and help keep batteries out of our oceans and landfills."
With additional geographic expansion planned later this year, the company is scheduled to grow its global operating footprint to more than 1 million square feet. Cox and Spiers also operate end-to-end EV battery service centers in Oklahoma City, Okla., and Ede, Netherlands.
Facebook Comments