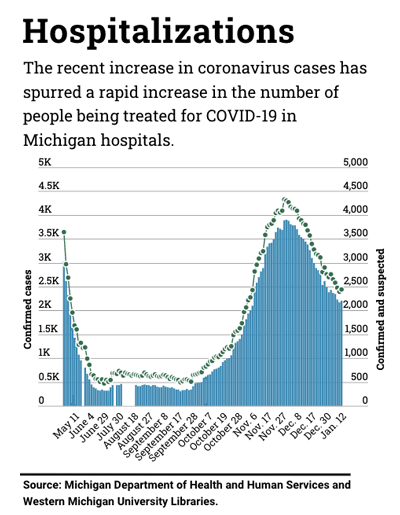 Here is a roundup of the latest news concerning the COVID-19 pandemic in addition to announcements from local, state, and federal governments, as well as international channels. To share a business or nonprofit story, please send us a message.
Virus Closures Depress Detroit Casino Income to $639M During 2020
The three Detroit casinos reported nearly $639 million in aggregate revenue during 2020 compared with a record $1.454 billion yearly revenue in 2019, a 57.3-percent decrease compared to 2019.
Because of public health concerns related to the COVID-19 pandemic, the Detroit casinos were closed from 3 p.m. March 16 through August 4 and from Nov. 18 through Dec. 22. The casinos operated at limited capacity from early August to mid-November and reopened in late December at limited capacity under an epidemic order issued by the Michigan Department of Health and Human Services.
Year-over-year gaming revenue for MGM dropped 58.8 percent to $257.1 million. MotorCity's year-over-year revenue declined 54.9 percent to $222.7 million, and Greektown's year-over-year results were down 58.3 percent to $140.6 million. Slots provided 78 percent of revenue and table games contributed 19 percent.
Table games and slots generated 97 percent of revenue at $620.4 million while retail sports betting provided 3 percent of revenue at $18.3 million during 2020.
During 2020, the three Detroit casinos paid $50.3 million in wagering taxes to the state of Michigan compared with $117.8 million paid in 2019 on slots and table games revenue.
The three Detroit casinos reported making $73.8 million in wagering taxes and development agreement payments to the city of Detroit during 2020.
The three casinos reported aggregate retail sports betting qualified adjusted gross receipts of $18.3 million for 2020. The breakdown by casino was:
MGM, $8.2 million
MotorCity, $6.0 million
Greektown, $4.1 million
The three casinos paid $690,865 in taxes for retail sports betting to the state of Michigan in 2020 and reported submitting $844,391 in retail sports betting taxes to the city of Detroit.
Test Alerts Adds Visitor Log Mode to Restaurant Contact Tracing Program
Troy-based Test Alerts has added a feature called Visitor Log Mode to its contact tracing program to allow restaurants and other businesses to stay compliant during COVID-19 reopening.
No health screening questions are required. Businesses do not have to manage paperwork and can retrieve data on request from the program's secure dashboard.
When using the Visitor Log Mode, each business/location creates and posts a sign at each entrance with a QR Code or Custom Survey Code or PIN. Visitors scan the QR code or enter the PIN on entry using their personal cell phone. They are asked for a name and best contact method (email or cell). Upon submission, a green check mark is displayed to indicate they have checked in and can be shown on entry.
The dashboard will show a daily list of patrons who can optionally register their phones to avoid having to enter their name or contact info each time they enter. The app can be used at any Test Alert-enabled location with a single registration.
For more information on features and pricing, visit here.
Ven Johnson Law Expands Detroit Office and Adds New Team Members
Ven Johnson Law is further investing in Detroit by reconfiguring and expanding its office to occupy an entire floor of the historic Buhl Building located at 535 Griswold St. to accommodate its growing team.
The firm added approximately 8,000 square feet to its existing 5,000-square-foot footprint, creating 16 new workstations, two conference rooms, and 11 private offices, many of which overlook the Detroit River. The firm has been in the Buhl Building since 2012.
"When I started this firm, I knew we had to be in Detroit, and I had my eye on the Buhl Building," says Ven Johnson, president of Ven Johnson Law. "This neo-Gothic structure has been a cornerstone of Detroit's financial district since the late 1800s. A growing team and client base called for the need to remodel and expanded our office to include the best technology and workspace to fight for our clients."
New technology enables staff to remotely connect with colleagues and clients anywhere in the world. The additional offices and workstations accommodate new staff and enlarged conference rooms provide clients more comfortable meeting space.
Attorneys Jeffrey Stewart and David Shiener, along with paralegal Tiffani Gagne, joined the firm in September, and attorneys Solomon Radner and Madeline Sinkovich and paralegal Katie Moore joined in November. The new team members enhance the capabilities of the firm's police misconduct, civil rights, product liability, medical malpractice, and personal injury practice areas, according to Johnson, who reports that his firm now employs 49 people at offices in Detroit, Flint, and Grand Rapids.
D'Angelo Construction of Troy, which specializes in the commercial, retail, and institutional markets, constructed the new Ven Johnson Law office with Stephen Sussman Architect & Associates. Birmingham Interior Designer, Jeffrey King Interiors was hired to do the interior.
Clarkston's GryphonHR Receives BAF Grant for Innovative HR Compliance Technology
GryphonHR in Clarkston, a client of OU INC, a Smartzone business incubator and innovation center in Rochester Hills, recently received an $8,700 BAF award from the Michigan Economic Development Corp. to help further its work in Form I-9 and human resources compliance in southeast Michigan.
Founded in 2018, GryphonHR software is designed to provide a centralized and secure platform to employers interested in incorporating compliance into the hiring process for the entire lifecycle of their employees and contractors, regardless of hiring country, state, industry, or job. The platform is simple, streamlined and easily accessible from nearly anywhere by today's mobile-centric workforce.
Currently, the business is transitioning from the beta stage to general availability of its GryphonI9 product, a Form I-9 and E-Verify compliance solution.
"The BAF grant program is a tremendous opportunity for small businesses to work with the MEDC through the OU INC business incubator," says Marc Villella, CEO of GryphonHR. "The funding has been crucial to our strategy execution and has assisted us tremendously for our GA launch."
For more information, visit here.
Grand Rapids' Blackford Capital Invests in Aqua-Leisure Industries of Boston
Blackford Capital, a private equity firm based in Grand Rapids, today announced an investment in Aqua-Leisure Industries, a water sport leisure product development and aquatic goods company based in suburban Boston.
Aqua-Leisure was founded in 1970 and primarily serves the aquatic consumer products industry. The company is one of the largest designers and distributors of multiple lines of performance-based products under a variety of brand names and proprietary designs, including swim goggles, learn to swim products for children, and pool floats, among other categories.
"Aqua-Leisure has appealed to premier sporting goods and value channel consumers throughout our 50-year history," says Steve Berenson, CEO of Aqua-Leisure. "Our organization's overall approach to market assessment, product design, supply chain logistics and product positioning, whether through brick and mortar or e-commerce channels, has consistently delivered robust performance."
Aqua-Leisure's execution and growth through the COVID-19 crisis enhanced its credibility with key existing and prospective customers, according to the company. Blackford says it intends to help Aqua-Leisure seize these opportunities to gain market share and capitalize on key industry trends, including unprecedented consumer demand through e-commerce and online sales channels. The company's management team will continue in their current roles.
"The company has impressive and decades-long relationships with excellent customers, which have strengthened recently as Aqua-Leisure's products have experienced tremendous consumer demand for backyard use and 'staycations' driven by the uncertainty brought about by the pandemic," says Martin Stein, founder and managing director of Blackford Capital.
Royal Oak's Rodwan Consulting Co. Acquired by Florida Firm
Rodwan Consulting Co., an actuarial firm in Royal Oak, has been acquired by Foster & Foster Consulting Actuaries Inc. an actuarial and health and welfare plan consulting firm based in Fort Myers, Fla.
Foster & Foster, which represents nearly 1,000 public pension and health and welfare plans in the U.S. also completed its acquisition of Beyer Barber Co., an actuarial consulting firm headquartered in Allentown, Pa.
"Foster & Foster is a highly reputable firm that shares our number one mission, which is to always put the interests of our clients first and shares our passion for securing public pension and health and welfare plans on behalf of their beneficiaries," says Sandra Rodwan, president of Rodwan Consulting Co."
"These strategic acquisitions expand our footprint into Pennsylvania and Michigan and deepens the depth of our exceptional team of actuaries and health and welfare plan consultants, experienced in public-sector pensions and Taft-Hartley markets," says Brad Heinrichs, CEO of Foster & Foster. "Nearly half of all public-sector pension systems in the United States are based in Pennsylvania and Michigan, so positioning ourselves in these key geographic regions will enhance our ability to significantly expand our client services. Our firm is deeply committed to preserving the solvency and success of public-sector health and welfare plans and Taft-Hartley plans across the country for many years to come. These recent acquisitions will bolster our efforts to achieve these long-term objectives."
Detroit Mayor Appoints Additions to City Administration
Detroit Mayor Mike Duggan announced additions to his administration: the appointment of former state treasurer Jay Rising as the city's acting chief financial officer and the hiring of former Detroit Receiving Hospital CEO Dr. Iris Taylor to be director of nursing at the Detroit Health Department.
Rising replaces Dave Massaron, who recently was tapped by Gov. Gretchen Whitmer to serve as state budget director, while Taylor fills a leadership role at the Health Department that has been vacant since August 2019.
Rising has a long career of accomplishment at the state level, having served three governors, as well as a distinguished career in the private sector.  Most recently, he served Cabinet Secretary for Gov. Whitmer.
Early in his tenure, Rising will be charged with working at the federal and state level to gain financial support for the city's COVID-19 response and economic revitalization efforts. Under the terms of the State Financial Review Commission, a permanent CFO must be approved by City Council within six months of a vacancy.
"Jay is the most knowledgeable person in Michigan on federal and state funding and will be enormously valuable in our efforts to secure funding from the Biden and Whitmer administrations for programs that directly affect the residents of Detroit," says Duggan. "At the appropriate time, I plan to submit Jay to City Council for approval to become our permanent CFO."
From 2006-2015, Rising helped to lead Detroit Medical Center back to profitability after it emerged from near bankruptcy and the near closure of several of its flagship hospitals in 2002. Rising served as DMC's CFO until 2013 and remained with the DMC in various executive leadership positions until 2015.
"Under Mayor Duggan and his team's leadership, Detroit has made tremendous progress managing its finances in a responsible way to provide a greater level of service to residents and prepare for the uncertainties of the future," says Rising. "I am excited to build on the work that already has been done and to leverage my experience to bring more state and federal resources to bear in Detroit."
Rising begins his new job on Jan. 18.
Taylor will be the lead public health nurse for the department providing strategic oversight of all clinical operations, including the management of staff, procedures related to clinical programs and public outreach. She also served as president of the Detroit School Board from 2017-2020.
"Dr. Taylor fills a critical position within the Health Department as we continue to build our clinical operations," says Denise Fair, the city's chief public health officer. "We are fortunate to have someone of her caliber, experience and deep level of community trust join our team."
Duggan says, "Dr. Taylor was an outstanding leader at Receiving Hospital as we rebuilt the Detroit Medical Center and will help strengthen the outstanding team we have at the Health Department under Denise Fair. She is greatly respected across Detroit and will serve this community well."
Taylor started her position on Monday.
Little Caesars Love Kitchen Responds to Disaster Relief Efforts
In 2020, the Little Caesars Love Kitchen — a pair of semi-trailers that travel across the U.S. assisting natural disaster relief efforts — served victims and first responders of Midland flooding, the Nashville tornados; Hurricane Laura in Texas and Louisiana; Hurricane Sally in Florida; Hurricane Delta in Louisiana; Hurricane Zeta in Alabama; and the wildfires in Oregon.
In addition, in 2020, Little Caesars donated more than 1 million pizzas to hospital workers and first responders and an additional 251,000 pizzas were donated by customers through the Little Caesars Pie it Forward initiative.
"The Love Kitchen embodies Little Caesars strong tradition of giving back and we're committed to continuing this work in 2021 and beyond," says Dave Scrivano, president and CEO of Little Caesars. "As a family company, we know the importance of supporting the communities in which we serve. I'm thankful for our franchisees and crew members who make this possible."
For more than 35 years, the Little Caesars Love Kitchen has traveled across the U.S. and Canada to donate and serve pizza meals to those in need. An estimated 50,000 Little Caesars franchise owners and employees have volunteered their time to support the program and feed more than 3.5 million people in their local communities.
In February, and in partnership with Mitch Albom's SAY Detroit charities, the Love Kitchen will donate and serve pizza in its hometown of Detroit at the SAY Detroit Play Center, in addition to the Detroit Rescue Mission Ministries.
Holocaust Memorial Center Announces Holocaust Remembrance Day Program
The Holocaust Memorial Center Zekelman Family Campus in Farmington Hills is hosting "How Healers Became Killers, Nazi Medical Professionals" to commemorate International Holocaust Remembrance Day on Jan. 27 at 7 p.m. on Zoom.
The program also is the opening event of a new exhibit, "Deadly Medicine: Creating the Master Race," which opens Jan. 17 and is slated to run until July 11.
"We are proud to host this thought-provoking exhibit and opening program which scrutinizes the role medical professionals had in the Holocaust," says Rabbi Eli Mayerfeld, CEO of the Holocaust Memorial Center. "The most important lesson we teach is that history is made through a series of choices and that every choice has a consequence. By teaching the lessons of the Holocaust, our fervent hope is that each of us will be upstanders, not bystanders, when we witness wrongful actions."
"How Healers Became Killers, Nazi Medical Professionals" will address the role medical professionals played in the planning and implementation of Nazi racial policy. It features Patricia Heberer-Rice, senior historian from the United States Holocaust Memorial Museum in Washington, D.C., who will discuss how medical professionals enforced policies of compulsory sterilization, as well as the "Euthanasia" program. Through these legalized programs, the Nazis murdered 650,000 people and set an important precedent for the Holocaust.
To register for the program, visit here.
The traveling "Deadly Medicine: Creating the Master Race" exhibit was produced by the U.S. Holocaust Memorial Museum. It examines how the Nazi leadership, in collaboration with individuals in professions traditionally charged with healing and the public good, used science to help legitimize persecution, murder, and ultimately, genocide. Through reproductions of photographs and documents, films, and survivor testimony, the exhibit traces how the persecution of groups deemed biologically inferior led to the near annihilation of European Jewry. It also challenges viewers to reflect on the present-day interest in genetic manipulation that promotes the possibility of human perfection.
"Deadly Medicine explores the Holocaust's roots in then-contemporary scientific and pseudo-scientific thought," says Susan Bachrach, exhibition curator at the Farmington Hills center. "At the same time, it touches on complex ethical issues we face today, such as how societies acquire and use scientific knowledge and how they balance the rights of the individual with the needs of the larger community."
For additional information, visit here or call 248-553-2400.
Facebook Comments