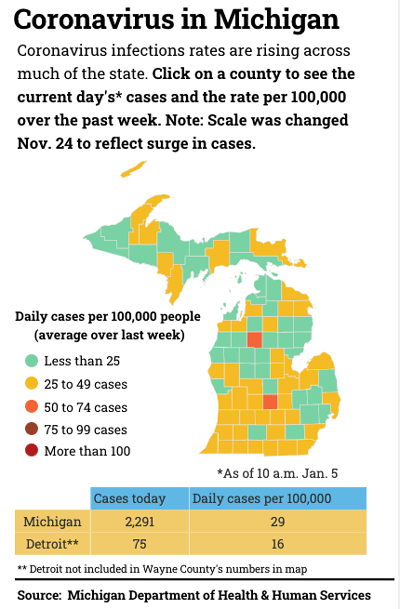 Here is a roundup of the latest news concerning the COVID-19 pandemic in addition to announcements from local, state, and federal governments, as well as international channels. To share a business or nonprofit story, please send us a message.
NorthStar Anesthesia Completes Transition to Serve Beaumont Health
Texas-based NorthStar Anesthesia has completed its transition to provide anesthesia services to seven Beaumont Health facilities in and around metro Detroit.
As of Jan 1, NorthStar is now managing the anesthesia services for Beaumont's Royal Oak, Troy, and Grosse Pointe hospitals, and their associated ambulatory surgery centers and pain clinics. In August 2020, NorthStar started managing anesthesia services at Beaumont's Dearborn, Taylor, Trenton, and Wayne hospitals and their associated ambulatory surgery centers and pain clinics.
"NorthStar is proud to serve Beaumont, a pillar of Michigan health care that is known for excellence and the highest standard of patient care," says Adam Spiegel, CEO of NorthStar. "We are equally proud that the NorthStar team serving Beaumont will consist of so many fellowship-trained anesthesiologists and such a high percentage of the heroic CRNAs (Certified Registered Nurse Anesthetists) who have been integral to Beaumont's COVID response and top tier surgical practices."
In 2020, Beaumont decided to follow national best practices and have one organization manage both CRNAs and anesthesiologists at seven of its facilities. Beaumont had previously employed CRNAs and relied upon independent anesthesiologists.
Beaumont selected NorthStar because of its experience successfully managing transitions of anesthesia practices at more than 140 hospitals and medical centers.
"We have been very pleased with NorthStar's smooth transition at Beaumont's South campuses since August," says David Claeys, president of the Dearborn and Farmington Hills hospital campuses for Beaumont Health. "NorthStar has recruited high-quality, new anesthesiologists and CRNAs to join our team and these have been great additions to join the incumbent staff at our facilities."
At Beaumont's Royal Oak, Troy, and Grosse Pointe hospitals the majority of the incumbent anesthesiologists and the majority of the CRNAs who were already working at these facilities wanted to continue serving Beaumont's patients, and NorthStar enabled them to do so.
In addition to transitioning incumbents, NorthStar also has added new anesthesiologists, including those with fellowship training in cardiac, pediatric, critical care, and obstetric surgical specialties. Several are former Beaumont residents NorthStar recruited back to Michigan from other medical institutions.
"Our team is grounded in Michigan and committed to serving our local communities," says Christina Stevens, vice president if CRNA services in Michigan for NorthStar. "For example, the CRNA team has been vital to Beaumont's efforts during COVID-19, going above and beyond to help cover shifts and provide ICU coverage during the surge. They are true heroes."
Detroit Red Wings Name United Wholesale Mortgage as Team's Exclusive Mortgage Partner
United Wholesale Mortgage in Pontiac, the top wholesale mortgage lender in the United States and the country's second-largest overall lender, has been named the official mortgage provider of the Detroit Red Wings and Little Caesars Arena.
The partnership is highlighted by UWM's brand marks prominently appearing on the club's helmets during the 2021 season, which is set to begin Jan. 14.
"We are excited to welcome UWM as the official mortgage partner of the Detroit Red Wings, and for this innovative, Michigan-based business to be the first-ever featured partner on our iconic red and white helmets," says Chris Granger, group president of sports and entertainment at Ilitch Holdings Inc., which owns the Red Wings. "It's a pleasure to work with UWM and we look forward to partnering with them for years to come."
Sarah DeCiantis, chief marketing officer at UWM, says, "Our decision to partner with, and become the exclusive mortgage provider for the Detroit Red Wings was easy. This partnership will allow us to further build awareness as well as highlight UWM as a best place to work locally. We're excited to see what we will accomplish alongside the Detroit Red Wings."
The UWM decal will be positioned on the left and right sides of the helmet, and the helmet will be worn for home and away games, as well as practices throughout this season. In addition to branding on player helmets, UWM branding will also be featured with an on-ice logo at Little Caesars Arena, along with prominent dasher board and penalty box signage. Digital branding will be featured throughout the arena bowl and concourse areas.
The parking garage located at 128 W. Fisher Service Drive also will be named the United Wholesale Mortgage Garage with new signage to be installed soon. UWM will have a sponsored presence on the Detroit Red Wings Radio Network.
Detroit Housing Developments Awarded $1.8M in Grants from Indianapolis Bank
Four housing developments in the city of Detroit have been awarded $1.8 million in Affordable Housing Program grants from the Federal Home Loan Bank of Indianapolis that will create 318 housing units, 308 of them affordable.
The four Detroit awards were among $11.2 million in grants for 24 affordable housing developments in Michigan and Indiana. FHLBI, which opened a Detroit office in 2020, had not awarded AHP grant dollars to projects in the city since 2014.
The four Detroit properties receiving awards are:
7850 E. Jefferson ($500,000), Ginosko Development Co., two apartment buildings along the Detroit River with 75 units each.
La Joya Gardens ($500,000), Cinnaire Solutions Corp. and Southwest Detroit Business Association, mixed-income development featuring 53 residential units.
Marwood Apartments ($500,000), Develop Detroit, renovation that will create 71 units.
The Anchor at Mariners Inn ($272,753), Cinnaire Solutions Corp., 44 units.
The Affordable Housing Program is the flagship grant program of the Federal Home Loan Bank System, and the FHLBank Indianapolis provides up to $500,000 in grant funding per affordable-housing project. FHLBank Indianapolis is one of 11 regional banks that make up the FHLBank System, and is owned by approximately 400 Michigan and Indiana financial institution members.
"Like previous years, most of these developments include a direct financial involvement from our members," says MaryBeth Wott, community investment officer at FHLBank Indianapolis. "Through their partnership, our members are using AHP grant dollars to close the development gap and help create more units of affordable housing in the communities they serve."
A high priority was placed on awarding grants to developments that feature preservation, infill development, blight elimination, and targeted community investment areas.
All four of the Detroit recipients benefited from a commitment from the Detroit Housing and Revitalization Department, from soliciting RFPs for the vacant land needed for the developments, to providing technical assistance, to investing City HOME and Community Development Block Grant funding into each of the four projects.
"Our department is dedicated to helping developers create and preserve affordable housing in neighborhoods across Detroit," says Donald Rencher, director of HRD. "I'd like to congratulate these developers and thank them for their commitment to helping us create a Detroit where all have access to quality, affordable housing."
Chevrolet Releases Second Episode of Corvette Development Documentary
The Chevrolet brand of Detroit's General Motors Co. has released the second installment of its two-part documentary outlining the development of the 2020 Corvette titled "Revolution: The Mid-Engine Corvette Development Story."
The video features scenes of the engineering team putting a camouflaged Corvette through its paces on the famous German track at Nürburgring, where GM has a test center.
Michael Petrucci, lead development engineer; Ken Morris, vice president of autonomous and electric vehicle engineering; vehicle performance engineers Steve Padilla and Brian Wallace; and former Corvette Racing driver Oliver Gavin, a five-time 24 Hours of LeMans winner; describe their experiences in the video.
The documentary was released on Corvette's Facebook and Instagram pages and Chevrolet's YouTube page. Part one of the documentary, focused on Corvette design, was released Dec. 22.
To view the new Corvette video, visit here.
Detroit Clothier Ash & Erie Seeking Male Models 5-foot-8 and Under
Detroit-based apparel company Ash & Erie is on the lookout for its next top model, as long as he's shorter than 5-foot-8.
Ash & Erie specializes in clothing for who stand 5-foot-8 and under and is seeking male models from metro Detroit to exhibit its upcoming spring line.
"There's a whole segment of men who have never seen themselves represented in fashion," says Steven Mazur, co-founder and CEO of Ash & Erie. "We take great care to fit each item of clothing to different body types, because shorter guys are all too used to their clothing not fitting correctly. That's why it's so important to use models that look like our customers, so they can see the proof of that fit."
Ash & Erie secured funding from billionaire businessman Mark Cuban after an appearance on "Shark Tank" in 2017. The company also is featured on the current season of PBS's "Start-Up."
Aspiring male models can email sarah@ashanderie.com. Prior professional modeling experience is not required.
New Digital Publication Delivers the Ground Truth About Autonomous Vehicles
With one of the most anticipated — but often misunderstood — technologies on the horizon, Argo AI has launched Ground Truth, a new storytelling platform that provides an inside look at the development of autonomous driving technology.
"Since there's no shortage of hype and speculation about self-driving cars, there is a need for a place where people can get a realistic understanding of this revolutionary technology and how it could one day impact their lives," says Bryan Salesky, founder and CEO of Argo AI, a global self-driving technology platform company behind launch of the publication. "Ground Truth will be a destination for stories not just about the technology, but about the people doing the work, the cities where it will be deployed, and the businesses it can enable."
With inside access to the Argo AI team, as well as industry experts who have experienced the excitement, the trials, and the tribulations of this emerging industry, Ground Truth explores the depths of autonomous driving. Ground Truth focuses on true driverless technology — not driver-assist features or systems that need human supervision — but rather an all-new vehicle experience that doesn't require a human driver at all.
The effort is a partnership with Vox Media's Epic Digital team of writers and editors, who bring decades of journalism experience to the topic. The publication's goal is to validate or correct perceptions by relaying what's really happening in the sector. Using a variety of storytelling mediums from blogs and industry perspectives to explanatory videos and data visualizations, the publication strives to explain how the technology will come into the lives of consumers, from the residents of the cities where it will first be deployed, to the small to large businesses it will eventually support.
"We're at the beginning of the re-creation of the automotive and transportation industries, and it's going to take a different lens from which to view, evaluate, and understand emerging technologies like autonomous vehicles," says Salesky. "As a passionate advocate for the field of robotics and the potential of self-driving technology, I'm happy to have Argo AI take on this effort to support the industry and help usher in safer, easier, and more enjoyable ways to get around our cities."
Plymouth Township's United Road Launches Rewards for High Performers
United Road, a provider of finished vehicle transport logistics based in Plymouth Township, has launched its Haully Pro Carrier Rewards Program, an initiative designed to recognize and reward high-performing third-party carriers in United Road's network of independent carriers.
To qualify for Haully Pro status, carriers must be in the 90th percentile for quality as measured by three metrics: on-time or early delivery, compliance, and damage-free vehicle delivery. Plus, carriers must meet a quarterly business revenue threshold.
"Our carriers are the face of United Road with our customers," says Jason Walker, COO of United Road. "The Haully Pro Carrier Program is United Road's way of supporting our high-performing third-party carrier partners — including providing financial incentives — to those who go above and beyond to fulfill United Road's promise to its customers of safe, on-time, and damage-free delivery. United Road is committed to building a long-term relationship with its carriers. When they are successful, we are successful."
Chief benefits of the Haully Pro program include quarterly rebate bonuses, dedicated concierge dispatch support, early access to contractual freight, free same-day payment up to three times per quarter for loads delivered, and a reduced quick-pay option. Enhancements planned for the future include access to discounts for fuel, insurance, and roadside assistance.
United Road sees Haully Pro as a way to support their carriers' independent businesses, build loyalty and enhance quality.
The program was effective Jan. 1. Bonus rebates will begin in the second quarter 2021, based on first-quarter performance. United Road has identified 91 carrier partners in its inaugural class of Haully Pro Carriers.
"Carrier partners are critical to United Road's success," says Walker. "As we roll out this program over the first quarter of '21 we look forward to awarding the Pro designation to additional carriers. United Road is here to help its carrier partners be successful including achieving Pro status."
ACG to Host Webinar on Special Purpose Acquisition Companies
The Association for Corporate Growth Detroit is hosting a webinar on the resurgence of Special Purpose Acquisition Companies Jan. 12 between 8-9:15 a.m. via Zoom.
Questions that will be addressed during the webinar include: "So why choose the SPAC route?" "How does the process, cost-benefit analysis, and experience differ from that of a traditional IPO?" and "Would it make sense for your company or client to consider a SPAC?"
The discussion will be moderated by Clay Vanderpool, senior vice president of PNC Business Credit. Speakers will include:
Tony Colucci, chief financial officer of Alta Equipment Co.
Jeff Hoover, partner at Howard and Howard
Jeff Kuras, an attorney at Honigman
Kim Easterle Mattes, producer at Aon
Chris Rafferty, COO at Aon's Financial Services Group
Dom Schiano, senior advisor at Gores Holdings
Zoom link for the session will be sent prior to the event to those who register here.
The Henry Ford Receives Seal of Approval Autism Organization
The Henry Ford in Dearborn has received the Autism Alliance of Michigan (AAoM) Seal of Approval, an endorsement is given to businesses and organizations in Michigan who demonstrate a conscious effort to accommodate and include individuals with autism in community activities that all families enjoy.
"Making The Henry Ford a safe, unique, and engaging experience for everyone, including our members and guests on the autism spectrum, along with their families, is something we have been working toward for nearly 20 years," says Patricia Mooradian, president and CEO of The Henry Ford. "We are honored to have received this endorsement from our friends at AAoM and value their partnership and assistance in making our institution accessible to all."
For the past several years, AAoM has been working closely with the staff at The Henry Ford to create a safe and autism-friendly environment at all its facilities. This includes hosting routine all-staff safety training, preparing a social narrative and sensory map to help families prepare for their visit, and undergoing a safety and sensory audit walk-through with a member of AAoM's programmatic staff.
"The Henry Ford joins a respected group of Michigan organizations that strive to create safe and friendly environments for all children with autism and their families," says Colleen Allen, president and CEO of AAoM.
Recently, The Henry Ford was awarded a grant from the Institute of Library and Museum Services to expand its current sensory-friendly public programming and create new programs that enable guests with Autism Spectrum Disorder or Sensory Processing Disorder (ASD/SPD) to better access the institution's collections, daily programs, and special events. This grant focuses on the need for informal education for young people with ASD in Michigan and how the museum setting can fill those needs.
---