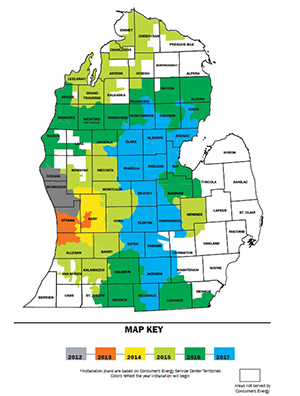 Jackson-based Consumers Energy plans to install new communicating electronic meters and gas communication modules by next year so that 1.8 million customers across the state of Michigan have more information about how they use energy. Customers also can select their electric bill due date.
"The meter sends us one text-type message of each home and businesses' energy use for the day, assuring our customers receive an accurate bill each month," says Garrick Rochow, vice president and chief customer officer at Consumers Energy. "Estimated bills will become a thing of the past."
Rochow says the utility is installing 900,000 electric meters and 100,000 gas modules in regions such as Benzie County, Kalamazoo, Flint, and Traverse City. He says the Battle Creek, Adrian, Ludington, Saginaw, south Midland, and Tawas regions are scheduled for meter upgrades in 2016, while the Clare, Jackson, Lansing, and north Midland areas will get meter upgrades in 2017.
More than 900,000 Consumers Energy electric customers can now log in at ConsumersEnergy.com/smartenergy to find information about their daily energy use. Rochow says in July, natural gas customers will gain online access to check their daily gas consumption.
He says as part of the electric meter upgrade, Consumers Energy is installing communication modules on 600,000 natural gas meters of customers who also receive electric service, allowing remote meter reads of gas meters through the electric meters, which will also eliminate estimated meter reads for their natural gas.
Consumers Energy, Michigan's largest utility, is the principal subsidiary of CMS Energy (NYSE: CMS), providing natural gas and electricity to 6.7 million of the state's 10 million residents in all 68 Lower Peninsula counties.
Facebook Comments