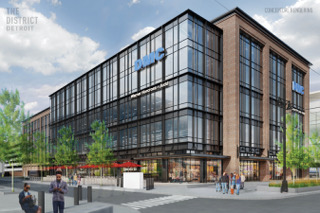 Olympia Development of Michigan, the Detroit Medical Center, and the Warner Norcross + Judd law firm broke ground today on a new, five-story medical, office, and retail building at 2715 Woodward Ave. in The District Detroit.
The $70 million, 127,000-square-foot construction project is located between Little Caesars Arena and the Mike Ilitch School of Business at Wayne State University. It will replace a former surface parking lot at Sproat Street and bring four floors of Class A office space and 17,000 square feet of street-level retail to The District Detroit.
"The Detroit Medical Center and Warner Norcross + Judd are two world-class organizations and we are thrilled to welcome them to The District Detroit," says Christopher Ilitch, president and CEO of Ilitch Holdings Inc. "Projects like this continue the progress and momentum in our city and in The District Detroit."
Included in the development is a 20-year agreement for the DMC to operate a 50,000-square-foot sports medicine facility that will will feature the healthcare system's specially trained clinical and rehabilitation teams to provide athletes immediate access to sports-related care, along with medical research and sports simulation services.
"This new facility will offer best-in-class injury management and performance improvement services supported by sports science, biomechanics and other innovative therapies," says Dr. Anthony Tedeschi, CEO of the DMC. "This long-term investment is evidence of DMC's unwavering commitment to athletes in our community, the region and beyond."
The DMC facility will be the first of its kind in Detroit and will aim to become a destination site across the Midwest for professional athletes who currently leave the state for critical rehab and other medical services. The institute also will serve collegiate, high school, and recreational athletes. Planned amenities include a mobile MRI, rehab pool, golf simulator, 3-point basketball court, and a 40-yard track.
The Warner law firm will be the sole tenant of the third floor at 2715 Woodward Ave. It will accommodate 55 attorneys and staff members and will feature collaborative work spaces, conference rooms, and a lounge overlooking Woodward Ave. The new location represents nearly 30,000 square feet of new Class A office space in The District Detroit.
"Our new Detroit office puts Warner at the center of the action, right where our attorneys, staff and clients want and need us to be," says Linda Paullin-Hebden, executive partner of the firm's Southfield office. "Warner is fully committed to the state of Michigan and with the opening of our Detroit office now inching closer, we'll be the only major law firm to have offices in Wayne, Oakland, and Macomb counties. That will be an important benefit for our clients as well as for new business opportunities for the firm."
Olympia Development of Michigan also says it is continuing to expand its development team in anticipation of future projects in The District Detroit and surrounding area.
The Ilitch organization, which operates Olympia Development, says recent and anticipated hires will total more than two dozen new employees dedicated to continuing development in The District Detroit.
Among the key recent additions are Keith Bradford, senior vice president – Olympia Development of Michigan and The District Detroit; Leo Valentine Mendez Jr., vice president of design; John Valentine, general counsel; and Russ Borrows, senior vice president of finance.
"Our focus for and commitment toward continued development in The District Detroit and the city's continuing resurgence is driving the need to grow the team, which will ensure that our progress continues," says Christopher Ilitch, president and CEO of Ilitch Holdings Inc. "Recent new hires like Keith, Leo, John, and others bring unmatched expertise to Detroit. This team will lead our development momentum across The District Detroit and play a key role in the overall real-estate and development portfolio across all of our operating companies."
Over the past two years, Olympia Development says it has hired nearly two dozen employees working as property managers, project managers, engineers, maintenance technicians, and others working directly on current and future development. Other posted job opportunities include positions in accounting, construction management, legal, and marketing.
"Growing this great team has been a rewarding opportunity for me and we are all excited by the challenge of delivering the kinds of projects that are greatly needed in the community," says Bradford. "Right now, we have the chance to move the city forward with both new construction and historic redevelopment, dining and entertainment, and so much more."
Facebook Comments