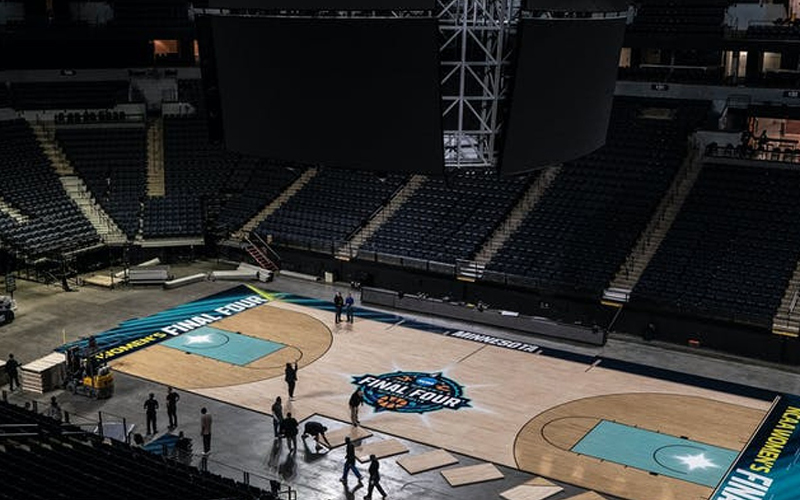 When the 2023 NCAA March Madness tips off today, Amasa-based Connor Sports in Michigan's Upper Peninsula, a Gerflor company that manufactures hardwood sports flooring, will again play a role in the tournament.
As the official court supplier of the NCAA Final Four since 2006, Connor Sports will provide new, made-in-Michigan custom hardwood courts for the 2023 men's regionals and the men's Final Four at NRG Stadium in Houston, and the women's regionals and the women's Final Four at the American Airlines Center in Dallas.
The women's Final Four court also will serve as the floor for the Division II and III women's basketball championship games in Dallas as part of the combined championship to celebrate the 50th anniversary of Title IX.
"Connor Sports will again play a critical role in the 2023 men's and women's March Madness tournaments. We consider our partnership with the NCAA very important," says Benjamin Bachman, CEO of Gerflor USA and Connor Sports. "The manufacturing and finishing process of new high-quality, custom hardwood basketball courts combined with the complex, just-in-time logistics of delivering those courts to each tournament location has been an exciting and unique challenge that our team of champions in Amasa has fully embraced.
"Each member of the Connor Sports team has played a pivotal role in ensuring that an optimum playing experience will be had by the student-athletes competing and the fans cheering on both the men's and women's tournaments."
The 2023 men's Final Four court is made from sustainably harvested Forest Stewardship Council (FSC)-certified first-grade northern hard maple and is 70 by 140 feet, comprising 381 panels weighing 160 pounds each to total 56,000 pounds. The 2023 women's Final Four surface is also FSC-certified and measures 60 by 120 feet, with 262 panels weighing 145 pounds each, totaling 37,300 pounds.
The courts were manufactured and inspected at the Connor Sports production mill in Amasa beginning in fall 2022. The floor panels were stacked and banded in January 2023 and then shipped to Connor Sports' finishing partners for a two-month process combining assembly, sanding, sealing, painting, and finishing before being loaded and transported to each men's and women's regional and Final Four location. Each court takes approximately four hours to install, led by Connor Sports technical supervisors and a local labor team of 10-12 local workers.
Connor Sports' products also include dance studio systems and vulcanized rubber sports surfaces.
Facebook Comments