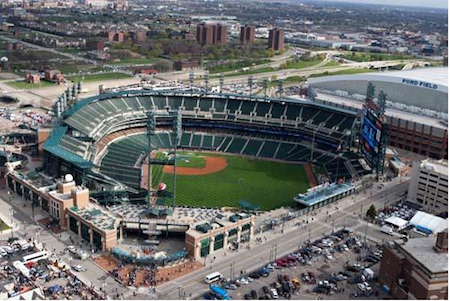 Comerica Park officials today announced the launch of Clear, an identity platform that allows fans to enter the arena with the swipe of a finger. Detroit Tigers fans who enroll with Clear on-site can enter through Gate A for a faster, streamlined experience.
"As we continue to identify opportunities to enhance the game day experience, CLEAR provides us with an enhancement whereas patrons can enter Comerica Park in a quicker and convenient manner, without compromising their safety and security," says Mike Healy, vice president of Ballpark Operations. "The implementation of CLEAR's platform speaks to our on-going technological initiatives to provide a world-class entertainment experience for our patrons."
Clear is available to Tigers fans at no cost and enrollment takes less than five minutes. Additionally, a $15 per month subscription allows sports fans to use Clear to expedite security lines at Coors Field in Denver, Marlins Park in Miami, AT&T Park in San Francisco, Citi Field and Yankee Stadium in New York, and several airports nationwide.
"Detroit is an amazing sports town with a loyal fan base and we couldn't be more excited to partner with the Tigers," says Caryn Seidman-Becker, Clear's CEO. "In addition to expanding the network of venues where CLEAR is available, we are also working on applications for biometrics that extend beyond security to other uses inside the venue that will continue to transform the game day experience."
Clear also launched at Detroit Metropolitan Wayne County Airport last fall and has become a popular way for travelers to navigate airport security. Existing Clear members can use the fan experience at Comerica Park as part of their membership.
More information about Clear can be found here.
---