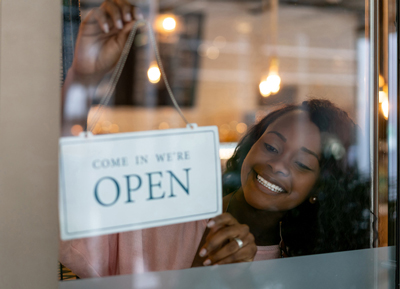 Dallas-based Comerica Bank, which has its Michigan operations in Detroit, today announced a $1 million commitment over four years to the National Business League, a black business professional and trade association, as part of a national partnership that will launch the Black Capital Access Program, an access to capital initiative to assist black businesses across the country.
The program is set to pilot over the next three months and will reach Comerica's five primary markets of Arizona, California, Florida, Michigan, and Texas. It will become available in all 50 states in 2021.
The program will offer access to a capital toolkit, technical services, financial planning information, webinars, and more.
"Small businesses face a myriad of inherent challenges to open their doors and remain viable, and the current conditions due to COVID-19 only deepened those issues, especially among African American business owners," says Curt Farmer, chairman and CEO of Comerica Inc. and Comerica Bank. "We believe our partnership with the National Business League will become crucial in helping many black-owned businesses and entrepreneurs recover and survive this turbulent time."
The National Business League is the first and largest nonprofit, nonpartisan, and nonsectarian black business professional and trade association. It was founded in 1900 by Booker T. Washington and advocates for legislation and policy to promote the growth of black-owned businesses while finding solutions to challenges in the marketplace. It collaborates with policy makers and CEOs to advance black communities' economic interest.
"Capital access remains the most important factor limiting the establishment, expansion, and growth of black-owned businesses," says Ken L. Harris, president and CEO of the National Business League, Inc. "As part of the organization's mission to eliminate institutional, structural, and systemic barriers to capital, it is important to develop public and private partnerships to address the financial burden on black entrepreneurs who are trying to keep their businesses thriving in today's economy in response to the COVID-19 pandemic."
The program aims to ensure that participating businesses will be able to create and grow sustainable enterprises that are consistently bankable and investment ready in the digital economy.
"We believe strongly that investing financially as well as connecting our team members to offer a wide range of technical resources will enable the NBL's Black Capital Access Program to effectively reach and serve businesses in need," says Irvin Ashford Jr., chief community officer of Comerica Bank. "We proudly support the 120-year mission of the National Business League and its mission to deliver critical services to black-owned businesses."
Comerica's $1 million investment to start the program includes a $150,000 financial contribution as well as in-kind and technical support valued at $100,000 for four years. The bank has 435 banking centers and reported total assets of $76.3 billion on March 31. It celebrated its 170th anniversary in August 2019.
The National Business League has more than 120,000 members nationwide with regional offices in Atlanta, Detroit, Los Angeles, and Washington, D.C. It has more than 360 local league chapters across the country.
In related news, the PNC Financial Services Group, headquartered in Pittsburgh with banking services in Michigan and a large office in Troy, has announced a commitment of more than $1 billion to support economic empowerment of African Americans and low- and moderate-income communities.
"We are living in one of the most important civil rights movements of our time," says William S. Demchak, chairman, president, and CEO of PNC Financial Services Group. "Each of us has a role to play in combatting racism and discrimination, and PNC is committed to driving real change in areas in which we can make the greatest impact."
The commitment will provide more than $50 million in additional charitable support for national and local work designed to help eliminate systemic racism and promote social justice, expand financial education and workforce development initiatives, and enhance low-income neighborhood revitalization and affordable housing. Funding allocation was led by the PNC Foundation board of directors, PNC's regional presidents, and its community development banking teams.
It also includes more than $1 billion in community development financing and capital for neighborhood revitalization, consumers, and small businesses; enhancements to PNC's existing matching gift program to include support for qualifying nonprofit organizations that support social justice educational efforts and economic empowerment nonprofits; and a commitment to engage PNC employees in support of social justice and economic empowerment nonprofits through volunteer efforts with up to 40 hours paid time off each year to do so.
"This is about much more than writing a check," Demchak says. "This is about PNC doing what it does well – putting our capital to work in the communities we serve and providing innovation through products and services, with a special focus on helping African Americans buy homes, which we recognize is an important factor in wealth accumulation. We are also going to make a positive impact through employee volunteerism."
PNC contributed $200,000 earlier this month to the Lawyers' Committee for Civil Rights Under Law in support of the organization's work to ensure voting access for all communities, particularly African Americans and other voters of color. PNC is also a signatory to Time to Vote, a nonpartisan coalition of U.S. companies working to increase voter participation.
The PNC Foundation, which receives its principal funding from The PNC Financial Services Group, supports organizations that provide services for the benefit of communities in which it has a significant presence. It focuses on early childhood education and community and economic development.
The PNC Financial Services Group offers retail and business banking.
Facebook Comments