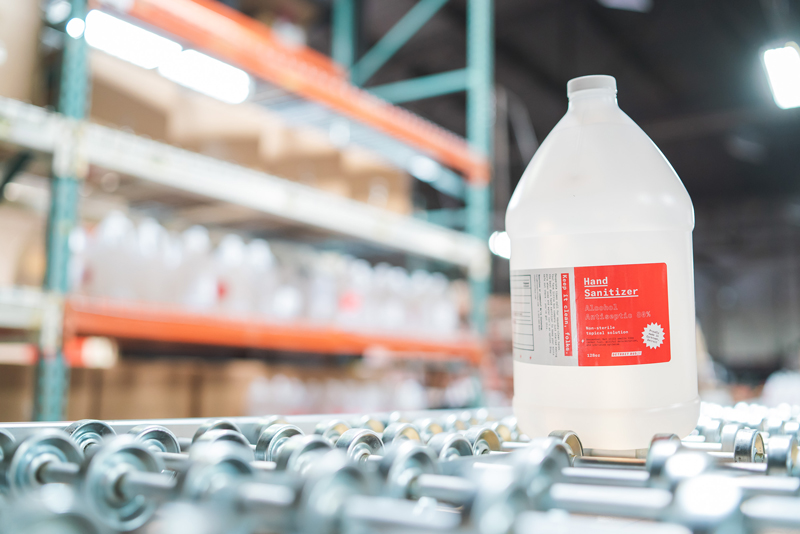 It's tough enough for businesses to switch gears to meet demand for cleaning products due to COVID-19, but getting the word out is complicated by social media channels that bar PPE advertising due to potential price gouging, recalls, or inferior formulas.
Detroit Bus Co., a private tours and charters business based in Corktown that was impacted by stay-at-home orders, has announced The Arsenal of Clean, a PPE and sanitizer/disinfectant product line.
Like many other small enterprises at the outset of the COVID-19 pandemic, Detroit Bus Co. was faced with a unique dilemma: How to remain active as a business and continue a philanthropic mission during a global pandemic?
Enter The Arsenal of Clean. Making a nearly overnight switch, founder Andy Didorosi pivoted from providing bus tours of the city to researching available materials to build a full sanitizer production line inside the company's headquarters on Bagley Street.
What started as a volunteer force has turned into its own entity, employing eight additional local workers and providing both a living wage and health benefits.
"There's no demand for buses right now, people need affordable sanitizer and we've got a team to keep employed. It's a good fit for everyone," says Didorosi, CEO of Detroit Bus Co. "This is what Detroit does, we make stuff. And we make it cheaper and cheaper until everyone has one. We have a legacy of providing what the nation needs."
The Arsenal of Clean product line includes a liquid hand sanitizer available in 2-oz., 4-oz., 32-oz., 64-oz., and 1-gallon containers. The FDA-registered, World Health Organization formula consists of 80 percent food-grade ethyl alcohol, 1.45 percent food-grade glycerin, 0.12 percent hydrogen peroxide, and 18.43 percent purified water.
All ingredients are made in the USA, with the final product produced in Detroit.
The Arsenal of Clean also has launched Warp One, an electronics-safe surface disinfectant spray, available in 4-oz. and 32-oz. bottles. The formula is composed of 70 percent isopropyl alcohol and 30 percent ultra-purified reverse osmosis-filtered water.
Warp One uses the Federal Aviation Administration's formula for a disinfectant, which is the same formula that Apple recommends for cleaning cell phones, tablets, and electronic screens.
The social benefit (L3C) company also has established its Bottle for Bottle program by committing a bottle of hand sanitizer donated to local charities for every bottle sold. To date, Arsenal of Clean has gifted more than 1,400 gallons to frontline essential workers, first responders, nonprofits, and communities in need.
The efforts are an extension of Detroit Bus Co.'s Ride for Ride program, which contributes free rides for Detroit school students from each public tour ticket sold.
As COVID-19 continues to impact the city, region, state, and nation, to meet demand Arsenal of Clean plans to expand its product line and production capacity. New safety products and further offerings are set to be announced in the coming weeks.
For more information, visit www.arsenalofclean.com.
In related news, Troy-based Pantero, a supplier of janitorial, warehouse, safety, and packaging supplies, has announced it is expanding manufacturing capacity for hand sanitizer and other essential products under a new brand name: Clenova.
The new brand will focus on hand sanitizers, soaps, surface cleaners, and other high-demand cleaning and sanitizing products.
"The Clenova brand will enable us to focus our efforts on the essential products our distributers and their customers need now to stay open safely during the COVID-19 pandemic," says Andrew Reid, director of operations for Clenova products. "We are expanding our manufacturing capacity for these supplies to meet the current demand."
As part of the brand launch, Clenova now has a new website at clenova.com with the tagline "The Future is Clean." Over the coming weeks, the brand plans to add new products, including a hand sanitizer dispenser, surface cleaners and disinfectants, and hand soaps.
All of the Clenova hand sanitizers are manufactured in the USA in FDA-registered manufacturing facilities using U.S.-sourced raw materials. The hand sanitizers will be available through Clenova distribution partners or directly for large institutional buyers in health care, education, retail, government, and industry.
To learn more, visit Clenova.com.
Facebook Comments