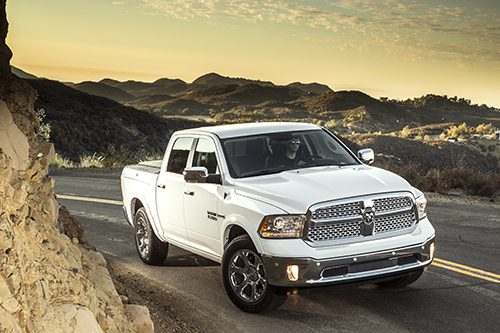 Chrysler Group, Ford Motor Co., and General Motors Co. each saw increased sales for March, based on reports released today.
Chrysler Group posted U.S.sales of 193,915 units, a 13 percent increase compared with sales in March 2013. This marks the best March for the Auburn Hills-based automaker since 2007.
"We are entering the spring selling season on a high note as our Jeep and Fiat brands recorded their best sales months ever and Chrysler Group extended its streak in March to 48-consecutive months of year-over-year sales increases," said Reid Bigland, head of Chrysler's U.S. Sales.
Bigland also notes the Ram pickup truck posted its best March sales in 10 years, with nearly 43,000 units sold last month.
In Dearborn, Ford Motor Co. reported 244,167 vehicles sold in the U.S., up 3 percent when compared with March last year.
"March sales turned noticeably higher mid-month and finished strong," said John Felice, vice president of Ford's U.S. marketing, sales, and service. "Fusion set an all-time record in March, as overall retail sales in the West continued to expand at the fastest rate in the nation — including California being up 32 percent."
The Lincoln MKZ, which sold 4,052 units in March, up 72 percent from the year before, also had a strong month, Felice said. Overall, Lincoln's total sales showed a 31 percent year-over-year increase.
General Motors Co. also recorded an increase, noting that its dealers delivered 256,047 vehicles last month, up 4 percent compared with a year ago. While fleet sales were down 5 percent due to a planned reduction in rental deliveries, the company's retail sales have improved since early February, says Kurt McNeil, U.S. vice president of the automaker's sales operations.
 "We expect to see solid economic growth in the months ahead, with the job market, household income and consumer spending all showing positive signs," McNeil says. "It is a strong backdrop for the launch of our all-new heavy-duty pickups, large SUVs and other new products, like the Cadillac ATS coupe coming this summer.
Note: This article was updated at 3:40 p.m. on April 1 to include information from GM's March sales report.  
---