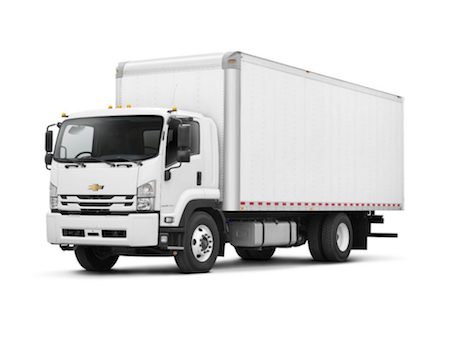 Detroit automaker General Motors Co. announced that Chevrolet is expanding its range of Low Cab Forward trucks with a new dock-height Class 6 model, the 6500XD. Like its Class 3, 4, and 5 stablemates, the 2018 Chevrolet Low Cab Forward 6500XD is a flexible vehicle designed for driver comfort, visibility, serviceability, and ease of upfit.
Specifically, the 6500XD adds a standard 5.2-liter four-cylinder turbodiesel that delivers 520 pounds of torque, a 2500 series automatic transmission, Dana axles, and a straight-rail frame. Front and rear axle ratings are 12,000 and 19,000 pounds, respectively, and there is enough capability to haul heavy machinery. Eight wheelbases are available, and bodies up to 30 feet long can be accommodated.
"Our goal is to offer the best work solutions and customer care in the business," says Ed Peper, U.S. vice president for GM fleet and commercial operations. "Our Low Cab Forward dealers and Upfitter Integration Group will work hand-in-hand with customers and their upfitters to spec the right truck for the job. After the sale, our dealers will be there to support customers with extended service hours and work-ready loaners."
The vehicles are expected to be available by the end of the year.
As the company continues to expand its truck portfolio, GM's commercial business has been growing steadily, with seven consecutive months of year-over-year market share gains.
"New products like the Chevrolet Malibu, Silverado, and Colorado have helped GM Fleet earn more than 134 new accounts in the last three years," adds Peper. "At the same time, new products like the City Express small van, the Low Cab Forward range, and the all-new medium duty conventional cab truck coming in 2018 make it possible for fleets to consolidate more of their business with us, which simplifies vehicle ordering, financing, maintenance, technical support, and turn-in."
GM is also expanding its suite of driver connectivity and fleet management solutions for small businesses and fleet managers. Earlier this month, the company announced it would add Spireon to its roster of telematics service providers, joining Telogis and GM's own Commercial Link Tool. The scalable solutions can help customers with efficiency, idle time, labor, fleet mileage, and maintenance-related downtime, as well as provide insights into driver behavior. Because they're compatible with GM's OnStar technology, no after-market hardware installations are required.
Facebook Comments