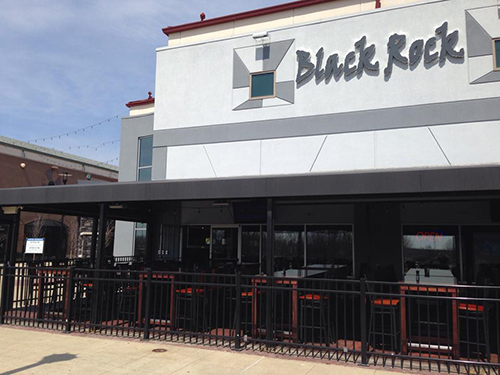 Black Rock Bar and Grill, with locations in Novi and Hartland, is set to expand in Michigan, Ohio, Illinois, and Florida after winning America's Next Top Franchise, a national contest that judged the design, profitability, sales, and uniqueness of nearly 450 different businesses.
Lonny Morganroth, co-owner of Black Rock with his wife, Janette, plans to open eateries in Troy, Ann Arbor, Canton Township, Grand Blanc, Grand Rapids, Lansing, and Toledo. "Outside (of Michigan), we would like to hit the Chicago suburbs and the Fort Lauderdale area in Florida," Morganroth says.
Each eatery offers Australia-style rock cooking, where customers cook their food on a heated granite stone (up to 800 degrees) at their table. Entrees include center cut sirloin, New York strip, steak and rib combo, surf and turf (shrimp, scallops, Maine lobster tail, or king crab), chicken parmesan alfredo, lobster mac and cheese, grilled bourbon salmon, and dueling lasagna.
Other selections include pizza, several Chicago-style kielbasa offerings, seven different burgers, various subs, salads, and several desserts, including the Black Rock Volcano — fresh baked brownie topped with four scoops of vanilla ice cream, a chocolate-dipped waffle cone, chocolate sauce, marshmallows, and a flaming sparkler.
As part of being selected as the next top franchise by Cisco and The Franchise Edge, Black Rock will receive legal representation, $88,000, and exclusive representation by the Southfield-based real estate firm of Signature Associates as it begins franchising the restaurant concept within the next 10 to 12 weeks, Morganroth says.
"We would like to stay in our Michigan area," Morganroth says. "It's the right area to start."
IN OTHER RESTAURANT NEWS, Just Baked has opened a second location in Southfield at 24545 W. Twelve Mile Rd. In recognition of the opening, the first 50 customers to visit the new store on Friday will receive a free cupcake.
"Opening our 18th location in just over five years is a proud accomplishment," says Pam Turkin, founder and owner of Just Baked. "We're excited to expand our brand of gourmet cupcakes and sweet treats to this area of Southfield."
Facebook Comments