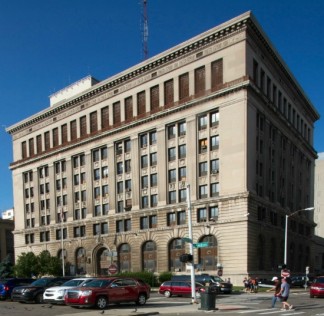 The former headquarters of the Detroit Police Department, located at 1300 Beaubien in Detroit's Greektown neighborhood, is slated for redevelopment by Bedrock in partnership with Pike Pointe Holdings, a subsidiary of Syncora Guarantee Inc.
The building, designed by renowned architect Albert Kahn, is approximately 240,000 square-feet. While plans and programming for the redesign are still evolving, with a development timeline for the site yet to be finalized, the partners are committed to preserving the historic nature of the building.
"We are excited to work with Syncora to revive a priceless piece of Detroit architecture," says Jim Ketai, Bedrock CEO. "Greektown and its neighboring districts have experienced tremendous growth and have several new transformative developments coming out of the ground in the near future, making this the perfect opportunity to begin this building's next chapter."
With original construction beginning in late 1921, the Detroit Police Department's traffic unit was the first to take up residence in the building on Dec. 22, 1922, with DPD remaining until 2013 when it moved to the former MGM Grand casino at Third Avenue and Bagley Street. The building has remained vacant since.
"We are pleased to be able to steward the next phase of this iconic building through our partnership with Bedrock," says Mary Jane Constant, managing director of Pike Pointe.  "This building holds an important role in the city's history and we are excited to have Bedrock's commitment and expertise to guide its redevelopment."
Detroit-based Bedrock is a full-service real estate firm specializing in acquiring, developing, leasing, financing, and managing commercial and residential buildings. Since its founding in 2011, Bedrock and its affiliates have committed more than $5.6 billion in acquiring and developing more than 100 properties in downtown Detroit and Cleveland totaling more than 16 million square feet.
Bedrock's real estate portfolio consists of more than 330 office and retail tenants in Detroit's technology-centric downtown. The firm is part of the Quicken Loans family of companies.
Pike Pointe Holdings is a wholly owned holding company of Syncora, formed to own a number of operating subsidiaries which in turn own and operate, or plan to own and operate, toll roads, parking facilities, and other infrastructure assets.  Pike Pointe's principal operating subsidiary, American Roads, is headquartered in Detroit with all of its centralized management, finance, administrative, and key IT personnel located downtown.
Syncora Guarantee Inc. is a financial guaranty insurer. It  guarantees U.S. municipal bonds, asset-back securities, debt backed by utilities and select infrastructure projects.
Facebook Comments